Image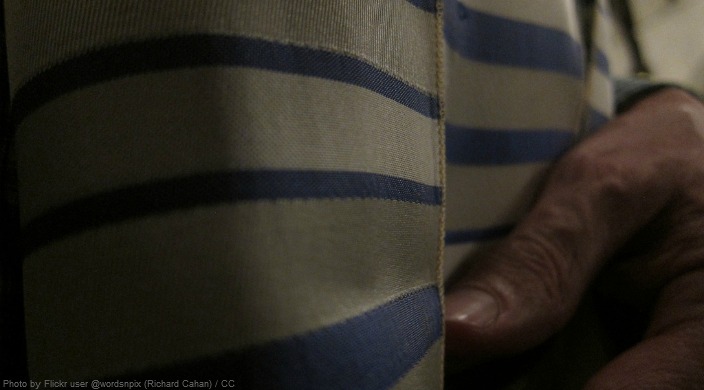 Last Yom Kippur afternoon, unable to concentrate because of the rumblings of my stomach – which I hoped only I could hear – my mind began to wander. Before long, it was filled with memories of Yom Kippurim gone by.
Growing up in Brooklyn, there was a small diner in the neighborhood. Invariably, midway through the day, a group of seniors would venture from the synagogue to a table in the back of the restaurant – where they believed they wouldn't be seen – for coffee and a Danish. Despite their supposed invisibility, it was hard to miss these half dozen or so worshippers as they made their way to the safety of their back-booth hideout.
It was during the same era that I'd walk to temple with my parents for Yizkor, the Yom Kippur memorial service. As my dad climbed the steps to enter the building, I'd often hang outside with my mom, whose wheelchair prevented her from worshipping inside. Although I was pre-bar mitzvah, and thus not required to fast – from sundown to sundown, as our tradition tells us – I frequently took things literally and wondered if fasting was required in the event of rain.
During the Yizkor service, as the rabbi and temple president walked through the sanctuary, members would whisper to them their pledge amounts. With each whisper came an announcement from the president:
"Mr. Stein, $25."
"Mr. Shapiro, two times chai."
And on it went.
After our meal that evening, my father and I would walk back to the temple to drop off our family's check. I'd give anything to take another walk with my dad.
That thought brought me around to the first Yom Kippur at which I recited kaddish for both my parents. It was, for me, the saddest one ever.
And then I came full circle to happier times.
When my wife was pregnant with our first child (and again a few years later with our second), we spent Yom Kippur with my in-laws, who, as seniors on various medications, did not fast. Joined by their daughter, who was carrying a baby that needed nourishment, the three of them sat around the table in my in-laws small apartment, not only eating, but also talking about each piece of food, bite by bite. Despite my devotion to them, there was no dispensation for me, and all I could do was watch and listen to my family eat. It's no wonder that conversations on Yom Kippur inevitably lead to discussions of what people ate just prior to the fast and what they will eat to break the fast.
During the years when my children were young and fidgety, I told them to listen carefully during Yom Kippur services for the crinkle of candy wrappers – a sign that someone was eating candy to help him or her through the long day – and to count how many candy wrappers they heard. Unfortunately, one or the other of my kids would announce, usually a little too loudly, the running tally throughout the service. Often, this game escalated into a competition to determine who heard the wrapper first.
As my thoughts returned to my own synagogue where I was sitting, I recalled friends who have moved away – my friend who now lives in Massachusetts with whom I always shared philosophical conversations, and a buddy who has moved out west, who I could always count on to laugh at my jokes. I recalled others, too, including my dad and others who have died. Last year on Yom Kippur, when I was given the honor of hagbaha (reading from the Torah), I wore his tallit (prayer shawl). As I lifted the scroll and turned it for the congregation to see, I was reminded of a close friend who had usually been given the honor, but who passed away a few years ago. I wanted to make them both proud. With the service drawing to a close, I also remembered fondly the couple that always opened their home to us for break-the-fast, complete with herring, whitefish, and challah.
Even as I was surrounded by my family in a sanctuary filled with more than 1,000 people, I felt a sense of emptiness remembering holidays past.
Before long, though, it was time once again to focus on the present as we neared the final teki'ah gedolah, the blow of the shofar. Finally, my family and I headed off to the diner to break the fast and begin the new year together, making new holiday memories to sustain us in the years to come.
Related Posts
Image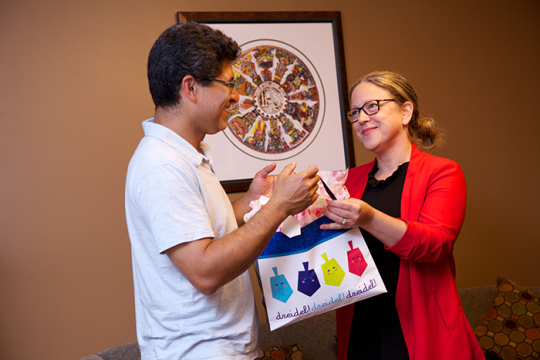 Hanukkah is one of my favorite holidays, partially because it gives me the opportunity to give gifts to my loved ones every night for eight nights! Gift giving with intentionality is one of my favorite ways to express affection while teaching my child about Jewish values and traditions.
Image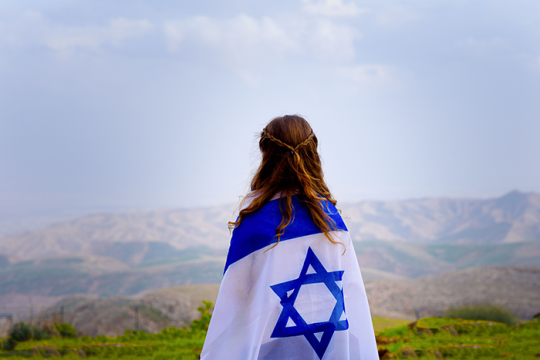 We stand with the people of Israel during these difficult and challenging days and pray for the safety and immediate release of all of the hostages. See our resources and actions you can take.
Image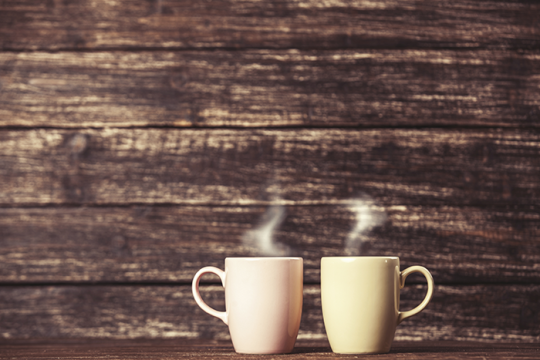 In the winter months, adding elements of simplicity, presence, and coziness can elevate the rituals and intentions of Shabbat. Here are a few tips for your most hygge/heimish Shabbat yet!