Image
Earlier this year, while I was diarising our summer cruise dates, I realised we would land in Lisbon the morning before Rosh HaShanah. I knew we had a Progressive/Reform k'hilah (community) there – Ohel Jakov – as I had had the pleasure of meeting some of the community members four years earlier.
I contacted their passionate leader and champion – Adriana de Souza – and arranged for us to join them for dinner and a service on erev Rosh HaShanah, in their proudly sacred space – a five-room apartment (up three flights of stairs, in an old building, hidden away in a suburb of Lisbon), which they had recently reorganised, repainted, and refreshed. They had worship space, a library, a meeting/dining room, an office and a kitchen with a small balcony.
Four years ago, the community had approached the World Union for Progressive Judaism for help to provide them with resources, serious online learning opportunities, and assistance with conversion preparation for many of their members who were eager to be part of a movement that would welcome them as they began the journey to reclaim their Jewishness. In many cases, having been raised as Christians and knowing it did not feel "right" for them, they discovered later in life that, in fact, their families had been Jewish in the past; many could trace their families back 500 years to before the expulsion of Jews during the Spanish Inquisition. Their stories were extremely moving, as was their desire to be accepted into the global Progressive movement. Members undertook regular studies online with Rabbi Alona Lisitsa in Israel, who successfully prepared them for conversion through the European Beit Din.
In 2016, at the European Union for Progressive Judaism (EUPJ) convention in London, with representatives of the k'hilah present, the WUPJ welcomed Ohel Jakov as its newest affiliated member congregation. I was so pleased to be there and to share members' excitement. Subsequently, earlier this year, in Prague at another EUPJ convention, I again met up with Adriana, the mainstay and advocate for this community. And on erev Rosh Hashanah, we were once again greeted with open arms and hearts by Adriana, her family, and the smiling faces of some 20 members of this community.
Also present were other overseas visitors: a young secular Israeli couple, traveling around Portugal, a couple from Santa Fe, New Mexico (whose rabbi – Rabbi Neil Amswych – I had known in London); and a young Argentinian man and his American, Portuguese- speaking girlfriend, all of whom had searched online for a Reform community in which to welcome the New Year. I suggested that if they were regular travelers that they should download the WUPJ Find a Community app to their phones so they could contact more easily our more than 900 communities worldwide, where they would be made to feel as much at home as we were that night.
At the end of the short service, we heard the sound of the shofar, blown with pride by one of the members of the congregation. We then ate, situated around a long table overflowing with home- made food and good conversation, including opportunities to share our own stories. Adriana asked me to say a few words of welcome, which proved to be very emotional for me: it was the first time in a long time that I had not been with my immediate family in Australia or my cousins in Israel. Nonetheless, I was able, on behalf of the World Union, to express my joy at being able to share this special day on our calendar with fellow Progressive, Reform, and secular Jews, all of whom had gathered – to celebrate Rosh HaShanah together as an extended family.
Warmest wishes – to all members of our global movement, who are, to me, like family – for a shanah tovah, a healthy happy and sweet New Year in which you enjoy many opportunities to enhance your travels by making new friends in our Progressive and Reform communities around the world.
Related Posts
Image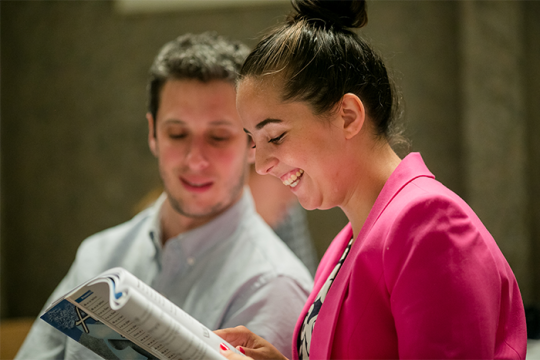 Lifelong learning, however, can be easier said than done. For many, as they enter adulthood, with its competing demands and obligations, setting aside time for learning – and especially for Jewish learning – can be challenging indeed.
Image
At 10, Jeff Erlanger appeared on "Mister Rogers' Neighborhood" in his wheelchair. I recently asked Jeff's parents about how they raised such a competent and loving son.
Image
When I became rabbi of Monmouth Reform Temple in Tinton Falls, NJ, I quickly discovered that some people in our community thought we were a church. Mail was addressed to "Monmouth Reformed Temple," and letters were addressed "Dear Pastor."