The month preceding the High Holy Days is called Elul. It is a time of reflection before we "officially" begin the important process of teshuvah. In some ways this time of the Jewish calendar reminds me of Havdalah – the short but sweet service in which we say good-bye to Shabbat, but not before we have paid tribute to the fabulous 24 hours of rest and renewal we experienced. The goal of Havdalah is to think back, so we can gratefully and gracefully move forward into the new week.
Elul has always been a time for me to think back to my childhood and pay honor to the impactful lessons that made me the Jew I am today. I learned many a lesson, whether at my family's festive meals or sitting in synagogue with my parents, which were frequently followed by hearty and heated conversations in the car ride home debating the points of our rabbi's sermon.
Yet it is important to note that those special memories of Rosh HaShanah started way earlier than having the patience to sit through a sermon. As a matter of fact, my first memories of the holiday are more affect and emotion than anything else. I remember the excitement of my mother picking out special clothes for me to wear, and taking the time to do my hair with bows and barrettes. I recall the smells of my grandmother's kitchen as I exited the elevator on the 6th floor of her apartment building on Bennett Avenue in Washington Heights. I remember feeling loved by my older cousins, knowing it was the holiday celebrations in our lives that pulled us together. I remember how exotic it felt to dip apples and honey and know – instinctively – that this was Jewish and unique and particular to this group of people I belonged to, before I knew words like 'religion' and 'peoplehood'.
These memories are firmly imprinted in my brain and Jewish psyche. They are firmly filed away in my memory bank of Jewish moments and have created a lifetime of attachment and warmth towards Judaism.  And if it wasn't for that base, I would not have turned to my parents when I was in the 5th grade and asked to go to religious school and become a bat mitzvah.
For parents and grandparents, Rosh HaShanah and Yom Kippur present excellent opportunities to experientially teach vital Jewish values, such as the importance of family, celebrating beginnings, and practicing forgiveness.  The High Holy Days mark the passing of time and provide a sacred pause to celebrate the creation of the world and all its goodness. It is a human need to mark and note the passing of time--all of which can be done within a Jewish context of prayer, song, synagogue, family gatherings, crafts, cooking, and so much more.
Here are some of the things I have done with my children (outside the synagogue walls) to mark Rosh HaShanah over the years:
Apple picking at our local orchard. We sometimes donate our apples to the needy or pair our pickings with local honey to be made into gift bags for family members. (Note to self – use glitter only outside!)
Hiking in the woods for Taschlich and the Neilah service.
Setting "New Year" goals as part of our dinner table discussions.
Inviting new people each year, both Jews and people from other faith backgrounds, to our holiday meals.
Cooking a new food for each holiday meal to keep things fresh and alive and giving us the opportunity to say the Shehecheyanu over a new moment in our lives.
I hope that you and your family will take this opportunity to fully celebrate these special days. Though it is a busy time of year with the start of the school year and athletics, back-to-school parent meetings, and all of the "new beginnings" in your lives – do not let this time slip between your fingers. Judaism begs us to mark and remember the days of our lives. These days pass quickly and each of us has a sacred opportunity to truly live the words of our V'ahavta, in which we are commanded to faithfully teach and pass on our customs and traditions to the next generation.
Originally published in Ten Minutes of Torah, a twice-weekly e-mail on a topic of Jewish interest. Sign up now to add 10 minutes of Jewish learning to your life!
Related Posts
Image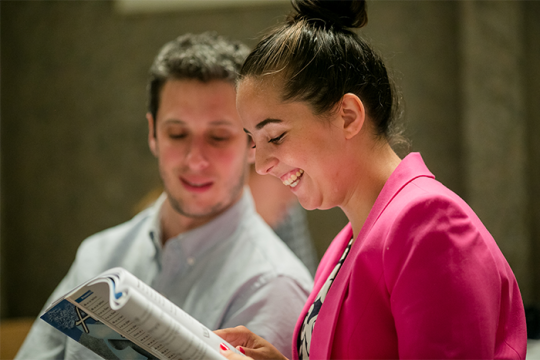 Lifelong learning, however, can be easier said than done. For many, as they enter adulthood, with its competing demands and obligations, setting aside time for learning – and especially for Jewish learning – can be challenging indeed.
Image
At 10, Jeff Erlanger appeared on "Mister Rogers' Neighborhood" in his wheelchair. I recently asked Jeff's parents about how they raised such a competent and loving son.
Image
When I became rabbi of Monmouth Reform Temple in Tinton Falls, NJ, I quickly discovered that some people in our community thought we were a church. Mail was addressed to "Monmouth Reformed Temple," and letters were addressed "Dear Pastor."