Image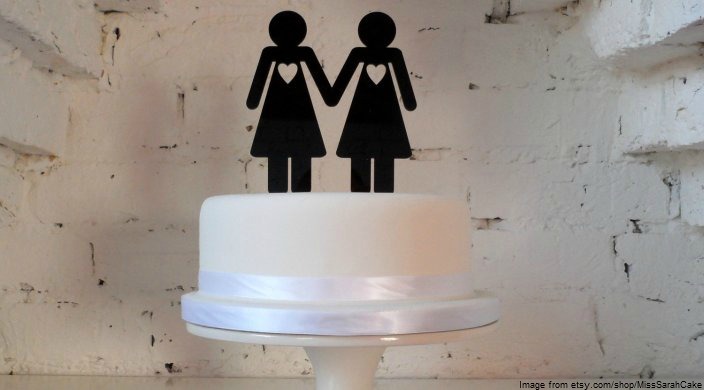 We got married on a Wednesday. August 14, 2013: the ninth anniversary of the day on which we stood under a chuppah to sign our ketubah, (Jewish contract of marriage) exchange rings, sanctify our relationship, and hear the Sheva Brachot, the seven Jewish wedding blessings. We'd been together for more than fifteen years. Married – in the eyes of God and our Jewish community, if not in the eyes of the law of the United States of America – for nine years.
And so, on a beautiful summer afternoon in Brooklyn, I walked hand in hand with my partner along a path in Prospect Park. Our guests were beginning to gather on the hill behind us, in view of the hill where, the year before, we celebrated our son's first birthday. I wore a knee-length, off-white, lace garden-party dress. My partner wore blue. Our friends stood in the grass and held aloft the tallit (prayer shawl) I had designed for my ordination that same May – embroidered with Hebrew verses from Torah...You shall not oppress the stranger, for you know the soul of the stranger, having yourselves been strangers in the land of Egypt (Exodus 23:9).
Same-sex couples face an interesting dilemma as we enter into legal marriage: many of us have already stood under the chuppah to formalize our union before family and friends. When we invite our communities to celebrate our marriage yet again, it can feel anticlimactic, overly dramatic, or just plain not very Jewish. For some of us, it feels like we're being asked to negate our previous weddings as if, at last, this is "the real one."
When the Supreme Court declared the so-called Defense of Marriage Act unconstitutional, my wife and I wanted to mark our finally having been granted the same rights and responsibilities as all married couples. We wanted to sign a civil marriage license. And we wanted to do so Jewishly. But we'd already had a Jewish wedding.
So, on that Wednesday, we marked the sealing of a b'rit, a covenant: the covenant we made nine years previously when we signed our ketubah, now actualized with the full force of the law of the land. And the sealing of the covenant that Aratzot haBrit – the United States of America, "lands of covenant" – makes with each of its citizens: a promise to ensure life, liberty, and the pursuit of happiness. With thought and care, and with knowledge and inspiration gained from courses at the Hebrew Union College-Jewish Institute of Religion's like The Art of Meaningful Worship,1 I created a ritual of sealing a covenant of marriage.
Our cantor welcomed us under the chuppah with b'ruchah ha'ba'ah, traditional words of welcome to the wedding couple. He spoke of promises renewed and fulfilled. Using a blessing crafted by Rabbi Elliot Kukla and Rabbi Justin Lewis, we linked our ceremony to the traditional Jewish wedding ceremony yet again by reciting a contemporary version of birkat erusin, a blessing for betrothal.
Blessed are You... who has set us apart through sacred obligations and commanded us about the responsibilities of all humans for each other... Blessed is... The One who makes your people Israel holy with chuppah.
As we sipped sparkling wine from the same Kiddush cup we had used at our "first" wedding, our guests raised their glasses as well, a resounding L'chaim! reverberating across the park. We looked into each other's eyes as our cantor read aloud the vows we had written back in 2004, which we had spoken to each other with both profound hope for our future together and profound sadness and fear in knowing our commitment would go legally unrecognized, leaving us vulnerable.
Today – as on every day in our past together and every day in our future – I choose you... In honor of the struggles and losses of gays and lesbians in other times and other places, I promise not to hide or to lie about our relationship. I will support you when outside prejudice hurts us, and I will live as openly as possible in a sometimes-inhospitable society. I will commit with you to the ongoing task of tikkun olam, repair of the world...
And then, a transformation: our cantor extended to us our civil marriage license. As we signed the document that made us wives, we recited a verse from the Song of Songs: Set me as a seal upon your heart... for love is strong as death (8:6). Two of our dear friends signed as witnesses. A commitment renewed and a covenant kept, we acknowledged the moment with the blessing traditionally recited upon seeing a rainbow – apropos, I thought, given the queer community's use of the rainbow as a rallying symbol. ... who remembers the covenant, and is faithful to [God's] covenant, and who fulfills [God's own] promise.
In a whirlwind of joy and blessing, we joined our guests in reciting Shehecheyanu. (A Hebrew blessing expressing gratitude for reaching this moment.) We huddled close, our son standing between us under the chuppah, as the cantor wrapped us in his tallit and chanted the Priestly Blessings. And with great fanfare, we heard the proclamation we had longed to hear nearly a decade before: ...by the authority vested in me... I now pronounce you...
It was a Wednesday. It was our anniversary. And it was Elul, a month whose Hebrew letters are interpreted as an acronym for Ani l'dodi v'dodi li – I am my beloved's and my beloved is mine. The month in which we herald the coming of a new year.
On that beautiful summer Wednesday, as an entire high school track team ran past us in the park and sunbathers lounged on towels and children laughed and played, our cantor lifted the ram's horn to his lips and let out the blast of the shofar – a call to action and a declaration of freedom.
Some of us don't want to have another Jewish wedding. We believe firmly in the sanctity and the efficacy of those moments under the chuppah though those ceremonies carried no legal force. But we want to acknowledge our civil marriages. And we want to do so Jewishly. This is new territory. And so I offer our story as inspiration to others. For those who hope to someday re-marry the person they already call "spouse," I hope our ritual of sealing a covenant offers you a way to acknowledge your new status in a Jewish way. Mazal tov to all those couples who were finally able to seal their promises to one another and our nation's promise to its citizens. And prayers for those who still face discrimination. And acknowledgements to those who feel that marriage is not for them. And thank God for Wednesday.
Taught by Merri Arian and Rabbi Nancy H. Wiener, D.Min.
Rabbi Nikki Lyn DeBlosi was ordained from the Hebrew Union College-Jewish Institute of Religion's New York campus in 2013 and currently serves as Reform Rabbinic Fellow and Scholar-in-Residence at the Bronfman Center for Jewish Student Life at New York University.
Related Posts
Image
When I became rabbi of Monmouth Reform Temple in Tinton Falls, NJ, I quickly discovered that some people in our community thought we were a church. Mail was addressed to "Monmouth Reformed Temple," and letters were addressed "Dear Pastor."
Image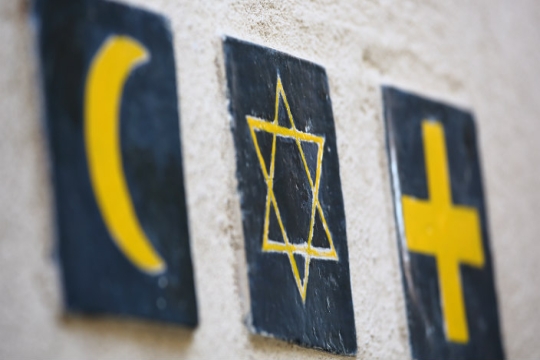 Read about Imam Abdullah Antepli, a Turkish-born cleric whose odyssey took him from anti-Semite to Jewish-Muslim bridge builder.
Image
The COVID-19 pandemic has shifted so much of how we engage Jewishly, but Shavuot is a fantastic holiday for families to celebrate from the safety of their homes. Here are a few ways you and your family can observe this rich, festive Jewish holiday this year.