Image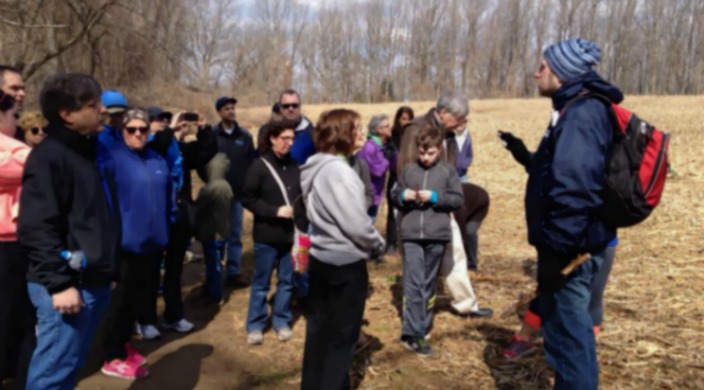 It's Shabbat morning. The air is clear and cold, but the sun is shining, without a cloud in the sky. I'm standing on a hill, looking down at a farm; a few hawks circle overhead. In this moment, I share my thoughts with the 20 or so people who are gathered - children and parents, teens, empty nesters, a few older folks - that we can pretend that we're the only people in the world, that we've left civilization behind. That we can quiet the distractions that chase us, even on Shabbat, that we can quiet our own selves and reach inward for that moment of menucha, of real rest of the soul. We let the wind be the only voice for a moment, and then we join our own voices in song.
What are we - members of Congregation Beth Emeth, a Reform congregation in Delaware - doing outdoors and not in synagogue on Shabbat? It began in the best possible way. Last year, as part of an effort to get to know members better, I sent out an invitation to have coffee with religious school families. One of the first to take me up on the offer was a parent named Beth. Beth was one of the first people I met in Delaware. I had celebrated b'nai mitzvah and confirmations with her family, but I appreciated the chance to get to know her better. Over coffee, she mentioned that she feels her most spiritual when she's moving—yoga, but also hiking and running outdoors, and she said wistfully "I wish Shabbat could be more like that. Why can't Shabbat be outdoors, moving?"
This would have been a perfect time to explain why it couldn't work. It was too different for our congregation, to exclusionary for people with trouble walking. What about weather? Would we really cancel services and Torah study? The reasons for saying "no" were myriad. Instead, I responded, "Why couldn't we try?"
So we planned a Shabbat hike for a Saturday morning. No Torah study, no service, but a hike with moments of meditation and study, and a Torah reading and Kaddish all built in. Beth went looking for a route, a path that would work for all ages. I began to plan the meditations and promotional materials. The idea was that we would meet near a path in the Brandywine Valley, gather everyone together with a song, then begin to walk, each at our own pace. We would stop four times along the way, at spots ideal for gathering, and share a meditation that would key us into part of the matbea t'filah, the various traditional prayers. So we would pause and reflect on praise, and join in part of pesukei d'zimrah (verses of song), then pause and reflect on creation and join in the Yotzer (blessing of creation), and so forth. We would return where we started—some place flat and level, so those who couldn't walk could join us—and read Torah and recite Kaddish. From there we would make Kiddush and HaMotzi and join in some juice and challah. While this was going on, the Temple building would be closed, and no other Shabbat morning offering would exist.
I had no idea whether this initiative would be well received. I had no idea whether people would be offended that the synagogue was closed, or want to go someplace other than our usual spot. The fact that Shabbat morning services are poorly attended without a bar or bat mitzvah didn't help. It might have been a bust. It wasn't
We've done four now, each one generally corresponding to the seasons, and each one has seen as many as 30 people (even in the rain!)—twice as many as we get on a typical Shabbat morning—and different people than might have come to a conventional Shabbat experience. There was Torah learned, there was Shabbat experienced, but out in the world, not removed from it. For many of our participants, it was the first time they'd hiked these trails; they never knew they existed. One woman read Torah publically for the first time at our first hike, her family gathered with us, and it had that same joyful, experimental feeling one gets at camp. As we sing at each station, we get smiles from the joggers and mountain bikers who go past. People bring their grandchildren and dogs with them, and we become this portable sanctuary, ourselves. Because we go at our own pace, we have to slow down. It's raucous, joyful, a little chaotic. In every way, it feels like Shabbat.
Sometimes it's too easy to say "no," to turn down an offer or suggestion from a congregant, avoid risk. But what happens when we open ourselves up to the possibility, to find a way to say "yes?" Saying yes led to meaningful community. It led to an appreciation of Shabbat and our world and each other. Saying yes is worth it.
Related Posts
Image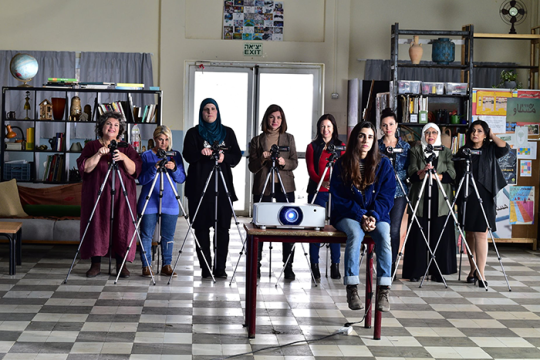 Both Arab and Jewish, young and old, the women of "Cinema Sabaya" learn about much more than filmmaking during the class; they discover that their differences are far outweighed by their bonds as women making their way in a patriarchal world.
Image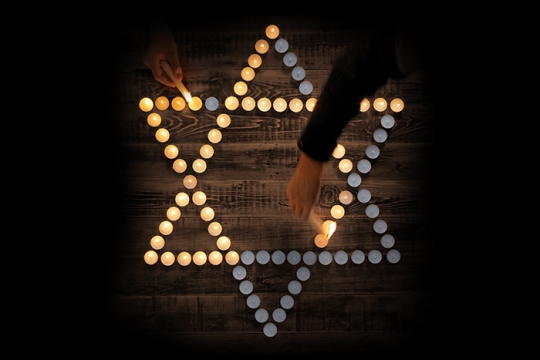 What does it mean to remember? It is to live in more than one world, to prevent the past from fading, and to call upon the future to illuminate it.
Image
A camel carrying a load. A golden pair of balanced scales. An open heart and an open mind. These are three of more than two dozen artists' visions of justice and righteousness featured in the invitational exhibition, "Tzedek Boxes: Justice Shall You Pursue."