Image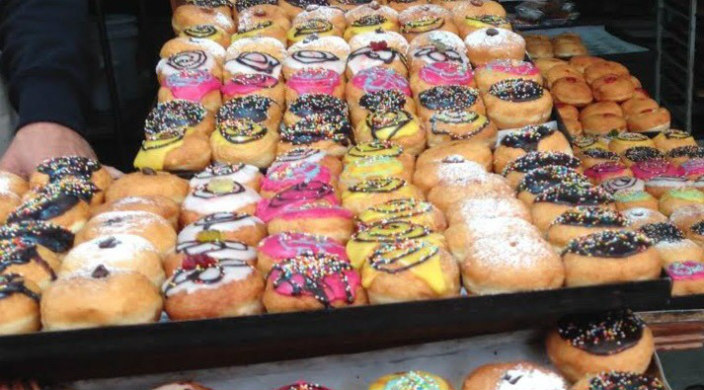 The Jewish holidays always fall "early" or "late" – never "on time." That, of course, is because as Jews we follow both the Hebrew calendar with its special holidays and the Gregorian calendar with its own special days. In some years, therefore, Hanukkah arrives early – around Thanksgiving (remember Thanksgivukkah a few years back)?  And other years, Hanukkah arrives late – coinciding with Christmas or even extends into the secular New Year. This year, Hanukkah arrives "on time," with the first candle on the hanukkiyah (nine-branched candleholder used during Hanukkah) lit on the evening of December 12th.
Here in Jerusalem, Hanukkah has fallen victim to little of the commercialization I've seen in the United States: no Hanukkah sales, no advertisements extolling the benefits of extravagant gift-giving. Rather, the emphasis is on food – and the food that appears all over is the famous Israeli jelly donut: the sufganiya (sufganiyot is the plural). These fried dough balls rolled in sugar and stuffed with any assortment or combination of jelly and custard start to appear in bakeries, supermarkets, and specialty shops about a month before Hanukkah. Their early entrance serves as a gastronomic warning: Prepare your stomach! Guard your gut! Their colorful icing and gaudy sprinkles serve as a gastronomic siren call: Buy me! Eat me! Savor me!
But here's the truth about most of the sufganiyot here in Israel: many of them are attractive and beautifully decorated – but they don't taste great. As an American oleh (a transplant from the U.S. to Jerusalem), I really miss American style donuts. I miss those fluffy, pillowy donuts, overflowing with strawberry jam, raspberry jelly, flavorful custards, and more. 
Each year, as Hanukkah approaches, I do a donut tasting, wandering from bakery to bakery, searching for donut bliss: those fluffy, sweet donuts of my youth. My donut tasting has now become a tradition and since I'm the known maven of donuts, friends and acquaintances regularly inquire where are this year's best donuts. Two places in Jerusalem get my attention: Roladin, a large bakery with branches in many cities in Israel, gets awards for creativity for its donuts filled with jelly, jam, chocolate, and one of my favorites: pistachio cream. Some sufganiyot even come with syringes to inject more filling into the donut's cavity. But the prize for best sufganiyot, year after year, goes to Kadosh, a bakery and café in downtown Jerusalem. These are donuts worth traveling for: the dough is sweet and light with a hint of orange and vanilla and the fillings cascade out of the donut. Hands down, the crème caramel is the best.
The Festival of Lights might last only eight nights – but the festival of donuts goes on for a month or more. And just when those last sufganiyot disappear – that's right – the hamantaschen make their entrance. Wishing you a happy Hanukkah and plenty of sufganiyot overflowing with delectable fillings.
Related Posts
Image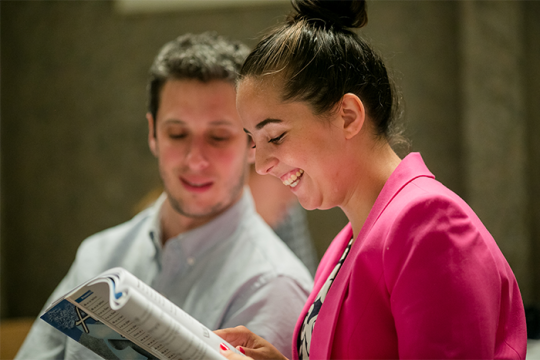 Lifelong learning, however, can be easier said than done. For many, as they enter adulthood, with its competing demands and obligations, setting aside time for learning – and especially for Jewish learning – can be challenging indeed.
Image
At 10, Jeff Erlanger appeared on "Mister Rogers' Neighborhood" in his wheelchair. I recently asked Jeff's parents about how they raised such a competent and loving son.
Image
When I became rabbi of Monmouth Reform Temple in Tinton Falls, NJ, I quickly discovered that some people in our community thought we were a church. Mail was addressed to "Monmouth Reformed Temple," and letters were addressed "Dear Pastor."