Image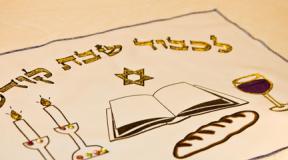 Dr. Ron Wolfson, in his book, Shabbat: The Family Guide to Preparing for and Celebrating the Sabbath, appropriately notes that while there are specific rituals that are part of every Shabbat, each Shabbat experience is different. While traditional practices help shape this experience, every person's Shabbat evolves, changes, and is shaped over time. Regardless of what rituals are performed and how they are done, when Shabbat arrives, a gateway to another realm opens. No longer are we constrained by our busy lives; our paperwork, appointments, and daily responsibilities, but we can literally press a stop button that places what is profane and mundane on hold for 24-hours so that we can embrace the holy.1
The traditional evening rituals that welcome Shabbat can be divided into six parts:
Hadlakat Nerot (Candle Lighting)
Birkat Banim (Blessing of Children)
Shalom Aleichem (Peace to You)
Eshet Chayil (A Worthy Woman)
Kiddush (Sanctification)
Z'mirot (Table Songs).2
Each of these rituals are part of a seder (order) to help prepare for the entire Shabbat observance and help preserve the feelings of joy, rest, wholeness, and peace that can emerge throughout the 24-hour period.
Hadlakat Nerot (Candle Lighting) goes back to rabbinic times. The flame that burns from the candles is often considered an act of distinguishing between profane time and holy time, as well as a reawakening and renewal of the soul. To best mark the arrival of Shabbat, the candle lighting should be close to sunset.3
Birkat Banim (Blessing of Children) has its origins from the blessings included in the Torah: Isaac's blessings of his sons, Jacob and Esau, and Jacob's blessings of his sons as well as his grandchildren, Ephraim and Menasseh. These blessings link our children's generations to those of the past and future. This blessing upon both sons and daughters are demonstrative of the parent's commitment to their children's growth and success, as well as their unconditional love for them. Followed by this blessing is the Priestly benediction, a hope from the child's parents for God's protection, kindness, and peace.4
Shalom Aleichem (Peace to You) is a poem of welcoming Shabbat. Although it only dates back to the beginning of the eighteenth century, many scholars attribute its origins to notions of peace and the ministering angels described in the Book of Psalms and Talmud.5
Eshet Chayil (A Worthy Woman) is sometimes recited or sung prior to Shalom Aleichem because it is traditionally a blessing given by the husband to his wife. Its words come from Proverbs 31 and are used to honor the wife and all that she does to contribute to the household and family.6 In some families, the words of Psalm 112 are recited in addition to, or in replacement of, Eshet Chayil. This psalm traditionally is recited so that the wife can honor her husband. However, both Eshet Chayil and Psalm 112 fundamentally exist for one spouse to praise another.7
Kiddush (Sanctification) is a blessing over wine. While candle lighting formally separates "normal" time from "Shabbat" time, the Kiddush sanctifies it. With a blessing over wine that symbolically recalls creation, our redemption from Egypt, and God's majesty, we publicly sing this blessing to commit to the notion that because God rested on the seventh day, we rest, and because God redeemed us from Egypt, we bless God.8
Z'mirot (Table Songs) are typically sung following the festive Shabbat meal. Many of these songs date back to the Middle Ages and are specific to Shabbat and God's relationship with the people Israel.9 These songs increase the enjoyment of Shabbat and ensure that one leaves the table tasting the sweetness that is this sacred day.
Dr. Ron Wolfson, Shabbat: The Family Guide to Preparing for and Celebrating the Sabbath (Jewish Lights, Woodstock, VT: 2002) 3-4.
My People's Prayer Book: Shabbat At Home, ed. Rabbi Lawrence Hoffman (Jewish Lights, Woodstock, VT: 2004) v.
Hoffman, 42-44.
Wolfson, 117-118.
Hoffman, 66-67.
Hoffman, 76-77.
Wolfson, 119.
Hoffman, 92-93.
Wolfson, 178.
Related Posts
Image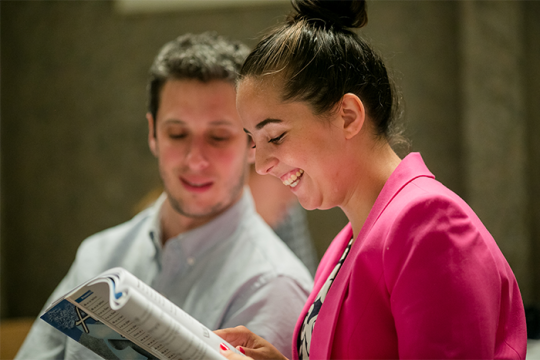 Lifelong learning, however, can be easier said than done. For many, as they enter adulthood, with its competing demands and obligations, setting aside time for learning – and especially for Jewish learning – can be challenging indeed.
Image
At 10, Jeff Erlanger appeared on "Mister Rogers' Neighborhood" in his wheelchair. I recently asked Jeff's parents about how they raised such a competent and loving son.
Image
When I became rabbi of Monmouth Reform Temple in Tinton Falls, NJ, I quickly discovered that some people in our community thought we were a church. Mail was addressed to "Monmouth Reformed Temple," and letters were addressed "Dear Pastor."