Image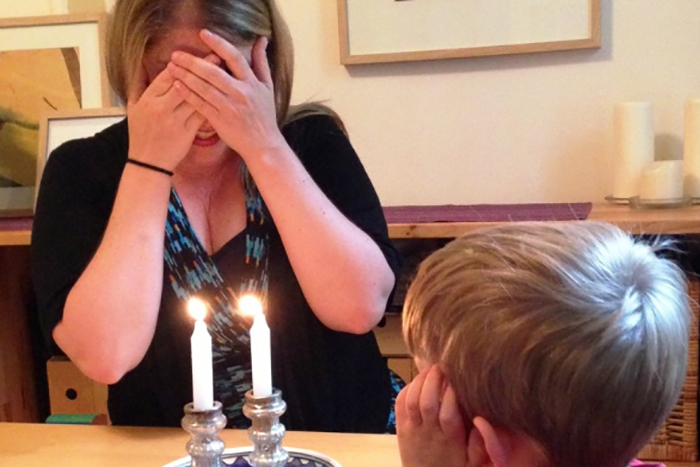 As a teenager in Flint, MI, most of my peers spent their Friday evenings at the movies with friends or at high school football games. When I told my friends why I couldn't join them, they were flabbergasted. "Can't you just stay for dinner and then meet us later?" "Don't you hate having to stay home?" The truth was, I didn't hate it. I loved it. I always looked forward to Friday afternoons when my dad would come home early from work and my whole family – my parents, brother, sister, and grandmother – would sit down at the table for a leisurely Shabbat meal.
After saying the blessings, we would enjoy a special dinner, lovingly prepared by my mother. We'd talk about the events of the week and make each other laugh, sometimes until we cried. After dinner, we'd play games or watch movies. Obviously, we weren't shomer Shabbat, but we observed Friday evenings as a separate and holy time for our family.
When I left home for college, I looked to create a family Shabbat experience with my peers at Hillel. It wasn't the same as being at home with my own family, but it worked for me at that point in my life. And later, when I was living on my own as a single woman in Washington, D.C., and then in Brooklyn, my friends and I often arranged potluck Shabbat dinners. These evenings were filled with warmth and love, yet I yearned for the day when I would observe Shabbat with a family of my own.
At 31, I found myself in a serious relationship with a man who wasn't Jewish, and I extolled upon him the virtues of celebrating Shabbat. He embraced my family's traditions, and we would say the blessings and dance around the living room singing, "Shabbat shalom, hey!"
We married and had a son, and finally, I found myself celebrating Shabbat with my own little family. We'd often Skype with my parents to say the blessings, my mother and I waving our hands over the candles in unison from miles apart. Though the Skype part was new, Shabbat was starting to feel like the experience I had always envisioned for myself.
When our son was 16 months old, my husband and I abruptly separated and Shabbat felt exceptionally lonely. My ex and I arranged for our son to be with me on Friday nights, but I felt lackluster about making a "nice" Shabbat dinner out of strained peas. I couldn't talk about the week's events with my son, and he couldn't yet dance and sing around the living room. Observing this new version of Shabbat merely underscored the sadness I felt over having a broken home.
As my son got older and could participate in the Shabbat experience, I started to feel a little better about Friday nights, but they were still lacking something. Last year, I joined Congregation Beth Elohim in Brooklyn, where my son attends preschool. They have a Tot Shabbat the first weekend of the month and an Israeli-style Shabbat sing-a-long event on the last weekend of the month, so now, twice a month, my son and I enjoy communal Shabbat experiences with friends. These events expose him to the joys of Shabbat and make me feel like part of a larger family. They are truly wonderful, but I must admit that, sometimes, in the middle of the crowd, I feel incredibly alone, as if I am the only divorced parent in a room full of seemingly happy families.
On the weeks when there are no events at the temple, I try to summon the energy to make Shabbat for the two of us. It's not always easy, but I don't want my son to miss out on that experience. On Friday afternoons, we go to the bakery and pick up a mini challah. We light the candles (sometimes on Skype with my parents) and say Kiddush over grape juice. Then my son excitedly recites the Motzi (all by himself!) and sings a litany of Shabbat songs he has learned in preschool. Over dinner we can actually talk about our day and laugh, sometimes until we cry.
I'm coming to terms with the fact that Shabbat - and indeed my life as a whole - is not how I envisioned it. Nevertheless, I try my best to honor the spirit of Shabbat. Whether in a room with 200 people or just two, it's important for me to pause and celebrate the blessing of family.
Related Posts
Image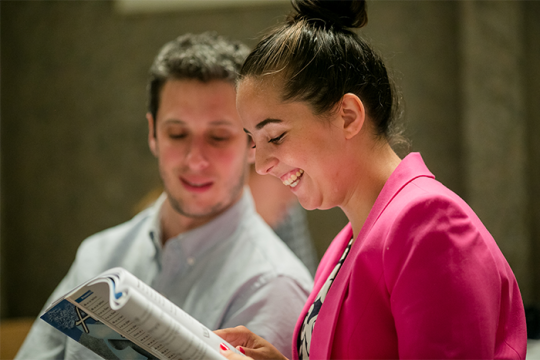 Lifelong learning, however, can be easier said than done. For many, as they enter adulthood, with its competing demands and obligations, setting aside time for learning – and especially for Jewish learning – can be challenging indeed.
Image
At 10, Jeff Erlanger appeared on "Mister Rogers' Neighborhood" in his wheelchair. I recently asked Jeff's parents about how they raised such a competent and loving son.
Image
When I became rabbi of Monmouth Reform Temple in Tinton Falls, NJ, I quickly discovered that some people in our community thought we were a church. Mail was addressed to "Monmouth Reformed Temple," and letters were addressed "Dear Pastor."