Image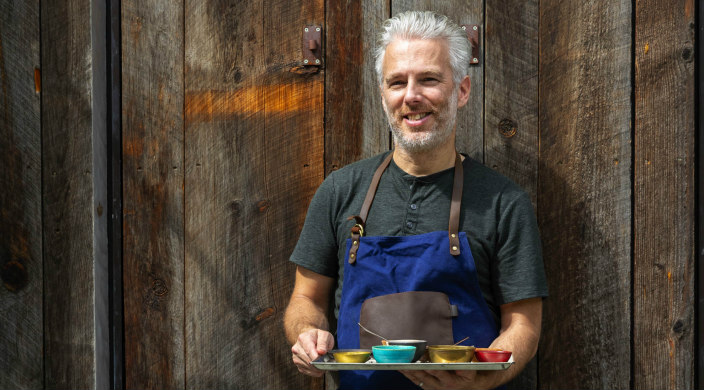 Lior Lev Sercarz is the chef, spice blender and owner of La Boîte, a biscuits and spice shop in Manhattan's Hell's Kitchen neighborhood, where he blends spices for some of the world's best restaurants, as well as for home cooks.
Born in Israel, Lior gets many of his inspirations from the diverse mix of flavors and colors that were the palette of his Middle Eastern upbringing. His new book, Mastering Spice: Recipes and Techniques to Transform Your Everyday Cooking: A Cookbook (Clarkson Potter, October 2019), promises recipes and techniques to transform everyday cooking by changing the way we experience spices.
ReformJudaism.org: How is Mastering Spice different from your two previous books.
Lior Lev Sercarz: The first book was a guide to our spice blends and how to utilize them. The second was a dictionary of single spices that readers could use to learn how to blend. My goal in Mastering Spice was to showcase that pretty much anyone can use spices to simplify home cooking. Spices aren't reserved for certain levels of cooking or for certain ethnic groups.
Some people are intimidated by spices. What's your philosophy?
There's really no right and wrong with spices. What we're showing with this book is that you can apply anything on anything. What you perceive as a savory seasoning you can use on a dessert or snack or beverages. Don't change the way you are cooking on an everyday basis. The fact that you're using spices doesn't mean you have to start cooking ethnic foods. It can be a simple pizza or scrambled eggs or pasta. But if you start adding spices to them, you'll get a really complex flavor, without complex preparation.
The framework of the book includes master techniques and recipes with variations that include different spices. How is that format designed to be both practical and liberating for home cooks?
If you master a few basic recipes with protein, vegetable, grains or fruits, you can make the same recipe over and over again, but by changing the seasonings you open opportunities to many different flavor profiles. Also, the book includes what I apply from my professional career to my home cooking, which is planning and the basics of a well-stocked pantry. All these practices combine to save a huge amount of time and help make cooking less complicated and more fun.  
In the book, you go to great lengths to describe how you go about buying the best spices from growers who value sustainability and from brokers you trust. What should home cooks look for in spices?
I'd like them to try to buy the best quality spices they can whether through us or local grocery stores or online. Make a point to buy something with great scent and flavor, from a source with a good turnover in spices. Most people are able to identify a good source of meat or vegetables. The more you pay attention, the better the chance you'll find a favorite spice supplier.
Can you offer some practical tips on buying and using spices.
Buy the smallest amount possible because you are not going to use a lot. Replenish them as needed. When you do bring spices home, I suggest you put them in airtight clear containers so you see how much you have. Keep them near the area you are cooking so they are accessible. There is no need to refrigerate them or put them in a dark place or a wine cellar. Just keep them away from extreme sunlight and heat: the back of a kitchen counter or a shelf above it are good spots.
What about spice substitutes?
There's no need to run to the store if you don't have a spice listed in a recipe. If you are cooking and one or two spices are missing, be creative and use something else. For example, if you don't have jalapeño powder, use another spice that will give heat, like black pepper or cayenne. They won't change the dynamic of the recipe that much.
Tell us about your food memories from Israel and how they inspire your Jewish holiday cooking today.
I have fond memories of our meals: the aromas of cinnamon, cloves, and nutmeg come to mind, as well as cumin, caraway, and chili flakes from my Tunisian grandfather.  For the Jewish holidays, I draw many of my inspirations from our family celebrations. As a child, we made challah every week for Shabbat, but now, I put a new spin on it with yogurt and turmeric, or with cumin, smoked paprika, mustard seeds, and even cheddar cheese. 
For Passover, I'll stuff matzah balls with lamb, chicken, or beef and add nigella seeds along with green mango powder to the soup for some acidity. I'll change up sufganiyot (jelly doughnuts) for Hanukkah, by adding baharat, a warm and sweet spice blend, to the dough. For the High Holidays, I'll bake an olive oil cake seasoned with ground ginger and black peppercorns, and for a twist on apples and honey, I sauté them together and add coriander seeds and chili flakes to serve as a side dish with brisket. 
As for the brisket, mine is North African inspired, with cardamom, cinnamon, cumin, turmeric, and rose petals, braised with dried apricots, prunes, and figs. Needless to say, there is no end to the variations that can be made to traditional recipes.   
You have two sons, and I know they love to cook with you. What's your advice for broadening a child's palate to be more accepting of new flavors? 
It's just about introducing new flavors and making it playful. They don't have to eat it if they don't want to – they just have to smell it and have a little taste. I also recommend re-introducing spices over and over again. What's not good today may be amazing tomorrow.
Try out this recipe for Coriander and Black Pepper Chicken Breasts with Balsamic Glaze from Lior Lev Sercarz' new cookbook, then subscribe to The Jewish Dish, ReformJudaism.org's monthly food email for recipes, fun food facts, holiday tidbits, and more, all with a Jewish twist. Delish!
Related Posts
Image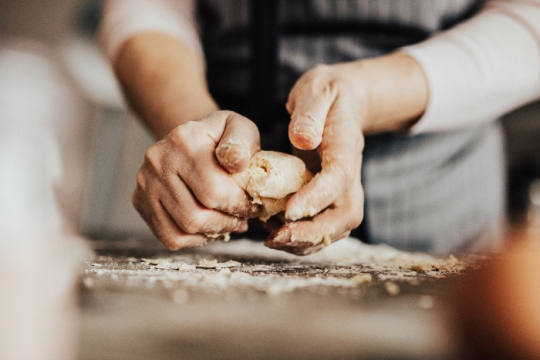 I've made challot each Friday while sheltering in place, kneading in prayers not only family and friends but also for our country and our world during these trying times.
Image
Meghann Hennen, a Jewish preschool teacher based in Cleveland, OH, discovered challah's incredible impact on her life firsthand when she decided to start her own challah business on Instagram... in the midst of the pandemic.
Image
These crispy treats make the perfect base for a holiday spread. In creating your board, think about what foods and flavors you typically like to pair with your latkes… and start creating!