Image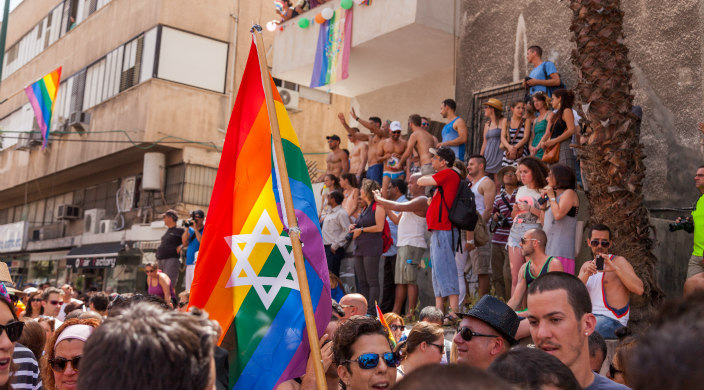 Editor's Note: This essay was originally published on March 3, 2019. We are re-sharing it today in honor of Pride Month.
Recently, I walked into the student lounge at Hebrew Union College-Jewish Institute of Religion (HUC-JIR) in Israel, went to my locker, made some tea, and began paging through my Hebrew book. I have come to appreciate my unshakable habit of arriving to campus too early, utilizing the extra minutes to calmly prepare for another day of classes.
Another student who shares this habit walked into the lounge, but rather than leading with his typically affable demeanor, he expressed anger and pain over a political advertisement. After seeing the look of confusion on my face, he pulled up a photo of a billboard promoting the right-wing Yachad party that read, "So there won't be a child with a father and a father!" No amount of tea could restore my sense of calm after seeing something so malicious and bigoted.
I am well aware that I am not the target audience for this advertisement. I am not right-wing, I am not Israeli, I am not a voter in the upcoming election. Yachad's leader, Eli Yishai, split from the ultra-Orthodox Shas party five years ago, and I do not fall into any group that supports his previous party either.
More to the point, I grew up in a same-sex household – I am the very "child" Yachad proports to protect. Reading the ad, I initially felt nauseated, but quickly became curious. How many children of same-sex families did the group consult before running this shtuyot (nonsense)? We do not need their protection or their feigned concern. What we need is for those with the national spotlight to stop using our parents as instruments in widescale fear-mongering. 
For all these reasons, I know Yachad is not angling for the support of people like me, yet their tactics still leave me affected. I am invested in the future of Israel and I am saddened to know that this type of discourse appeals to even part of the country's voting base.   
When moderate and progressive American Jews discuss the LGBTQ community in Israel, a few tropes are constantly peddled. Some circles focus on pride parades and the openness of Tel Aviv. Others discuss certain legal protections and rights afforded LGBTQ individuals. Still others argue that other countries in this region treat queer folks terribly and that Israel provides safety unparalleled by its neighbors.
Undoubtedly, these statements reflect positive steps on the path to equal rights for LGBTQ people, but this morally obvious goal has not been achieved by any measure. The advertisement run by Yachad's supporters is just one visible and undeniable example of the ongoing struggle for acceptance. Marriage equality and practices around adoption and other forms of family formation are two additional subjects that have received attention in the past few years.
We cannot be satisfied ticking off the successes of Israel in relation to the LGBTQ community, pointing at Tel Aviv while ignoring homophobia that pervades so many aspects of politics and society here. We have an obligation to advocate for the type of Israel we want to see, to insist that the state reflect Jewish values. The Reform Movement is committed to doing this work, to building a more loving, more ethical, and more accepting Israel by supporting efforts on the ground.
Related Posts
Image
These are Torah portion haikus.
Image
These Haikus focus on weekly Torah portions.
Image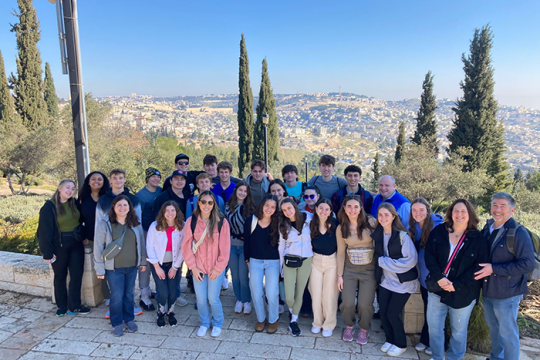 What happens when you take six Jewish teens and six Catholic teens to Israel? This was the very question that Roger Tilles and the late Fr. Tom Hartman hoped to answer in 1988 when they organized Project Understanding.