Image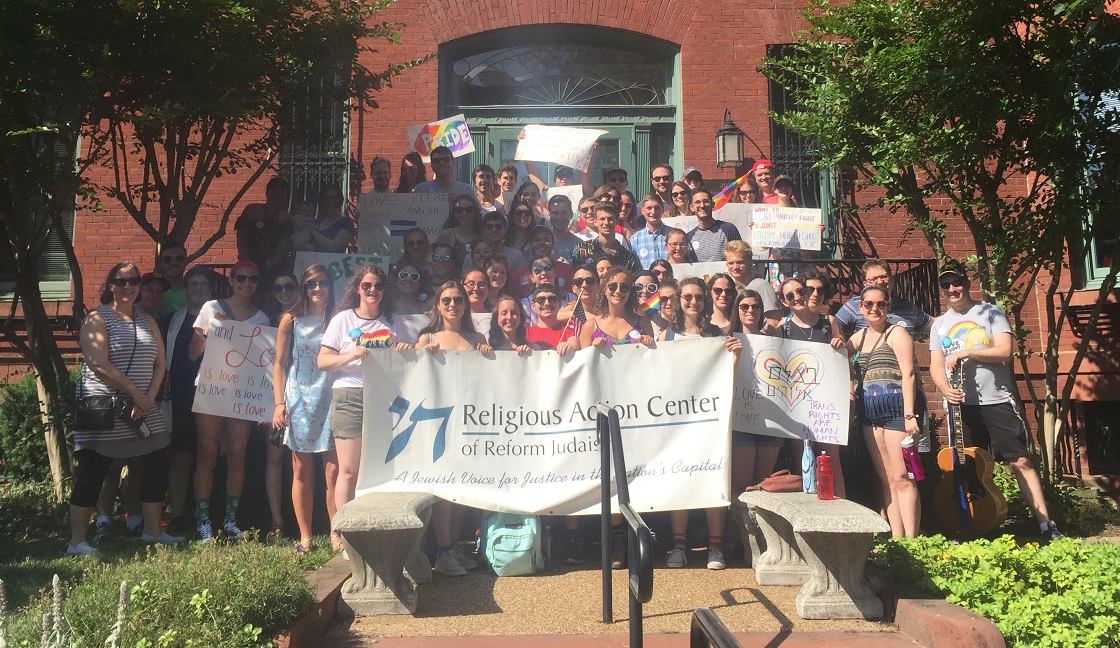 As we celebrate LGBT (Lesbian, Gay Bisexual, Transgender) Pride Month this June, the Reform Jewish community has a lot to be proud of. For decades the Reform Movement has been one of the leading faith voices in Washington, D.C., and around the country advocating for LGBT equality. Our LGBT advocacy began decades ago with the passage of policy resolutions by the Union for Reform Judaism and the Central Conference of American Rabbis (CCAR), and the affiliates. Women of Reform Judaism (WRJ) was the first Reform Jewish institution to take a stand supporting the decriminalization of homosexuality in a 1965 resolution . By the end of 1977, both the URJ and the CCAR passed resolutions affirming the right of lesbian and gay individuals to equal protection under the law and calling for the prohibition of discrimination against gay and lesbian individuals .
The Reform Movement's leadership on LGBT equality has had two components: our congressional advocacy seeks to influence the laws of our nation and our inclusion efforts seek to increase the acceptance and full inclusion of LGBT Jews in the Reform Movement. Although we may have been one of the leading faith voices calling for LGBT equality in our laws, our inclusion work took more time. At his Biennial address in 1989, Rabbi Alexander Schindler stated that, "There is one realm, however, in which our resolutions have been forthright, but our actions considerably less so…in spite of past declarations urging the contrary, the singling out of homosexuality from the whole human constellation as a loathsome affliction remains a widespread sentiment in our midst."
Under Rabbi Schindler's leadership and in the years afterward, the Reform Movement became a more welcoming and accepting place for lesbian and gay Jews. In 1990, Hebrew Union College-Jewish Institute of Religion began accepting openly gay and lesbian students for the first time, and over the years, our camps and youth programs have taken many steps to become more inclusive of not just lesbian gay and bisexual youth but transgender youth as well. Furthermore, in the decades following Rabbi Schindler's address, the URJ and CCAR passed a wide range of resolutions relating to the rights of LGB individuals, from opposition to Don't Ask Don't Tell to supporting marriage equality. Meanwhile, as Congress took steps to codify anti-LGBT discrimination into law, the RAC raised a strong moral voice against these pieces of legislation.
In 1996, as Congress debated the Defense of Marriage Act (DOMA) - which defined marriage as between a man and a woman for federal purposes (Section 3) and empowers states not to recognize marriages of same-sex couples from other states (Section 2) - Rabbi David Saperstein, then-director of the Religious Action Center of Reform Judaism (RAC), submitted testimony stating that not only described DOMA as "unnecessary and unconstitutional," but also "immoral and unjust." DOMA was passed overwhelmingly by Congress (84-15 in the Senate and 342-67 in the House) and almost two decades later, WRJ, the CCAR and the URJ all submitted amici briefs in Windsor v. United States (2013), which struck down Section 3 of DOMA. Two months ago, the Supreme Court heard oral arguments in Obergefell v. Hodges, which could establish marriage equality in all fifty states and the WRJ and CCAR , as well as the URJ , again submitted amici briefs in support of marriage equality.
The RAC's work on behalf of LGBT rights has extended far beyond marriage equality. Rabbi Saperstein spoke out against DADT, when it was first proposed in 1993 and a decade and a half later, the RAC advocated for the bill that finally repealed DADT. The RAC has advocated-and continues to advocate-on a range of LGBT bills, from the Every Child Deserves a Family Act, which would ban discrimination in adoption based on sexual orientation, gender identity and marital status, and the Safe Schools Improvement Act, which would require schools to adopt policies banning bullying and harassment based on sexual orientation and gender identity, as well as other protected classes. In addition, the RAC played a leading role organizing faith support behind the Employment Non-Discrimination Act, the leading bill over the past two decades that would have prohibited discrimination in employment based on sexual orientation and gender identity.
These past few months, the Reform Movement has expanded its policies on LGBT rights. As the CCAR celebrated the 25-year anniversary of the decision to accept openly gay and lesbian rabbinical students to HUC-JIR, the CCAR adopted a resolution on the Rights of Transgender and Gender Non-Conforming Individuals. The CCAR also adopted a resolution on "conversion therapy," calling on all 50 states and the District of Columbia to pass laws banning "conversion therapy." In addition, the CCAR installed its first openly gay president, Rabbi Denise Eger, this past year.
It is clear that the Reform Movement has a lot to be proud of when it comes to our LGBT advocacy. However, another big fight for LGBT rights is expected to be fought in the halls of Congress as this Congress' term continues. Check out ReformJudaism.org tomorrow to learn about the next big battle in Congress for LGBT equality.
Related Posts
Image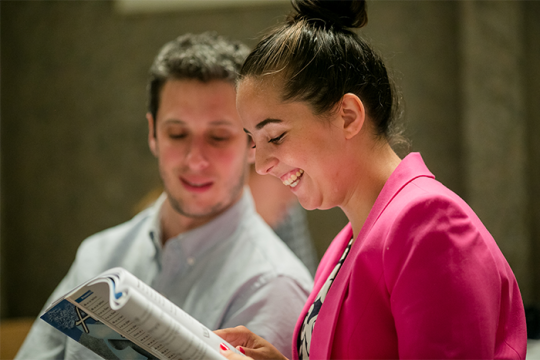 Lifelong learning, however, can be easier said than done. For many, as they enter adulthood, with its competing demands and obligations, setting aside time for learning – and especially for Jewish learning – can be challenging indeed.
Image
At 10, Jeff Erlanger appeared on "Mister Rogers' Neighborhood" in his wheelchair. I recently asked Jeff's parents about how they raised such a competent and loving son.
Image
When I became rabbi of Monmouth Reform Temple in Tinton Falls, NJ, I quickly discovered that some people in our community thought we were a church. Mail was addressed to "Monmouth Reformed Temple," and letters were addressed "Dear Pastor."