Image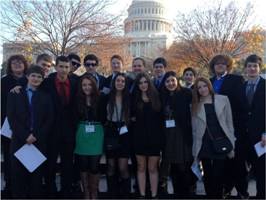 Every year, nearly 2,000 high school-aged Reform Jewish students participate in the Religious Action Center's L'Taken Seminar in Washington, D.C. At the beginning of December, Rabbi Greg Litcofsky, took the confirmation class at his congregation, Temple Emanu-El of West Essex, to Washington D.C. to participate in the L'Taken Seminar. The program is designed to expose students to a variety of public policy issues, explore the Jewish values surrounding these issues and teach the skills of an effective advocate. Below, Rabbi Litcofsky and one of Temple Emanu-El's students, Annabelle Hanflig, reflect on their experience.
"The most exhilarating part of the L'Ttaken Weekend was watching with pride our Temple Emanu-El Confirmation Class deliver their well rehearsed and impeccably written lobbying speeches on Capital Hill! That Monday will be a day our students will never forget, as they asked our government to support a UN vote on Disability rights, thanked our Congressman for supporting ENDA, and lobbied our elected officials to support Malaria prevention programs in Africa. There are certain things that you just can't teach in the classroom or in the sanctuary, and livings one's Jewish values as an active participant in the American democratic process is one of them. The value of helping our students recognize that there is a strong Jewish voice on issues of import in our county and our world, and that the voice is theirs along with 1 million other Reform Jews – is beyond measure." Rabbi Greg Litcofsky Temple Emanu-El of West Essex, Senior Rabbi · Livingston, New Jersey
"I will never forget the weekend I spent in Washington, DC with the Religious ActionCenter of Reform Judaism, my Conformation class, and fellow Jewish teens from all over the country. We participated in the L'Taken Seminar, where we were given the extraordinary opportunity to explore a variety of current events and how they affect us as not only as people, but as Jews. Throughout the weekend, I was immersed in Jewish culture and history. We visited the Holocaust Museum in DC, a brutally honest and incredible collection of people, artifacts, and stories from the worst time of suffering in Jewish history. After an amazing night off in Georgetown, everyone on the trip traveled to the Jefferson Memorial where we participated in a beautiful, candlelit havdalahhavdalahהַבְדָּלָהLiterally, "separation." The Saturday night home ritual that separates the Sabbath from the beginning of the new week. The ritual uses wine, spices, and candles to transition from Sabbath to the weekdays. service. We all gathered close on the steps overlooking the Potomac River and helped bring Shabbat to a wonderful, yet bittersweet end.
It was also incredible to be given the chance to lobby to our state Senators and Representatives and make our voices heard. We were given the chance to attend two seminars regarding major bills that are being discussed in congress, whose topics ranged from Disability Rights to Malaria Prevention in Africa. I chose to lobby on a bill called ENDA, which if passed, would protect members of the LGBT community from being demoted, fired, or deprived of a job. It felt so rewarding to be able to make my voice heard and have my thoughts and opinions be taken seriously. But this trip wasn't all work and no play. In between seminars and trips to national monuments, I was able to make some incredible friends and develop connections that are stronger than the distance between our states. At the end of the vigorous weekend, we put on our best business wear and headed out to Capitol Hill. Looking like little businessmen and women, we lobbied to the Legislative assistants and directors of our state Senators and Representatives.
In Hebrew, l'taken means to repair. This eye-opening journey showed me that my peers and I are truly the next leaders of our country and we have the power to repair what is broken. We have the power to change the world for the better by making our voices heard and we will not stop until we have seen and taken pride in the restoration." - Annabelle Hanflig, 10th grader
Rabbi Michael Namath, Program Director, has facilitated the experience of thousands of Reform teenagers and their adult supporters, "The power of the L'Taken program happens on multiple levels. The students connect their Jewish values and texts with current issues. After learning they put that knowledge into action by going to Capitol Hill. These visits not only empower the students to see that their voice will be heard but also effect real change in the legislative process. As a group coming from a congregation there are deep connections formed over the weekend, the type that only come with an immersive experience. The Reform movement's of values are actualized and shared on Capitol Hill as part of this program. Although it is merely a four day program students congregations and our country are changed as a result of it
In Deuteronomy we are commanded, "Tzedek, tzedek Tirdof,"justice, justice you shall pursue. Through L'Taken, thousands of Jewish teenagers find a meaningful way to do just that.
Related Posts
Image
These are Torah portion haikus.
Image
These Haikus focus on weekly Torah portions.
Image
These Haikus focus on weekly Torah portions.