A camel carrying a load. A golden pair of balanced scales. An open heart and an open mind. These are three of more than two dozen artists' visions of justice and righteousness featured in the invitational exhibition, "Tzedek Boxes: Justice Shall You Pursue," held at New York's Dr. Bernard Heller Museum at Hebrew Union College-Jewish Institute of Religion from January 26 to May 18, and online on the Heller Museum's new digital guide on the free Bloomberg Connects app.
A tzedek box (inspired by the traditional tzedakah boxtzedakah boxקֻפְסָת צְדָקָהContainer for collecting money for charitable purposes. It is customary to place money in a tzedakah box prior to candlelighting in the home. ) is a new ritual object devoted to the Jewish value of tikkun olam (repairing the world) through the centuries-old practice of cheshbon hanefesh (an accounting of the soul). Every time a person makes an effort to improve the world, they place a written note in their personal tzedek box, expressing what they did and why, what they learned, and what impact their action (hopefully) made. Once a year, on Pesach Sheni, a biblical holiday centered on second chances, the person opens their box, reviews its contents, and rededicates themself to the work of righteousness and justice in the year to come.
"Days are like scrolls," Rabbi Bahya ibn Pakuda wrote in the 11th century. "Write on them what you wish to be remembered."
When my team and I first started developing the concept of this ritual, I assumed people would construct their own tzedek boxes from tissue boxes, shoeboxes, or mason jars. Indeed, dozens of schools and institutions - from B'nai Chaim in Denver, CO to Beth El the Beaches in Ponte Vedra Beach, FL - did just that. To me, what was important were the reflections people wrote after making an effort to improve the world. Could the container matter?
It turns out that it could. Renowned American artist Tobi Kahn was inspired to create his own series of tzedek boxes: breathtaking wooden boxes of deep blue that evoke a cityscape using 70 pieces of wood that reference the universal "70 nations" described in the Book of Genesis. The Jewish Daily Forward called it "a mailbox to God."
In the Heller Museum's exhibition, Kahn's box appears alongside many others, illustrating an array of artistic responses to the object's mission to motivate acts of justice. Some designers chose to focus on memory as a source of inspiration. Rena Solomon created a jewelry box in honor of her mother, a role model of compassion and volunteerism.
Others used their visions for a redeemed world as the centerpiece of their designs. In her decorative wall hanging with 12 pockets for 12 months' worth of reflective notes, Rachel Kanter illustrates a forest near her childhood home, dedicating her creation to environmental protection.
Some chose to focus on qualities or habits of the righteous. By using vintage timepieces and the gears of a clock, Fran Addison's tzedek box emphasizes the urgency of action.
Others drew on explicitly Jewish references to provide a vision of what justice means to Jews. Marisa Baggett constructed a cascading stream made of blue resin inside a box to convey the words of Biblical prophet Amos: "let justice flow like water" (Amos 5:24).
Judy Brown's glass jar illuminates every time its owner inserts a reflection, a gorgeous depiction of the Kabbalistic understanding that we redeem the world by re-gathering the sparks of light scattered during Creation.
This exhibition demonstrates the remarkable diversity of symbols and interpretations available for those interested in prompting actions around justice and righteousness. It enables you to envision your own tzedek box that meets your aesthetic preferences and motivates you to fill it.
"Tzedek Boxes" is presented in conjunction with the exhibition, "One Nation," featuring contemporary artists considering the condition of America today and hopes for the future. For a free tour, contact eberman@huc.edu or call 212-824-2218. You can also view the online exhibition catalog.
Related Posts
Image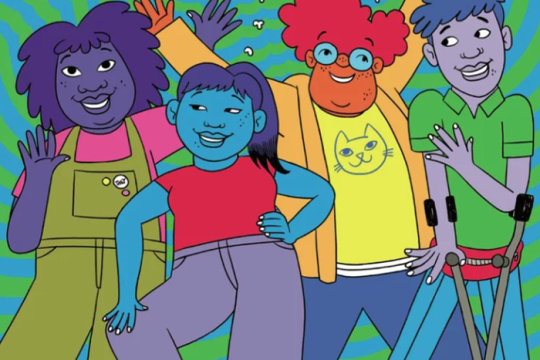 Cory Silverberg (they/them) is a sex educator, author, and social justice advocate who writes books for young people that center queer, trans, and nonbinary experiences and narratives in collaboration with the artist Fiona Smyth. Together they have published more than 12 books.
Image
Judaism's relationship with astrology is one that has many twists and turns. Jewish interest in the zodiac can be traced back to the time of the Babylonian exile, which is evidenced by the fact that many of the Hebrew names of the constellations are actually Hebraicized versions of the original Assyrian names.
Image
As 2022 draws to a close, it's time to highlight some of the best Jewish content of the past year. Art, marriage, coming of age, healing, history, and antisemitism are all on display in a year that has had its fair share of public tumult.