Image
Desire for a better, more just, more peaceful world is a universal aspiration that crosses all lines of difference. None of my friends wants their children to grow up surrounded by the bitterness and violence and exclusivity that is the current national and international climate. We talk about it among our peers, we hear about it from the pulpit, we read about it on social media. But moving from desire for a better world to actually living in a better world is tricky. It requires thought, plans, ideas, and ultimately action.
Action gets us – individuals, communities, and the entire human race – from one place to another. In Judaism, action can take many forms from simple to complex: giving a dollar to a homeless person on the street; hosting an interfaith Shabbat service to build relationships with other faith communities; attending a rally; or voting to elect officials who uphold our deepest and most treasured Jewish values. Voting, for those who can vote, is the one way we can participate in democracy and is the single, simplest, and most powerful thing we can do as individuals to shape the world around us. But action can take time, and it can be challenging and frustrating.
In this week's parashah (Torah portion), Tol'dot, we will read the story of Jacob and Esau, two brothers at odds. This portion is full of deceit, anger, and failure to see the true Jacob. Regarding Isaac's actions or inaction, writers in The Torah: a Women's Commentary suggest that "perhaps Isaac is allowing himself to be misled; he is blind to what he chooses not to see." Perhaps if he saw the truth – that his wife and son were cheating a system for personal gain – it would be too painful to bear. Maybe in this case, Isaac was looking the other way to preserve himself and avoid facing a tragic reality. He chose not to see what was right in front of him and abdicated his responsibility to confront the situation.
This theme of refraining from involving oneself in difficult or uncomfortable matters feels prevalent during election season. Although there are many obstacles to voting -- transportation, understanding the issues, time, and more -- many people who do not lack these resources and could vote quite easily don't. It may be because the policies that affect the most vulnerable people in their communities do not also affect them. They may see homeless people on the street; they may even give them money but taking it to the next level – working to change the policies that right the wrongs in our society – can seem to be out of reach, too daunting, too much trouble, or someone else's job entirely.
Today is November 6, 2018, midterm election day in the United States. Today is the day we act by voting – taking the step that will help move us from desiring a better world to building a better world.
We can no longer shield ourselves from the harsh realities of today's world – harmful rhetoric that incites violence, inequity that pervades the systems we depend on, and a division of beliefs so polarized that progress anywhere feels out of reach – nor neglect our Jewish responsibility to show up. Deuteronomy 22:3 states, "You shall not hide yourself." We know this to be true, and the medieval commentator Rashi expounds upon this text by saying, "You must not cover your eyes, pretending not to see."
Indeed, on this sacred election day, we must not turn our heads away from the reality we are facing. The Reform Jewish community must show up every time – at every rally, at every opportunity to speak truth to power, and, most importantly, at every election, including today's.
To live in a world that today we only can envision, we must speak out about the issues that matter to us and demand the changes we know will create that better world for us all. Only we can do that – and we must start doing it today.
To find your polling place, visit the RAC's Civic Engagement Campaign page.
Related Posts
Image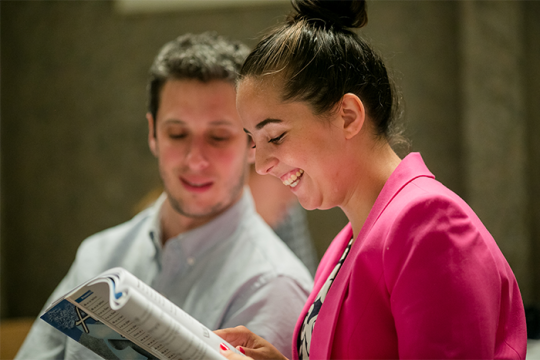 Lifelong learning, however, can be easier said than done. For many, as they enter adulthood, with its competing demands and obligations, setting aside time for learning – and especially for Jewish learning – can be challenging indeed.
Image
At 10, Jeff Erlanger appeared on "Mister Rogers' Neighborhood" in his wheelchair. I recently asked Jeff's parents about how they raised such a competent and loving son.
Image
When I became rabbi of Monmouth Reform Temple in Tinton Falls, NJ, I quickly discovered that some people in our community thought we were a church. Mail was addressed to "Monmouth Reformed Temple," and letters were addressed "Dear Pastor."