Image
It's often difficult to be funny in print, but reading the opening of Peter Gethers' newest book, My Mother's Kitchen: Breakfast, Lunch, Dinner, and the Meaning of Life, I found myself suppressing hysterical laughter in the quiet car of an evening rush-hour train. I can't begin to imagine how his unselfconscious, authentic, and remarkably familiar persona would make me laugh in person. It's fitting, I think, that last week – just before Mother's Day – I finished My Mother's Kitchen – this time alone at home, where I savored the poignant scene of celebrity chefs and restaurateurs celebrating the author's elderly mom on her birthday.
Restaurateurs? Top-name chefs? An elderly mom?
Peter Gethers is a grandson of one of the founders of Ratner's, the vegetarian-dairy restaurant of Lower East Side fame. Throughout this latest book, he regales readers with the history of Ratner's and its famous customers, but that is only one facet of his story.
My Mother's Kitchen is Gethers' clear-eyed assessment of his mom, Judy, who, at age 53, landed her first-ever "job" – as an unpaid kitchen assistant at Ma Maison, one of Wolfgang Puck's Los Angeles restaurants. There, she mastered the art of French cooking, launching a career in the culinary world in an impressive upward spiral that lasted until she was well into her 80s.
My mother went to work at Ma Maison as soon as the New Year began. She cooked two nights – late nights – and one full day per week. It quickly became an all-consuming passion and her life soon revolved around crème caramels and salmon mousse and various foods en croute, and she had a new family, comprised of chefs (well, mostly Wolf, with whom she quickly developed a mother/son-like bond), sous-chefs, waiters, busboys, and just about anyone who spent time in the back of the restaurant.
There was, unquestionably, a new kind of exhilaration to my mother's life. She had, in a sense, been set free. Every day was a new learning experience, either technically in the kitchen or in the way she was dealing with her new family of restaurant workers. She was suddenly the go-to person when wisdom needed dispensing…Many years of being the calm center of many family storms stood my mom in good stead in the midst of the insanity and turmoil in one of the hottest kitchens in the country…Above all, my mom learned to cook. Really cook.
After his octogenarian mother suffers a stroke, Gethers, who is by no means a gourmet cook, decides to give his mom the ultimate culinary gift by preparing her favorite recipes. Even from her wheelchair, Judy Gethers continues to be a somewhat intimidating presence for her anxious-to-please and afraid-of-failing son, all of which makes his narrative of nervously chopping, measuring, and cooking under her watchful gaze highly entertaining. One raised eyebrow from his mother often caused inner turmoil for the author.
In his first attempt at matzah brei, using the recipe from The World-Famous Ratner's Meatless Cookbook, he adds this humorous note next to matzoh in the list of ingredients:
3 matzohs (NOTE FROM AUTHOR: NO PERSON OR BOOK EVER SPELLS MATZO THE SAME WAY; IT IS OFTEN SPELLED "MATZOH," "MATZO,' OR "MATZAH." I DON'T KNOW WHY THIS IS SO; PERHAPS NO ONE BOTHERED TO TRANSCRIBE RECIPES WHILE WANDERING IN THE DESERT FOR FORTY YEARS; PERSONALLY, I WOULD HAVE PREFERRED A TABLET WITH THIS RECIPE CARVED INTO IT TO ONE WITH THE TEN COMMANDMENTS, BUT TO EACH HIS OWN.)
As he tells of scouting locally for high-brow ingredients, he adds dry, parenthetical comments to recipes' lists of ingredients. At the bottom of the instructions for homemade toasted breadcrumbs, for example – intended to be served over buccatini with cauliflower, pine nuts, currants, anchovies, and saffron – Gethers notes: "Or you can use store-bought bread crumbs. No, they're not as good, but they're fine. And if you serve them in a little bowl with a saucer, people will think they're better than they are."
My Mother's Kitchen is filled with recipes – and the author's running commentary – chosen by Judy Gethers for the special connection each one holds to people and events in her life. In addition to Ratner's matzah brei, the book includes, among others, recipes for Joël Robuchon's mashed potatoes, Yotam Ottolenghi's quail, Wolfgang Puck's salmon coulibiac, Solferino's steak with truffle cream sauce, Nancy Silverton's challah and boule, Martha Stewart's tarte tatin, and a much beloved chocolate pudding concocted by the family's housekeeper, Louise Trotty.
With a splash of good humor, a twist of Jewish kitsch, and a generous sprinkling of fun, Gethers' love and appreciation for his mother, and her spontaneous, late-in-life jump into a brand-new chapter stand as a most fitting tribute to freedom, strength, and independence – for Judy and for every woman who dares to take a leap into the unknown.
Related Posts
Image
The COVID-19 pandemic has shifted so much of how we engage Jewishly, but Shavuot is a fantastic holiday for families to celebrate from the safety of their homes. Here are a few ways you and your family can observe this rich, festive Jewish holiday this year.
Image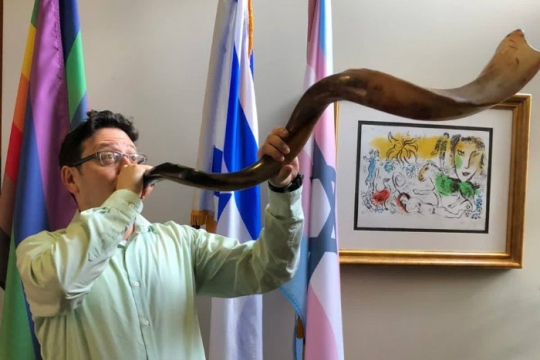 Rabbi Max Chaiken, our Ten Minutes of Torah commentator for the Book of Deuteronomy, is the associate rabbi of Congregation Kol Ami in Los Angeles, CA. We talk to him about his Jewish journey and the ideas behind his commentaries.
Image
A classmate recently snapped a photo of a billboard promoting Israel's right-wing Yachad party that read: "So there won't be a child with a father and a father!"