Cheerleading doesn't necessarily have a great reputation in popular culture. Movies like Bring It On – and all of its many sequels – portray high school cheerleaders as walking stereotypes of negativity: vapid and ditzy at best, cruel and calculating at worst. It's refreshing and reassuring, then, to see a real-life story that shows cheerleaders in a positive light, reminding us that pop culture often gets it wrong. In Bettendorf, IA, it was the high school students at Pleasant Valley High School – not their parents or coaches – who started a special cheerleading squad called the
Spartan Sparkles
, made up of young women with disabilities like Down syndrome, autism, and physical impairments. At games,
NBC reports
, "The Friday night lights shine bright on inclusion here. All the girls get as warm a welcome as the school's winning team." The two squads cheer together as one, with no segregation or differentiation between girls with disabilities and girls without. Inspired by the success of their own squad, Pleasant Valley's cheerleaders established a non-profit organization called The Sparkle Effect, designed to help other schools start their own squads. The Sparkle Effect's website explains the value of these programs: "This innovative student-run program empowers teens nationwide to include students with disabilities in school-based cheerleading and dance programs… The result: students with disabilities experience true acceptance and gain confidence while high-school students become passionate leaders that inspire entire communities to embrace inclusion." Sarah Herr, the student who first conceived of the idea for a special needs-friendly cheerleading squad,
told Oprah
, '"I wanted to make the connection with the special needs community more permanent." And indeed she has:
There are now more than 70 Sparkle teams in 22 states
. "We learned to see the person, not the disability," Herr says of the positive impact the squad has had on all of the girls. "It's really given all of us a powerful voice. We've learned that even though we're teenagers, we can really make things happen." Jewish Disability Awareness Month occurs every February, but you can learn about the Reform Movement's work on disability awareness and other important disability issues all year round on the
RAC's Disability Rights page
and the
URJ's Disabilities page
.
Photo courtesy of Oprah.com.
Related Posts
Image
Our tradition teaches that once someone has converted to Judaism, they are as Jewish as a Jew by birth and we are not to speak of it again with them, or with anyone else. It should be as if they have always been Jewish. To not speak of it is to fully honor the person who chose Judaism by not making any distinctions between them and the born-Jewish members of our communities.
Image
in the beginning Oneness breathed us into life we are unity
Image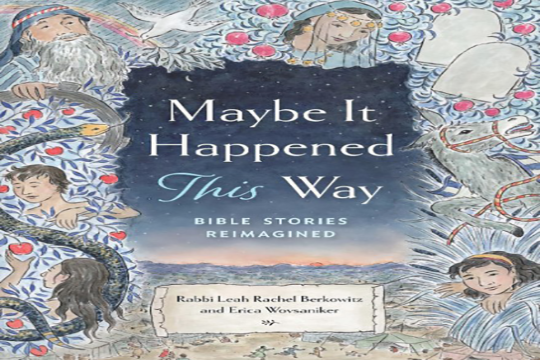 "Tell me a story" is a constant refrain for those of us with children in our lives. Almost as often, when the last page is turned, the child looks up and asks, "again?" Sometimes, this is a joy. Sometimes, re-reading, and re-reading some more, becomes a burden.