Image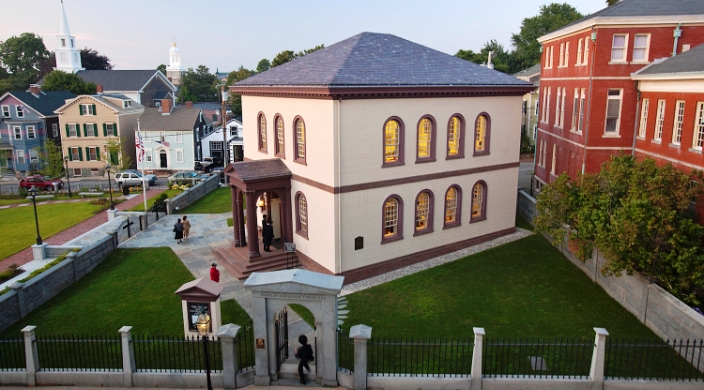 Stepping inside the Touro Synagogue feels a little bit like stepping inside an Old World Sephardic shul. There's a good reason for that: All of the oldest congregations in the New World were founded by Sephardic Jews, including this one.
There's no mechitza, the barrier that sometimes separates men and women; instead there's an upstairs section and a downstairs one. The bimah (pulpit) from which the shaliach tzibbur (prayer leader) leads prayer and reads Torah is in the middle of the sanctuary, almost in the back, so he's leading from within/among the community, not standing in front of them Protestant-style. The ceiling is lofty and painted and ornamented in simple, elegant Colonial fashion. There are 12 big columns (one for each of the 12 Tribes of Israel) and 12 smaller ones in the women's gallery above.
It is, I leared when I visited, the oldest still-standing synagogue in North America. (There was one founded earlier, in what was then New Amsterdam, though it burned down. It was rebuilt and the congregation is still extant, as is this one, but that makes this the oldest still-standing Jewish worship space in the country.) The community is celebrating its 250th anniversary this year.
Two hundred and fifty years may be a mere eyeblink in terms of human history - certainly there are many European houses of worship older than that! - but for a house of worship on these shores, 250 years is a very long time. And somehow there's something extra-special about being in a North American synagogue which is that venerable.
Its history is really cool. The first Jews came to Newport in 1658, of Spanish and Portuguese origin. (You might recall that Jews were unilaterally cast out of Spain in 1492. Thanks a ton, Ferdinand and Isabella.) Some of them came from Curaçao, and for a bit of a first, they came because they were interested in the colony's experiment in religious liberty, not because they had just been kicked out of where they'd been living. Rhode Island's colonial charter said, among other things:
No person within the said Colony, at any time hereafter, shall be any wise molested, punished, disquieted, or called in question, for any differences in opinion, in matters of religion, who does not actually disturb the peace of our said Colony ; but that all and every person and persons may, from time to time, and at all times hereafter, freely and fully have and enjoy his own and their judgments and consciences, in matters of religious concernments, throughout the tract of land heretofore mentioned, they behaving themselves peaceably and quietly and not using this liberty to licentiousness and profaneness, nor to the civil injury or outward disturbance of others
It's worth remembering that the Puritans of the Massachusetts Bay Colony banned Catholics in 1647, and weren't particularly fans of Quakers, Baptists, or Anglicans either. In Colonial days, suspicion of "Jews, Turks and Infidels" was pretty standard fare. But Rhode Island set out to be different, and that attracted a handful of Jewish families from early on.
In its earliest years the community davened in each others' homes. They began constructing a building in 1758. The architect, an English fellow named Peter Harrison, had never seen a synagogue before. (Outside of the Jewish community, most people probably hadn't.) He designed the interior based on what he learned from the community's prayer-leader, Reverend Isaac Touro, who had recently emigrated from Amsterdam and had been part of that city's great Portuguese synagogue.
During the American Revolution, many of Newport's homes were destroyed by the British army (not only because pillaging is a time-honored form of wartime violence, but also because the houses were wooden and New England winters could be awfully cold - the troops needed firewood.) Our tour guide confided in us that Touro himself was a Loyalist, rather than a supporter of the Revolution. One way or another, he convinced the local British invaders not to burn the synagogue but to use it as their field hospital. Its beautiful chandeliers and brass fixings went to New York for safekeeping until after the war, and the sanctuary became a place where the wounded could convalesce.
After the revolution was over, when the new president George Washington was traveling the colonies in hopes of getting the Bill of Rights passed, the congregation's then-leader Moses Mendes Seixas wrote to the president pressing him on the question of whether non-Christians truly had the right to worship in this country as we pleased. In response, President Washington wrote a fairly remarkable letter. He wrote, in part:
It is now no more that toleration is spoken of as if it were the indulgence of one class of people that another enjoyed the exercise of their inherent natural rights, for, happily, the Government of the United States, which gives to bigotry no sanction, to persecution no assistance, requires only that they who live under its protection should demean themselves as good citizens in giving it on all occasions their effectual support...

May the children of the stock of Abraham who dwell in this land continue to merit and enjoy the good will of the other inhabitants—while every one shall sit in safety under his own vine and fig tree and there shall be none to make him afraid.
"To bigotry no sanction, to persecution no assistance." It's not just a matter of the privileged "tolerating" otherness. At our best, our nation has always been about something better than that. (Indeed, the first item in that Bill of Rights that President Washington was trying then to pass is a clause enshrining freedom of religion in this nation.)
The Touro synagogue is a relatively modest structure, though a very lovely one. (I particularly like the mural of the 10 commandments over the ark, and seeing the community's antique Torah scroll, now behind glass; it's more than 500 years old, written on deerskin.) What makes it most remarkable to me is the realization that for 250 years, people of my religious tradition have been gathering there in joy and in sorrow, davening the daily and weekly, monthly and yearly liturgies. It's sanctified by its very longevity.
And it feels holy to me because it's an early symbol of the religious liberty which is so foundational to this country. It was by no means obvious, 250 years ago when this nation was new, that all people would be free to worship here as we pleased; that this wasn't simply a place where Christians of one stripe or another could be free from the prejudices of other Christians, but a place where Jews and Muslims, Hindus and Sikhs, people of every religious persuasion and of no religious persuasion whatsoever could together form the fabric of a nation where we walk in our own paths and cherish our differences.
I'm glad to have had the chance to sit, however, briefly, in this hallowed space. On my way out the door, I said a silent prayer of gratitude for its existence and for the principles of religious freedom which allowed it - and every other community in this nation - to flourish.
Related Posts
Image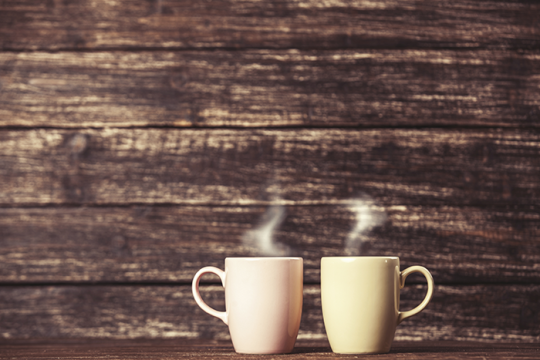 In the winter months, adding elements of simplicity, presence, and coziness can elevate the rituals and intentions of Shabbat. Here are a few tips for your most hygge/heimish Shabbat yet!
Image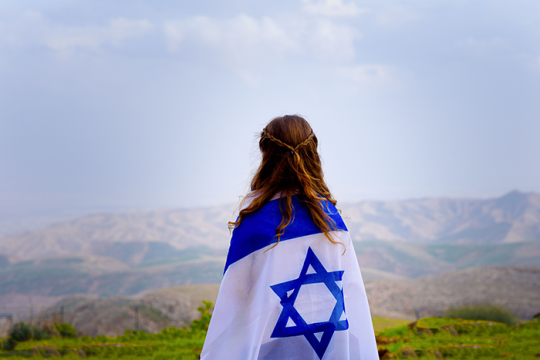 We stand with the people of Israel during these difficult and challenging days and pray for the safety and immediate release of all of the hostages. See our resources and actions you can take.
Image
As we approach #GivingTuesday and prepare to exemplify one of our core values by giving tzedakah, the Reform Movement is continuing our dedication to strengthening local and global Jewish communities.