Image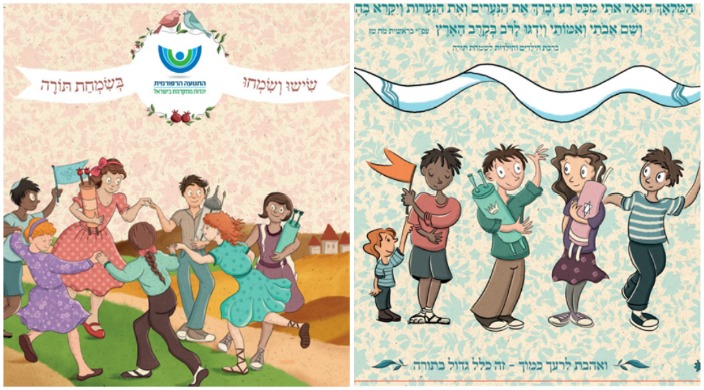 One of the great paradoxes of being an American Reform Jew who chose to make aliyah (move to Israel) is that the whole concept of majority and minority is turned on its head. One the one hand, as a Jew, I am culturally and ethnically now part of the majority. Yet on the other, my beliefs and convictions as a Reform Jew have turned me into a religious minority among my own people.
Often this is expressed in the many holidays and commemorations in the Jewish calendar, which is one of the many reasons I chose to move here. As Sukkot winds down, Simchat Torah is only a few days away, which will wrap up the Israeli "holiday season." Sukkot is one of our family's favorite holidays, and not just because school is closed for 10 days. The excitement of building a sukkah begins immediately after Rosh HaShanah, when seasonal stores start carrying sukkah decorations and mom-and-pop hardware stores begin displaying prefab sukkah kits on the sidewalks. Buying sets of lulav and etrog at the Machane Yehuda market, which is just a 10-minute walk away from our home, makes for a fun outing with my daughters. We've eaten meals and hosted friends and family in our sukkah, and we've even slept in it, with temperatures in the low 60's at night. How amazed the girls were when I told them stories about snow falling on my sukkah as a kid…
And then there is the holiday of Simchat Torah. At the center of this most joyous celebration are the hakafot, the circular processions around the bimah (pulpit) where we dance with our Torah scrolls. But when it comes to defining the "we" of "we dance," the paradox of being a minority within the majority becomes apparent.
As a Reform Jew, it seems obvious to me that "we" means "men and women." Yet to the majority of the Israeli public, dancing with the Torah is an activity reserved for men. It's only for men during the synagogue services for Simchat Torah evening and morning, and during what are called in Israel hakafot shniyot – the second round of Torah dancing, held outdoors after the holiday with live music and amplification.
This perception, in particular by non-Orthodox (but not-yet-Reform) Israelis, is reinforced by the flags that children march with during the Simchat Torah service. For Israeli children, these flags are part and parcel of the holiday experience. But guess who's pictured on these flags? Men and boys, of course! On popular flags sold at Machane Yehuda market and all across Israel, girls are left out of the picture, literally.
These holiday flags do not represent progressive Jewish values. So how can we combat this phenomenon? By producing our own!
In 2012, the Israeli Conservative Movement, later followed by the Israeli Reform Movement, began printing their own egalitarian Simchat Torah flags. Quite a lot of thought went into the two-sided design, which includes not only girls but children of varying skin tones, making the flags all the more inclusive (I've yet to find a "traditional" Simchat Torah flag with boys/men who have dark skin).
Our egalitarian flags include the traditional text of Sisu v'simchu b'simchat torah ("Rejoice and be glad at Simchat Torah"), as well as two textual innovations. The customary text for blessing the children on Simchat Torah is one that Jacob gives to his grandsons Ephraim and Manasseh in Genesis 48:16: "May the angel who has rescued me from all harm, bless these n'arim (lads). Through them let my name and the name of my fathers Abraham and Isaac be recalled, and let them greatly multiply within the land." N'arim is in the masculine plural, and therefore can mean just boys or both boys and girls. On our flags, though, the blessing has been adapted to read: "May the angel who has rescued me from all harm, bless these n'arim and n'arot (boys and girls). Through them let my name and the name of my fathers and mothers be recalled, and let them greatly multiply within the land." Now, this blessing is unambiguously egalitarian and recalls both our forefathers and foremothers.
The second innovation is found on the bottom of the flag, which bears a famous quote from Rabbi Akiva: "You shall love your fellow as yourself – this is a great principle in the Torah." It's the text that provides the religious sanction, if you will, for both the flag and for our whole approach to Judaism.
Year by year, egalitarian Simchat Torah flags – both ours and those of the Conservative Movement – are growing in popularity. Who knows? Perhaps next year I'll be able to buy them at the market, as well!
Cantor Evan Cohen, a native of Monroe, N.Y., made aliyah in 1998. Since 2001, he has served as the cantor of Kehilat Har-El in Jerusalem, the founding congregation of the Israeli Reform movement.
Related Posts
Image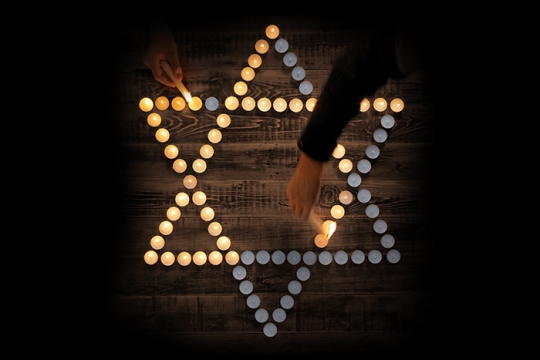 What does it mean to remember? It is to live in more than one world, to prevent the past from fading, and to call upon the future to illuminate it.
Image
A camel carrying a load. A golden pair of balanced scales. An open heart and an open mind. These are three of more than two dozen artists' visions of justice and righteousness featured in the invitational exhibition, "Tzedek Boxes: Justice Shall You Pursue."
Image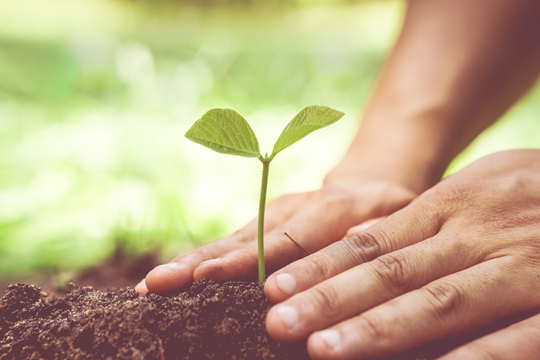 Tu BiShvat, the Jewish New Year of the Trees, is upon us. While it may not be the most celebrated new year in the Jewish tradition, there is a simple power to the holiday - the call for us to become attuned to nature and learn what it can teach us about personal growth.