Image
It is for good reason that Jews close Yom Kippur — just before the blowing of the shofar — with the triumphant cry from the wonderful passage (First Kings, Chapter 19) in which Elijah vanquishes the prophets of Ba'al on Mt. Carmel:  "Adonai, hu haElohim!  The Eternal One (alone) is God!"  We chant it seven times before we hear the shofar (the only time all day we hear the shofar on Yom Kippur) to signify the end of the most solemn holy day in our calendar.
Sadly, most Jews have no idea of this connection, but it is crucial! King Ahab and (even more so) Queen Jezebel — a name known as a synonym for wickedness even for people who never read the Bible — had corrupted Israelite worship by setting up Ba'al and its prophets as their favored cultic practice. They vowed to kill Elijah who was the champion of the one true God.
So Elijah challenges the prophets of Ba'al on Mt. Carmel. He says we will each prepare our offering, and the god who consumes the offering without a fire being kindled is the real deity. The prophets of Ba'al go first, and though they cry out and gash themselves, nothing happens. Then Elijah pours water all over his offering – so much, in fact, that it fills the trench around the makeshift altar erected for the showdown. Then Elijah cries, "Answer me O Eternal One, Answer me, and poof!  The offering, the altar beneath it and even the trench filled with water go up in smoke.
Elijah essentially asks: Who is God? Is it your idol that you worship by gashing yourselves and with other abominations that make a mockery of human dignity? Is it Ba'al who you hope will greedily eat your offering? Or is it the one true God who wants us to create a world of justice, kindness, caring, and compassion?
And then, in most dramatic fashion, God vanquishes Ba'al on Mt. Carmel and everyone must acknowledge God's sovereignty. It is a replay in miniature of the 10 plagues and the Exodus from Egypt where God defeats Pharaoh, the pagan god in human form.
So what should Jews take away when the liturgy hints at this amazing scene at what is arguably the holiest moment of the year? What should we all learn from this passage that can help us to live better lives?
Even though many in power debase the ideals and values that the Almighty wants us to uphold — and even though God does not assert the reality of the Divine presence as dramatically to us as we see on Mt. Carmel (or in the parting of the sea) — it is our job to hold fast to God's desires for us. True worship is not found in mouthing empty words, but in making our faith the driving force in our lives.
We glorify God and demonstrate our faith when we use our talents — whatever they may be — to help repair this broken world.
Related Posts
Image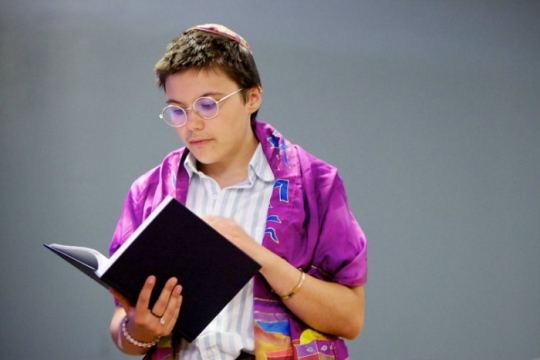 As part of the URJ Reflection Project, a new set of offerings and experiences for the High Holidays in a time of social distance, we've also developed three short essays that allow you to go deeper into the essence of Jewish wisdom that grounds these rituals.
Image
As 5781 begins, I find that the less I do, the better I feel. The more I am myself. The more at-home I am within my own body, my own mind. There is no glory in constant exhaustion and fatigue.
Image
At Yom Kippur, we wish one another "a safe and easy fast," but for those of us with eating disorders, it will be neither safe nor easy. It will be dangerous, but more so detrimental.