Image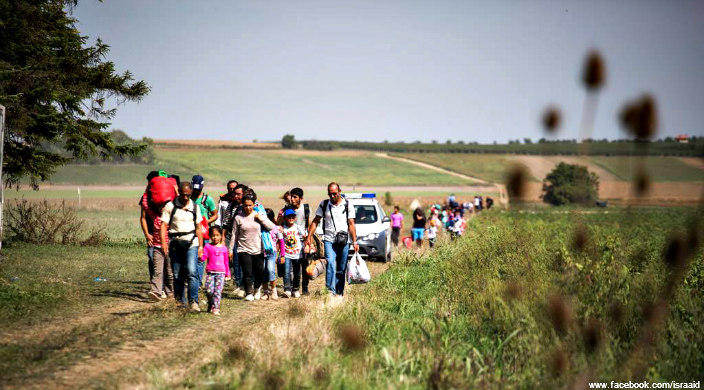 In children, the effects of trauma and displacement wrought on refugees from the Middle East are clearly evidenced. These children are often very aggressive with each other, hitting one another and pulling each other's hair, crying loudly when they are crossed. Yet, fortunately, these children have not lost their capacity for experiencing joy. They laugh at the simplest things: leaping off a pile of cushions, lining up to jump rope, enjoying the thrill of a bicycle ride or roller skating around the courtyard. They greet you with arms wide open, ready to give you a hug.
I came to Berlin to volunteer for a couple of weeks in a shelter for those escaping war and persecution in places like Iraq, Afghanistan, and Syria. Seeing images of these people in the media underlined for me that once, it was Jews who were refugees. Didn't that suggest that I had some responsibility to respond to the plight of these people?
My entree to the shelter was through IsraAID, an Israeli-based nonprofit that provides disaster relief around the world. IsraAID been particularly active in dealing with the refugee crisis, which has resulted in millions of people fleeing their homes on foot and by boat, often undergoing treacherous journeys to make it to safety. Germany has been the most generous country in Europe, taking in a million refugees, housing and feeding them, and supporting them until they are able to make it on their own.
When I asked IsraAID where I could go to help refugees, they told me Berlin. I agreed somewhat reluctantly. Germany was the last place I wanted to go. My mother survived Auschwitz; the rest of her family was not as fortunate. I had a visceral dislike for the country and had never intended to visit it – but I have since changed my mind.
I have been incredibly impressed with how Germany has faced its past, exposing its citizens to the Holocaust at every turn. I have been impressed, too, by the way Germany has not only welcomed people in distress but has made a commitment to provide for them indefinitely. I have been pleasantly surprised to see how many Germans volunteer at the shelters on a regular basis.
I was assigned to a shelter in an old municipal building, currently housing about 1,100 refugees. Each family has a room or two, but bathrooms are shared. Playing with the children is one of the highlights of volunteering there, but of course, there are much less "exciting" jobs, too, where the need is great. Each day, I spent several hours in the laundry room: 10 washing machines and 10 dryers operate 12 hours a day, as it is a Sisyphean task to wash clothing for so many people.
I happened to be there during Ramadan, so many refugees were fasting from 3am to 9:30pm. My fellow volunteers and I spent many hours preparing "lunch" packets consisting of water, iced tea, butter, jam, tuna, sugar, and utensils; it was a very repetitive task, but 500 or so packets were needed per day. Not all the refugees are Muslim: Some are Yazidis, some are Druse, some are Christian. And they don't all speak the same language: Some speak Arabic, some Farsi, others Kurdish, and still others Pashtun.
These refugees are luckier than the 3,000 lodged in an old airport hangar, where there is absolutely no privacy and no quiet. Still, I worry about the future for all of them: It is very difficult to find work and even more difficult to find an apartment in Berlin. How long will they need to stay in these shelters? How long can the government support all of them? What happens to people's sense of self and well-being when their agency has been taken from them, when they have little control over their lives and their future? And what of the xenophobia that has been activated in response to this "refugee crisis"?
I know that the German government, IsraAID, and other NGOs are doing all they can to ensure that these refugees are integrated into society, so I will have to trust in their success. In the meantime, if you have time, resources, or tzedakah (charity) to spare, consider contacting IsraAID and asking what you can do to help.
Related Posts
Image
Last year, my 15-year-old daughter, Eva, adopted at birth, was thrilled to discover through DNA
Image
The COVID-19 pandemic has shifted so much of how we engage Jewishly, but Shavuot is a fantastic holiday for families to celebrate from the safety of their homes. Here are a few ways you and your family can observe this rich, festive Jewish holiday this year.
Image
Being Black in America is its own journey within the journey of just being human, and living, and discovering who you really are on a soul level. Then there's being Black and Jewish. And then there's being Black, Jewish, married to a white Jew, and having bi-ethnic Jewish kids. It's another journey, not an easy one at times, and instead of getting easier as I get older, we seem to be facing more challenges.