Image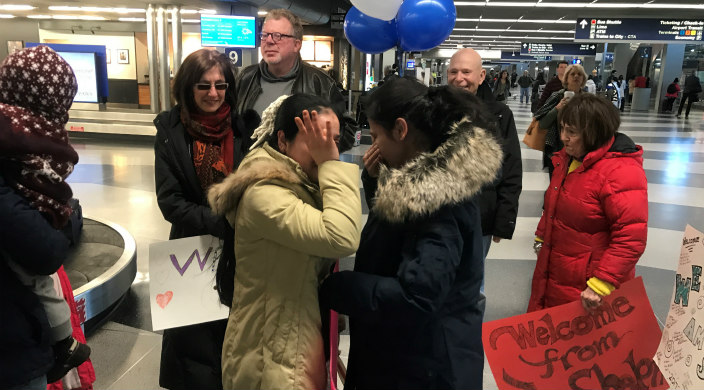 I have told the Passover story over and over, year after year – tasting bitterness, weeping salty tears, making mortar for bricks, and baking flat bread. And then we were liberated – with a mighty hand and an outstretched arm, with signs and wonders – and I danced joyfully with Miriam, tambourine in hand. Dayenu. It would have been enough. Throw in some macaroons and those jelly fruit slices… Dayenu, indeed.   
Last week, however, I not only felt the Passover story, I watched it unfold before my eyes.
At 6:50 a.m. last Friday, my wife Julie and I drove to Skokie, picked up Rokash, the 28-year-old mother of our Syrian refugee family that had arrived in January, and drove to O'Hare Airport, where she was to be reunited with her younger sister, Rukan and Rukan's family.       
In the car, she explained – in unbelievably good English that she had learned only since her arrival, and with a little help from "Google Translate" – that she was the oldest of the four children in her family. After her marriage in Aleppo, she and her husband Azziz and their infant daughter had left Syria for a refugee camp in Turkey, where they had lived for more than five years, and where their son was born. Rokash's sister and her family also had been there for a while, along with a brother and his family, as well as their parents, whom Rokash lovingly called Baba and Mama. The family's youngest brother, unable to leave Syria, was living with an uncle and his family. As we wound our way into the airport parking lot, Rokash showed us pictures on her cell phone of her family, scattered all over the world.   
Once again, an amazing group of volunteers from Am Shalom in Glencoe, IL, armed with posters and presents (signs and wonders) and balloons gathered at baggage claim to await the arrival of Rokash's younger sister, Rukan, and her family, who finally had been allowed to leave Turkey. Originally, they had been scheduled to arrive the day after Rokash's family in January, just before the travel ban was put in place, but ultimately, they had been denied entry into this country. 
Last Wednesday, they flew, as planned, to Tennessee with their refugee organization and requested a transfer to Chicago. Refugee One, our partner and sponsoring organization, agreed to our request that they take over the case so that we could reunite the sisters and their families to start their new life together in Skokie.
Shortly after 8 a.m., the sisters were reunited and I saw the wise child and the one who couldn't even ask the question embrace and hug, tears pouring down their faces (and ours). At long last, they were together and they were free. Liberated, they had escaped a lifetime in Egypt, the narrow spaces of their lives, and stood on the brink of a new life in a new Land of Promise. Here, with the full force of our amazing congregation behind them – setting up their new apartment, shopping for food, buying clothes, acquiring bicycles, and making beds – they will have a better chance than most.    
At that moment, I truly understood the Passover story as never before. Passover calls on us not only to reflect on the Jewish journey to freedom, but on the struggles of all who seek to realize a vision of the world as described in Torah – a humanity created in the image of God and granted equality and dignity, regardless of race, religion, gender, or sexual orientation.  
When we gathered for our seder a few days later, to once again retell an ancient story, it was much more than an ancient story I've told and retold a hundred times. It also was – and is – a modern story that remains as important as ever before. As we told the story, sang the songs, remembered the journey, and asked the questions – Ma nishtana…? Why is this night different? – I realized the night was different because, thanks to Rokash and Rukan and their families, I am different.
Related Posts
Image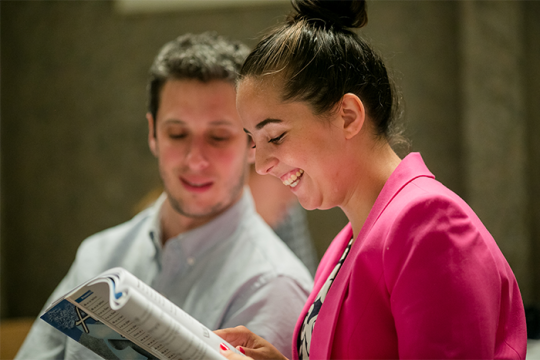 Lifelong learning, however, can be easier said than done. For many, as they enter adulthood, with its competing demands and obligations, setting aside time for learning – and especially for Jewish learning – can be challenging indeed.
Image
At 10, Jeff Erlanger appeared on "Mister Rogers' Neighborhood" in his wheelchair. I recently asked Jeff's parents about how they raised such a competent and loving son.
Image
When I became rabbi of Monmouth Reform Temple in Tinton Falls, NJ, I quickly discovered that some people in our community thought we were a church. Mail was addressed to "Monmouth Reformed Temple," and letters were addressed "Dear Pastor."