Image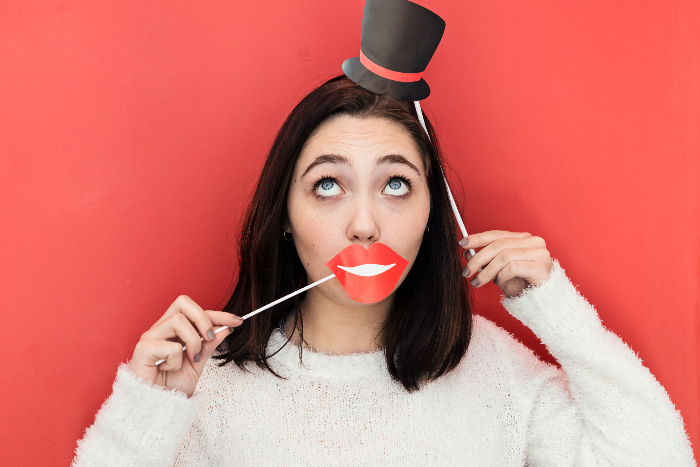 I like a sniffly YizkorYizkorיִזְכֹּר"Remember;" memorial service held on Yom Kippur and on the last day of Pesach, Shavout, and Sukkot. as much as the next gal, but PurimPurimפּוּרִים"Lots" (Hebrew). Holiday that commemorates Queen Esther's actions to save the Jews of Persia from death; marked by a festive reading of the story, contained in the Scroll of Esther. – when we celebrate victory over our enemies by doing sketch comedy – is my jam. That's because comedy is my jam. And that's why it's my mission to get more Jews into comedy.
Kidding! It's actually my mission, through GOLD Comedy, to get more women into comedy – and more women in comedy starts with more girls in comedy. Teen girls, young women, women who lie about their age, non-binary folks… I want to help them be their funniest selves. And that, for me, is actually a very Jewish mission. 
Here's why. Perhaps you recall the story of Leah? The first-born Leah is supposed to marry first, but stupid Jacob falls for her hot sister instead. Eyeroll. And, fun fact, my Hebrew name is Leah, which means I am named for… the other one. The one who basically named her first three sons "Now Do You Love Me?" Good one, parents! 
But I have always related a little to Leah, and not just because we both have "weak eyes" (Genesis 29:17). I am not unloved, but, by society's standards, I am not the "hot" one. In school, I was neither glamorous nor willowy, unlike those girls who could burst into lacrosse the way we drama nerds could burst into song. Aware that I could not compete in traditional popularity, I let my goofball flag fly. I was not an outcast, to be clear; my friends and I were as thick as my glasses. But I was the Janeane Garofalo to those tall girls' Uma Thurman. (Perhaps you recall The Truth About Cats and Dogs?) Even when my hair was brown, I was the wacky redhead. 
Still, it wasn't all fun and improv games. I recall my youth group's 1985 Winter Wonderland (still a thing!) when, on that Saturday night, a bunch of dudes, one of whom may or may not have been Adam Sandler, randomly wrote on their faces with Sharpie, ran up on the social hall stage in the middle of the actual evening program, and did an improvised skit that... brought down the house.
OK, I thought: Now what can the girls do? I was a comedy ringleader; it was my duty to respond in kind. Even at 16, though, I also sensed this: Girls would have to work way harder than dudes to get that same reaction. Audiences aren't that easy on girls – so we just laughed. 
But that night stuck with me into my career in and near comedy – where, yeah, I was often the only woman on a lineup, or I was told, "Sorry, we already have a female." Eyeroll. 
So today, I want girls and women (and others who don't identify as straight, cisgender dudes) to have the freedom and power to be like, "Whatever, Sandler" and command the damn stage. I want them to be loud and sloppy if they feel like it. I want to show them that comedy helps smash perfectionism because it's full of low-stakes failures that thicken your skin. I want them to see that what makes them different is what makes them funny, and what makes them funny makes them strong. 
This matters because comedy matters – and not just because "laughter is the best medicine." Today, comedy is a national vernacular, a social and cultural force. We communicate in memes. We look to late night to process the news. Good (and even dumb) comedy challenges and connects, activates and affirms.
That's why who does comedy matters – because when you make people laugh, you make people listen. And when more people listen to women – the Leahs and the Rachels and everyone else – the world will be a better, and funnier, place. 
Related Posts
Image
As someone who mostly steers clear of reality television in favor of more premium (read: snobbier) fare, I was a little hesitant to check out Netflix's new reality series, "Jewish Matchmaking."
Image
"The Marvelous Mrs. Maisel" is back with its fifth and final season, promising to finally bring everyone's favorite Jewish comedian from the back room of The Gas Light Cafe all the way into America's hearts and living rooms.
Image
When Aly Silverberg (she/her) started a Jewish meme account on Instagram, she never expected it to go viral - or for it to have such a big impact on her life and career. She certainly never expected it to reach tens of thousands of other Jews!