Image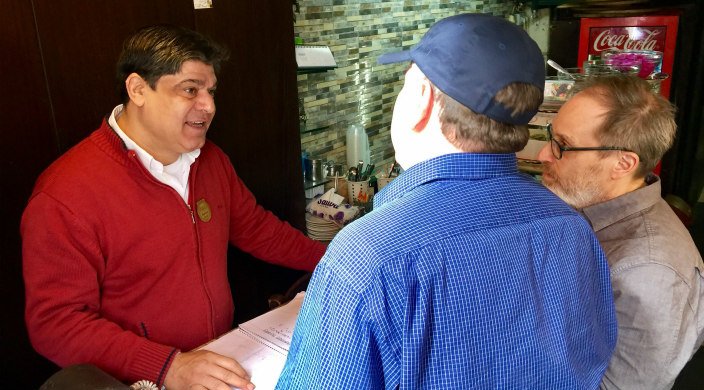 Last month, for the fourth time in 18 months, I was in the Palestinian city of Ramallah with a group of American Jewish leaders. Ramallah is an interesting, bustling, and complicated city. Although only six miles from Jerusalem, the drive feels much longer. For one thing, the roads were not designed for heavy traffic; for another, there's usually a long wait at the Israeli military checkpoint at Qalandia, the access point to and from areas controlled by the Palestinian Authority.
But once inside the city limits, there is surface-level familiarity; the architecture, street vendors, and smells from cafes and restaurants all remind me of parts of East and West Jerusalem, and Jaffa and Tel Aviv as well. And, although there are no Hebrew signs, the local currency is almost exclusively the Israeli shekel.
On this trip, I was in Ramallah for a four-day Intensive Leadership Seminar offered by Encounter, a nonpartisan educational program that aims to create "a diverse community of Jewish leaders ready to encounter the complex stories, people, and places at the heart of the Israeli-Palestinian conflict." These seminars typically offer speakers, sites, experiences, and informal meetings in a jam-packed itinerary that has us crisscross the region from West Jerusalem to Bethlehem, from a Palestinian Village in Area C to an UNWRA refugee camp, from East Jerusalem to Ramallah, and back to West Jerusalem.
Of all the powerful moments, from hopeful and inspiring to challenging and depressing, there was an unscripted experience in Ramallah that reinforced precisely why firsthand encounters with Palestinians living under Israeli military control on the other side of the Green Line are so important.
As an American Jewish leader who engages with a broad swath of our North American community and with an equally wide range of Israelis, I approach the Israeli-Palestinian situation with the assumption (backed by official, well-respected polling) that most Jews and Palestinians want a peaceful end to the conflict. Although the news media constantly reminds us of political impasses and obstacles, through Encounter and other experiences, I am learning that person-to-person interactions at a grassroots level can offer signs of hope.
On a walking tour of downtown Ramallah, we had a chance to buy some local food. In Zeit Ou Zaater (Olive and Thyme), a small, mostly take-out place – where I opted for lentil soup and freshly-baked bread with zaatar – I re-met Palestinian-American owner, Nasser Abdulhadi, who, post-Oslo, returned to Ramallah from Mamaroneck, NY, to develop his family's hospitality enterprises. Eager to impress Nasser with the Arabic I have been learning, I asked him for lentil soup in Arabic.
The unexpected response was just as delicious as the lemon-scented soup he ladled out: "Wait, you're learning Arabic? I'm learning Hebrew!" Thereupon, he proudly pulled out his notebook to show me his Hebrew writing and his vocabulary and phrase lists. I told him about my similar notebook for Arabic, which I'd left on the bus. He asked me a question about Hebrew, I asked him to clarify something in Arabic. Our eyes met in a shared understanding about the promise of coexistence as we pointed to the shared Semitic root for lentils in Arabic – ads – and in Hebrew – adashim.  
When asked about the future, Nasser's Americanism is clear in the way he articulates his fears and hopes. Two states vs. one doesn't matter to him. What does matter is being able to live with dignity and human rights, freely and peacefully as Palestinians where their families have lived for centuries, knowing they will need to share the land with Jews, whose ancestral ties to the same land mirror theirs. Nasser's thinking reflects what opinion surveys tell us about the attitudes of young Palestinians whose access to social media and globalism are influencing them to be more rights-focused in their demands for change. Like their American and Israeli counterparts, these young Palestinians are frustrated with how real peoples' needs are lost when leaders and organizations act more for their own self-preservation than to realize the common good that is their mission.
Today, 50 years after the Israeli-Palestinian map changed dramatically in 1967, Jewish educational programs are hearing from young alumni that their camps, youth movements, day schools, and Israel trips buried the story of what's happening in the West Bank. If the survey report just released about the San Francisco Jewish community is an indication of how young Jews across America feel, we will be hearing more and more critical questions about Israel from young people, who unlike their older peers, have a higher rate of direct experiences with Israel.
By enabling religiously and politically diverse Jewish leaders to hear and see Palestinian society directly, Encounter is building a foundation to address this most profound educational challenge. Thanks to this endeavor, cohorts of Jewish leaders have acquired images, knowledge, and experiences that surely will be expressed when college students and young adults ask: "Why didn't you teach us?" I am hopeful their answer will begin with this: Together let's figure out what constructive education about this pressing topic should look like.
Related Posts
Image
When I became rabbi of Monmouth Reform Temple in Tinton Falls, NJ, I quickly discovered that some people in our community thought we were a church. Mail was addressed to "Monmouth Reformed Temple," and letters were addressed "Dear Pastor."
Image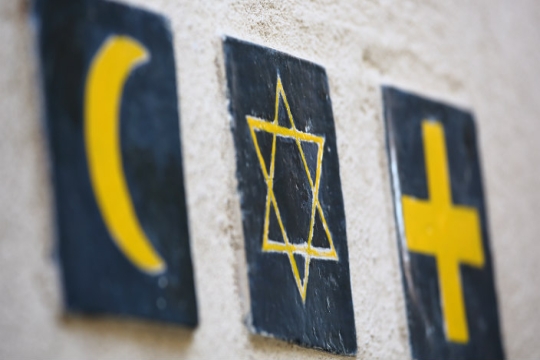 Read about Imam Abdullah Antepli, a Turkish-born cleric whose odyssey took him from anti-Semite to Jewish-Muslim bridge builder.
Image
The COVID-19 pandemic has shifted so much of how we engage Jewishly, but Shavuot is a fantastic holiday for families to celebrate from the safety of their homes. Here are a few ways you and your family can observe this rich, festive Jewish holiday this year.