Image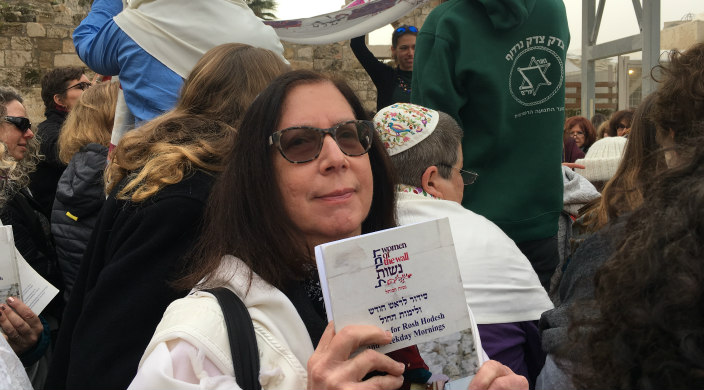 Mishenichnas Adar marbin b'simcha.
When Adar enters, we increase joy.
-- Babylonian Talmud, Ta'anit 29a
Despite the imperative to be joyous during the Hebrew month of Adar, I cried recently at the Kotel (Western Wall) during Rosh Chodesh services marking the new month.
Thankfully, my tears were tears of joy and excitement.
In fact, Adar will never be the same for me.
I last worshipped with Women of the Wall at a Rosh Chodesh service in the summer of 1989, when the wife of one of my graduate school professors encouraged me to attend. That morning, I joined a group of approximately 20 or 30 women in communal prayer at the Wall; at the time, this was viewed as a revolutionary action.
Our singing, was greeted with jeers, heckling, and screaming from men on the other side of the mechitza, the barrier separating male and female worshippers, and by ultra-Orthodox women standing near us. The tension escalated when the women jostled us, the men threw chairs at us, and both men and women spat on us. 
Despite the physical and emotional distractions, our kavanah (intention) and spirit were strong. However, it became increasingly dangerous for us to stay and worship as a group – a privilege routinely enjoyed by male worshippers on the other side of the mechitza.
The police refrained from protecting us, and, in fact, forced us to move away from the Kotel to another area in the Old City to continue our worship service. Nevertheless, even in our new location. when we sang Hallel, special psalms and prayers for the new month, and chanted Torah, our resolve was deep, and our energy was high.   
That experience in 1989, however, clouded my relationship with the Kotel. 
In subsequent trips to Israel, I visited the Kotel during "off" periods, intentionally avoiding Friday nights when only men were permitted to welcome Shabbat joyfully with communal song, dance, and prayer. Unless I was invited to a family bar mitzvah, I also avoided the Kotel on Saturdays, as well as on Monday and Thursday mornings, when the Torah is read – but only by men.
Although ultra-Orthodox rabbinic authorities excluded women's participation in egalitarian and women's-only prayer quorums, I strove to find meaning in solitary, contemplative prayer at the Wall. Because my relationship with the Kotel remained complicated, I preferred to worship in one of the uplifting and spiritual congregations in Jerusalem, such as Kehilat Kol Haneshama.
Whereas I have visited Israel eight separate times since 1989 and, in the intervening years, supported Women of the Wall through political advocacy and philanthropy, my most recent trip was the first one in almost 19 years – thanks to a little rearranging I did to our family's itinerary – that placed me in Jerusalem on Rosh Chodesh.
Although certain Israeli sociological, political, and religious realities remain the same, my experience at Women of the Wall's Rosh Chodesh service was vastly different than it was nearly three decades ago. Among other things, attendance had increased at least ten-fold, and at the end of services, Anat Hoffman announced we were 300 strong. In 1989, most Women of the Wall participants were native English speakers – either "Anglos" who had made aliyah or visiting Americans. In 2018, by contrast, there seemed to be a high number of native-born Israelis, including a vibrant contingent of teens from the Israeli Reform Movement's Telem youth group. 
This time, metal barriers and policewomen were in place to protect our group, so even though the heckling continued, I was enveloped in a 300-woman-strong canopy of spirited, joyful prayer and barely noticed others' disapproval. Singing the words of Hallel – "Adonai is on my side, I have no fear," and "The stone that the builders rejected has become the chief cornerstone" – the words rang true, strengthening our resolve. At other points in the service, too – singing and dancing to "When Adar enters, we increase joy" and swaying together during "HaTikvah" (Israel's national anthem) – our bonds with Israel and each other felt truly deep. 
Yes, there still are hurdles to overcome. For one thing, we had been permitted to bring only a klaf parchment, rather than a full Torah scroll, into the women's section, and currently, the status of an egalitarian prayer space remains dependent on the whims of Israel's politicians. Nonetheless, the difference between 1989 and 2018 is truly significant – for me personally and for the Jewish people.
In my own spiritual journey, the recent Rosh Chodesh service at the Kotel was among the "Top 5" communal prayer experiences in my life. Going forward, may we all be able to mark each Rosh Chodesh and each communal prayer experience in the same joyful manner – regardless of our gender, denomination, or approach to prayer. 
Related Posts
Image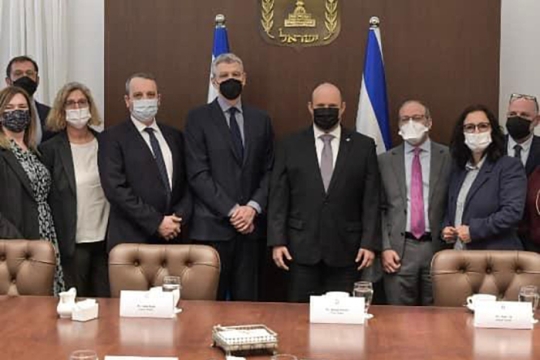 In meetings with the President of Israel, Isaac Herzog, Defense Minister Benny Gantz, Finance Minister Avigdor Lieberman, Transportation Minister Merav Michaeli, and Foreign Minister and Alternate Prime Minister Yair Lapid, we discussed the crisis in Ukraine, the future of the Kotel, ensuring more funding and rights for non-Orthodox Jews, combatting racism, and stopping extremist violence against Palestinians, in addition to other pressing issues.
Image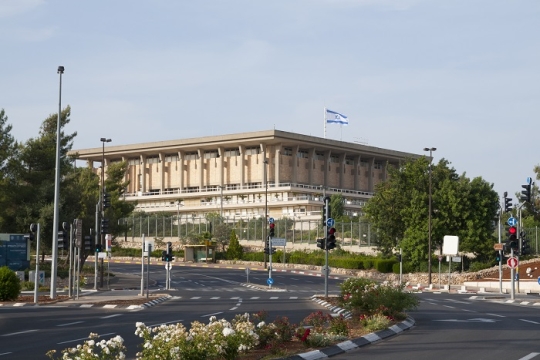 On Sunday, Israel's Knesset narrowly voted in Israel's 36th government with Naftali Bennett as the nation's 13th prime minister, unseating the incumbant Benjamin Netanyahu.
Image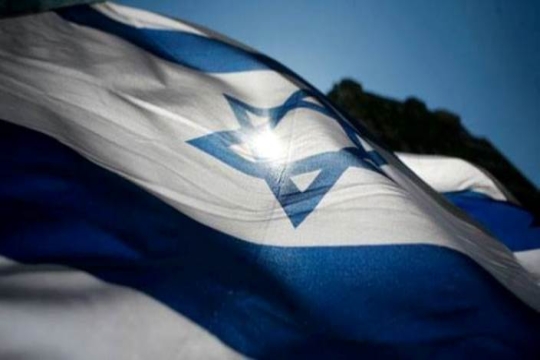 When the State of Israel was established in 1948, its secular founders envisioned a nation that would be both Jewish and attuned to the values of liberal democracy. They were confident that a country with an overwhelming Jewish majority could maintain a Jewish character and ensure civic equality for all its inhabitants.