Image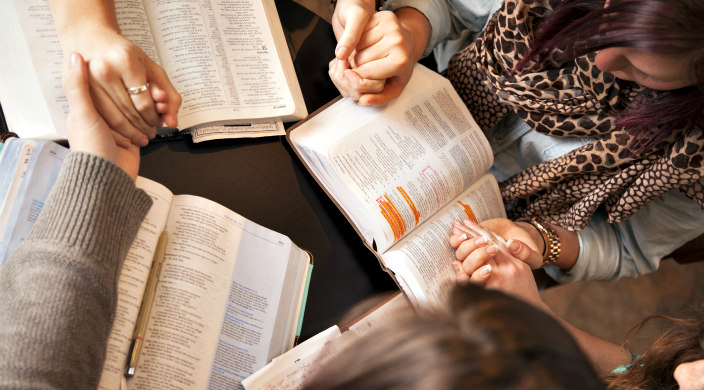 The white steeples of Protestant churches mark the villages in my hilly New England landscape, and the people I meet daily are white Christians. I ground myself in my religion by attending Congregation Beth David, a small Reform synagogue of some 60 seats, built in 1929.
But it troubles me that I live in a socially segregated community, an all-too-common situation in America, depriving us of those regular ongoing relationships that prevent suspicions and prejudice toward anyone different from us. For me, reaching out to a community of Muslims means traveling more than an hour to the nearest mosque.
This spring, Yehezkel Landau, professor of a perspective-altering course I was taking at the Harvard Seminary on Religion in Conflict and Peacemaking, announced that he would be co-teaching with a Protestant preacher and a Muslim imam a week-long summer intensive called Building Abrahamic Partnerships. Moreover, it would be his last course at Hartford Seminary, as he planned to found his own inter-faith training and consulting service. I immediately signed up for the summer intensive.
On a warm Sunday evening in June, 30 people gathered in the large seminar room, where we spent the next seven days. Unlike me, most of the participants were clergy. Of the 10 Jews, three were Orthodox rabbinical students (the men at Yeshivat Choverei Torah, and a woman in the first class to admit female students at Yeshivat Maharat); there were also two ordained rabbis, one Conservative and one Reform. Of the female Muslim participants, one had immigrated to the U.S. from Pakistan, another from Kosovo; a third was a European American raised as a Quaker who found herself in Islam; and two were Black women raised as Baptists who became Muslim as adults. The Christian attendees included several ministers from a range of Protestant denominations and three Catholics, including two former priests.
On our first evening, as the sun began to set, the Muslim participants received water and dates for Iftar, the day's end to the Muslim fast of Ramadan. The discipline and good humor demonstrated by our Muslim peers during their long days of fasting throughout the week won my abiding respect.
Participants took responsibility for leading the prayer or spiritual exercise that began each session, giving us a taste of the different faiths. We heard serious lectures on each of the religions, including holy texts, the historical division between Sunni and Shi'a Muslims, the origin of Islam in America brought to our shores by Muslim slaves, and current religious trends in the U.S. (According to recent sociological research, the number of adherents of major religious denominations is shrinking, but those who define themselves as evangelicals or who say they have no religion are both on the rise.)                  
In the "fishbowl" exercise we repeated with each faith, Jews were first to sit on the floor in the middle of the room, while a circle of Christians and Muslims listened. Each of us confessed what we needed from members of the other faiths in order to trust and feel at ease with them.
While we Jews tended to talk about prejudice as the cause of our distrust, the Muslims spoke of how "freedom of expression" seemed to permit uninformed Americans to speak carelessly about Islam. One asked the group to "stop seeing me and my family as terrorists." Several Christians expressed sorrow for the anti-Semitic history of their tradition and asked for forgiveness from members of both the Jewish and Muslim traditions. But with trepidation, both Muslims and Christians mentioned how the Israeli-Palestinian conflict has made it more difficult to talk easily with Jews.
Working in small interfaith groups, we analyzed ambiguous passages in the Tanach (Hebrew Bible), the Gospels, and the Qu'ran. This close textual analysis drew us closer, even as it made clear that all of the great Abrahamic texts contain some passages that embrace and some that exclude, even to the extent of justifying violence against outsiders.
The week culminated in three exploratory excursions: to Friday noon services in nearby mosques; to a Saturday Orthodox, Conservative, or Reform Shabbat service; and on Sunday to one of several Protestant services or a Catholic mass. It was a profound and memorable experience to stand shoulder-to-shoulder with women in the mosque, bowing, and pressing our foreheads to the floor in affirmation of there being only one God. A male Orthodox rabbinical student commented, "Whether his name is Allah or God, we too believe there is only One."
By Sunday evening, we were all reluctant to part. The week had been healing, invigorating, even joyful – but many of us were unsure how we would carry forward what we had learned.
A month later, inspired by my interfaith experience, I contacted three of the other female participants, one Presbyterian and two Muslim, with the idea of offering a panel to libraries and houses of worship on the topic, "The Pleasures of Inter-Faith Conversation." They responded enthusiastically.
As I end my own religious and cultural isolation, I hope that I can help others experience the profound satisfactions of America's rich diversity. 
Related Posts
Image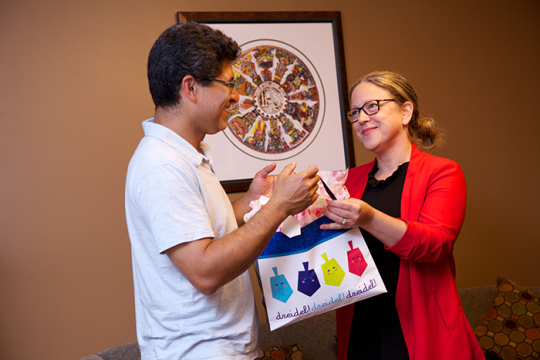 Hanukkah is one of my favorite holidays, partially because it gives me the opportunity to give gifts to my loved ones every night for eight nights! Gift giving with intentionality is one of my favorite ways to express affection while teaching my child about Jewish values and traditions.
Image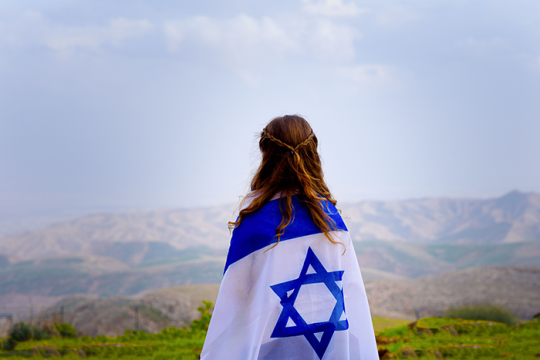 We stand with the people of Israel during these difficult and challenging days and pray for the safety and immediate release of all of the hostages. See our resources and actions you can take.
Image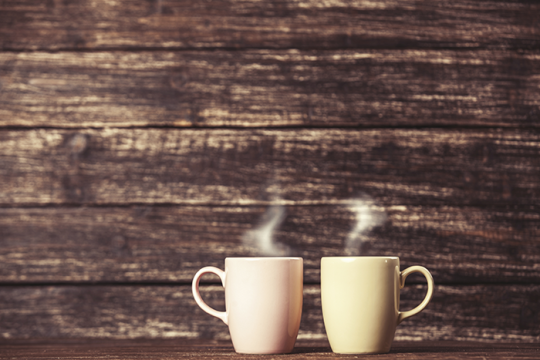 In the winter months, adding elements of simplicity, presence, and coziness can elevate the rituals and intentions of Shabbat. Here are a few tips for your most hygge/heimish Shabbat yet!