Image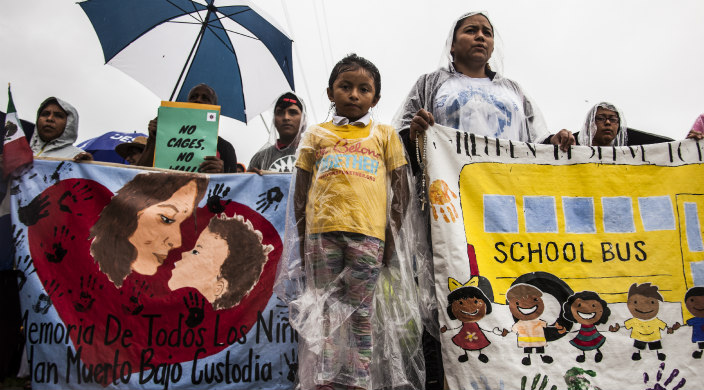 When I first learned of the adolescent detention facility in Homestead, Florida, I was appalled. At its peak, Homestead detained 3,000 adolescent boys and girls who were treated military style, forced to walk single file; forbidden from being touched or touching; threatened with longer detentions as a disciplinary measure. Having a mother who survived Auschwitz and asking myself what I would have done in Nazi Germany, I decided I had to stand up for these children. I was inspired by my colleague, Rabbi Andi Berlin, who had joined the protesters earlier. My intention was not to close Homestead but to bear witness and to protest all these detention facilities, particularly the private ones that are funneling our tax dollars into the pockets of their investors. Homestead is operated by Caliburn.
Because we were not permitted to enter the facility, we had to stand on stepladders to see the children in the yard. We were able to observe a soccer game as we held up cardboard hearts to show the boys we cared. Few looked at us; as we learned, they had been admonished by the staff not to engage with us. Still, one or two flashed a thumbs-up. Unfortunately, for the rest of my three-day stay, thunder and lightning forced the children inside a variety of tents. Instead, we held signs asking the Caliburn employees to think about their jobs. We did understand that they were paid twice as much as the Florida minimum wage and needed to provide for their own families. In this sense, they too were victims.
What impressed me the most was the dedication and persistence of the permanent protesters who had given up their lives to remain, or to return again and again, to Homestead. While people I knew came for a short stay, this group was there for the long haul. They stood vigil day in and day out, setting up camp to provide snacks, water, sunscreen, hats, shade, and signs for the rest of us. They were out there even in the pouring rain, holding up their hearts and their signs, tracking everything, posting on Facebook, as they were harassed by ICE agents. They reported that when a 17-year-old detainee turns 18, he is shackled and transferred to an adult facility. They said that they had seen shredders and suspected that the children's records were being destroyed. A giant yashar koach (shout-out) to Tina, Charlie, Marty, Maryellen, and Joshua Rubin, steadfast tzadikim (righteous ones), who take seriously the biblical mandate to love the stranger and to recognize that all people are made b'tzelem Elohim – in God's image.
Since my visit to Homestead, all children have been removed from the camp. But this is a hollow victory. Where have the children been sent? We do not know. Nobody seems to know. In all likelihood, they have been dispersed throughout the country, to other facilities. Who is tracking their whereabouts? How long will they be held? What conditions are they being subjected to? What permanent damage have we inflicted on them because of this traumatic experience? And Homestead is scheduled to reopen later this fall.
In July, Congress passed an emergency $2.6 billion for "humanitarian assistance and security at the Southern border." A resulting Request for Proposals has made its way to California's Inland Empire where I live for a 15- to 17-year lease to house 430 "unaccompanied alien children!" In other words, the detention of children is now a long-term proposition. This is beyond unacceptable. We must unite these children with relatives in this country, not use them as pawns in our immigration fight and as fodder to feed the private prison industry. America must wake up to the moral imperative posed by this awful situation. As the New Year approaches, let us resolve to rediscover our humanity and set these children free.
Related Posts
Image
These are Torah portion haikus.
Image
These Haikus focus on weekly Torah portions.
Image
These Haikus focus on weekly Torah portions.