Image
When I had mononucleosis during rabbinical school, my classmates tended to me with thoughtfulness and care. They took copious notes in class and dropped by often to check in on me, change my linens, fold my laundry, and bring me food – chicken soup, chopped liver, challah, and pickles from New York City's Second Avenue Deli, which was, at the time, just blocks from where I lived. I'm convinced that coupled with time and rest, those meals and the generous friends who brought them played a significant role in my recovery.
To me, those meals and my mom's brisket, blintzes, and kugel are classic Jewish "soul food." Just thinking about them brings delightful and nostalgic memories to mind. My kids, however, would rather starve than eat a potato knish, a blintz, or anything else that has roots in the shtetls of Eastern Europe, including pickled herring, gefilte fish in jelly, gribenes (crispy fried poultry skin and caramelized onions), or even my grandmother's apple cake.
A few month ago, right before Shavuot, I prepared a lokshen kugel, as the noodle pudding is known in Yiddish, using my grandmother's recipe. (Dairy foods are associated with this holiday for various reasons. One interpretation suggests that they connect the giving of the Torah at Mt. Sinai, which the holiday celebrates, with Divine love and sustenance.) The sweet smell of cinnamon, eggs, cottage cheese, and vanilla infused the house, reminding me of my childhood and making me eager for the first bite of the flavorful treat with the crispy baked noodles on top. Sadly, none of my children touched the noodle pudding at dinner that night.
My kids are strictly all-American when it comes to food, preferring ice cream, brownies, and apple pie over the fare of their grandparents and great-grandparents. Not surprisingly, they won't go near kasha varnishkes (bow-shaped noodles with buckwheat and caramelized onions), borscht with hard-boiled eggs and matzah farfel floating atop the magenta broth, or even sweet, crunchy kichlach (airy bowtie cookies). If only I could convince my daughter to try a piece of teiglach (hard, doughnut hole like pastry drenched in a honey-based syrup), I imagine she magically would channel our grandmothers' hopes and prayers on the first day of Rosh HaShanah, on which this sweet, sticky treat is typically enjoyed.
Despite my best efforts to pass down traditions – and infuse them with meaning and love –  my kids will have to find ways other than food to connect to their Eastern European Jewish past. I suffer guilt that they are missing out on the flavors, smells, and textures that recall a different time and place, one in which our not-so-distant relatives lived. I know I can't control everything my children eat (or don't eat), and their habits remind me of this fact daily – as we engage in an ongoing dance of separation as they grow.
I take comfort in knowing that such behavior is nothing new, as the rabbis in the Talmud rightly noted, "More than the calf wants to suckle, the cow wishes to nurse" (Pesachim 112a). Indeed, my calves are more interested in warm challah and greasy potato latkes than in other, more challenging legacies from their Ashkenazi heritage.
As for that forlorn noodle pudding I served to myself on Shavuot, don't worry too much about it. I froze the leftovers for my dad's next visit. As he always tells me, it reminds him of his mom. I'm a little sad, though, that, at least for now, it won't remind my kids of me.
Related Posts
Image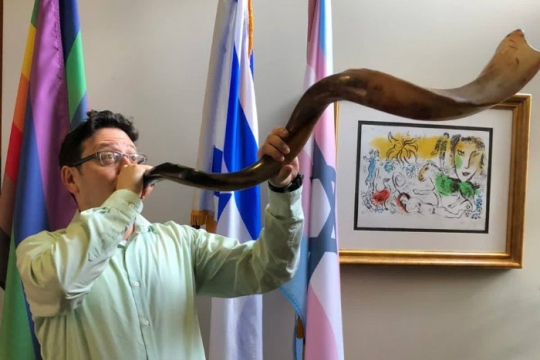 Rabbi Max Chaiken, our Ten Minutes of Torah commentator for the Book of Deuteronomy, is the associate rabbi of Congregation Kol Ami in Los Angeles, CA. We talk to him about his Jewish journey and the ideas behind his commentaries.
Image
A classmate recently snapped a photo of a billboard promoting Israel's right-wing Yachad party that read: "So there won't be a child with a father and a father!"
Image
Shavuot, like most other Jewish holidays, has been celebrated in many different ways throughout Jewish