Image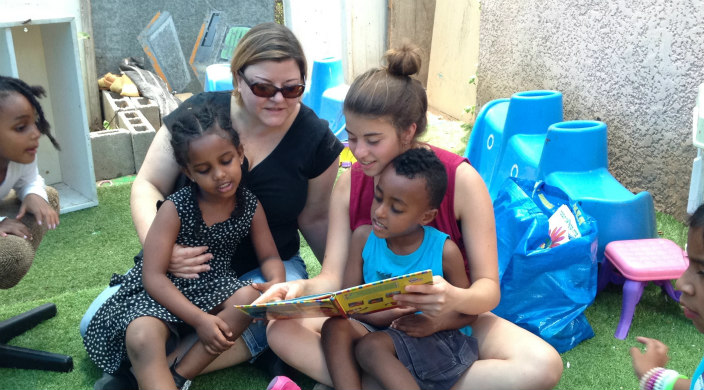 In June each year we mark World Refugee Day. Lately, it seems that all our days are refugee days.
According to the United Nations High Commission on Refugees (UNHCR), we are living in a time with the greatest amount of displacement ever recorded. Newspaper headlines show the suffering of children being torn from their parents as they flee violence, seeking asylum in the United States. Refugees are a part of the global conversation and the human experience in almost every country on earth.
Here in Israel, where I currently live, I spend my days assisting the refugees who walked across deserts seeking safety from genocide, violence, war, and forced conscription. The global refugee crisis is a part of daily life, both for those who are struggling to find safety themselves, and for those, like my friends and neighbors, who are reaching out to help them.
Growing up in the Reform Jewish community through my synagogue and summer camp, URJ Olin-Sang-Ruby Union Institute in Oconomowoc, WI, I learned at an early age about the connections between the teachings in the Torah and our everyday actions to make the world a better place. Multiple times in the Torah we are beseeched to care for the stranger among us. This message is powerful and real for me as I advocate for the asylum seekers who live just 20 minutes from my house.
As we read in the Torah,
When a stranger resides with you in your land, you shall not wrong him. The stranger who resides with you shall be to you, as one of your citizens; you shall love him as yourself, for you were strangers in the land of Egypt. (Leviticus 19:33-34) 
One of the most compelling aspects of the work I am doing now is having the opportunity to meet inspiring Israelis who are welcoming the stranger every day and caring for their needs, loving them as themselves.
One of these inspiring Israelis is my friend Gideon Ben-Ami, who runs the food recovery organization, Pesia's Kitchen, which is an official partnering agency to Leket, Israel's Food Bank, as they attempt to feed hungry people all over Tel Aviv. 
Gideon was someone I had heard about as I volunteered with different organizations in South Tel Aviv during my first few years here. Fast forward four years, and I now see him every week. What he does is magical and mensch-like and sometimes defies description. He runs a small organization that distributes food, both rescued and donated. He literally feeds the hungry, clothes the poor, and steps in to help whenever needed.
After an afternoon riding around with Gideon as he delivers food to a homeless shelter, a home for elderly Holocaust survivors, a halfway house for former sex workers, a shelter for men starting new lives after substance abuse, one cannot help but be completely inspired and want to join in. Gideon has a saying that anyone who comes with him to deliver food gets addicted to doing good and cannot help but join him in his efforts. I tell people that once they see the suffering of human beings and realize that they have the ability to ease it, they cannot look away.
While we strive to help refugees around the world find safety, we must also tend to their immediate humanitarian needs. In Tel Aviv, Gideon does just that.
On World Refugee Day, let us each do our part to welcome the stranger among us by reducing suffering, providing sustenance, and restoring human dignity.
Learn more about the North American Reform Jewish community's refugee work, led by the Religious Action Center of Reform Judaism, by visiting www.rac.org/refugees.
Related Posts
Image
These are Torah portion haikus.
Image
These Haikus focus on weekly Torah portions.
Image
These Haikus focus on weekly Torah portions.