Image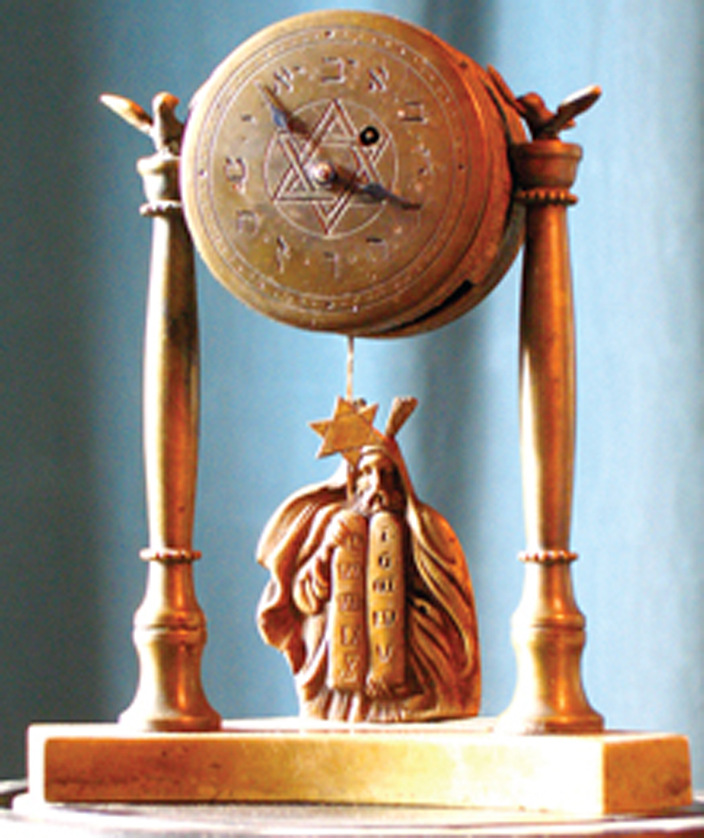 Dear Jonathan,
I've inherited a strange sort of Jewish cast metal clock that's nearly 6 inches in height, about which I know nothing, except that it might have belonged to my grandfather. Another less likely theory is that it may have been purchased by my parents, who typically did not collect Judaica.
Thank you for your kind attention.
Melissa Hacker,
Village Temple, New York, New York
Dear Melissa,
Thank you for submitting the picture of this lovely clock.
While there is no specific Judaic or Jewish use associated with this clock, it is considered Judaica because it bears the images of Moses and Aaron as well as an inscription of the Decalogue and the use of Hebrew letters instead of numbers. Many such clocks were manufactured in Vienna between 1890 and 1920. All were fabricated from bronze and brass. They varied in height from 4 to 12 inches. I have never seen one signed by a maker or with a manufacturer's mark, but all of them have Austrian family provenance. Families would often display their clocks on a mantle or shelf.
Your clock is one of the simpler models (the more intricate ones show more defined figures and are more ornate in decoration overall). If it is in working condition, it would sell at auction in the $1,000-$1,400 range. If it is not working, it would bring in the $600-$1,000 range. The more intricate models would be worth $2,000-$3,000 in non-working condition and upwards of $3,500 in working condition.
Thanks and blessings.
Jonathan Greenstein, founder, J. Greenstein & Co.
Send new reader inquiries to jgreensteinco@aol.com.
Dear Jonathan,
Thank you for the information. It all makes sense, because my grandfather, who grew up in Bukovina, had lived in Vienna until he fled for his life in 1939 to the United Kingdom and then to New York. He was one of few survivors of a large family, and I grew up looking at photo albums filled with images of lost, unidentified people, so it is a gift to learn more about one of the few belongings my grandfather was able to hold onto.