Image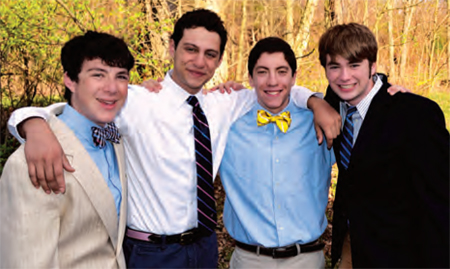 Applying for college marked the start of my future—a future I wanted to succeed at all on my own.
But the moment I opened my first application, I felt overwhelmed. There were endless questions I had no idea how to answer. I decided to put the application aside.
A month passed and I'd barely touched the application. When my parents expressed concern, I promised them that I'd make significant progress on it that coming week—but two weeks passed, and still nothing.
Finally, I had to concede: I needed my parents' help. I was too anxious to do this alone. Taking what I felt was an adult step, I set up a formal meeting with them to discuss the application.
Soon I realized much more was at stake than this single application. I wanted to choose the right schools for me, get in, maintain good grades, and continue being northern membership vice president of NFTY's Mid-Atlantic region.
It dawned upon me that Jewish values could help me succeed. Judaism teaches about the role of a kehilla—a community of people with a shared goal and purpose. I could build my own kehilla to guide me through the applications process.
My Guidance Counselor
My high school guidance counselor was a natural choice for my kehilla.
She went right to work laying out the pros and cons of each school I was considering. She also helped me make an applications checklist which we transferred onto a calendar, enabling me to record and review the due dates for every application and when I would work on each.
My Family Friends
Family friends whose sons had succeeded in getting into schools of their choice were really helpful, too. I turned in all applications a month before their due dates on advice from a friend who said this would demonstrate to admissions officers that I had a good work ethic. The best tip I received was to develop a personal relationship with an admissions counselor at each school I applied to, which would make it more likely that s/he would fight for me. As a result, I called and emailed each college I was considering, asking specific questions about the school, including what admissions officers were seeking in an applicant.
This advice paid off. After receiving news that I'd been deferred from one of my top choices, I emailed a thank-you note to the admissions counselor with whom I had a relationship and asked her what I could do to strengthen my application before it was reviewed a second time. She explained that I'd been deferred because of low SAT scores (as I am not a good test taker), and suggested I add additional academic achievements and leadership roles to the resume submitted with my application, which I did. She also wrote a note on the application I submitted saying this college was one of my top choices. In part because of her help, I was admitted to the school the second time around.
My Friends
My friends were also tackling the applications process, so I would have been a fool not to include them in my kehilla. We'd discuss the meaning of certain Common App questions, bounce essay ideas off one another, critique each other's drafts, and calm one another down. I'd get particularly stressed when I couldn't think of a good essay topic or express what I really wanted to say. Hanging out, catching up, and relaxing with my kehilla friends usually helped clear my mind and return to the application refreshed and ready to overcome obstacles. Meanwhile, I was helping them out, too.
My Parents
Each week for an hour or two, I met with my parents to share my school preferences and listen to their perspectives. Often this process caused me to weigh something I hadn't thought of before, such as my dad's remark that many college graduates end up living in the area of their school, which prompted me to give more thought to college location. Together we also considered whether or not to revisit certain schools. In addition, my parents commented on my essays, which at first was hard to take, but eventually I realized the value of their advice.
My admissions kehilla helped get me where I am today—on my way to the school of my choice.
Blake Dickler is a member of Har Sinai Congregation, Owings Mills, MD, an outgoing northern membership vice president of NFTY-MAR, and an incoming freshman at Ithaca College.