You are here
Glitter Glue Webs
This fun, spidery craft is a surefire hit with kids. Hang them in your sukkah during Sukkot.
Materials:
White glue
Colored glitter
Wax paper
Directions:
Squeeze white glue onto wax paper in a web-like pattern.
Sprinkle glitter onto the glue.
Wait for the glue to be totally dry, then peel it off the wax paper.
Use string to hang the glue web up in your sukkah.
Learn about  the Shabbat customs, traditions, and practices observed in synagogues and Jewish communities throughout the world.
Purim, occurring this year on March 20-21, is celebrated with a wonderful tradition of creating and sending food packages to friends and family.
A rabbi shares his personal experience of finding his spiritual home.
Learn the blessing for placing a mezuzah on the doorposts of your house.
If you're curious about Judaism, thinking of converting, or know someone who is, here are some excellent resources to learn more about Judaism.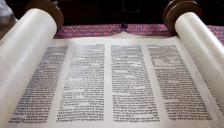 The Eternal One spoke to Moses, saying: "Command Aaron and his sons thus: This is the ritual of the burnt offering: The burnt offering itself shall remain where it is burned upon the altar all night until morning, while the fire on the altar is kept going on it." - Leviticus 6:1-2
Want to explore Reform Judaism but have no in-person opportunities to study? This class is for you! Register now.
There's a deep relationship between Judaism and social action.
Learn why Anat Hoffman fights for women's rights in Israeli society.
Mattan loves his homeland while disagreeing with its government.
Search URJ.org and the other Reform websites:
WRJ Shop MRC
The artwork on this note card was created by 5768 WRJ Art Calendar artist Césan d'Ornellas Levine.
$7.50/pack
Show your WRJ pride with this zippered canvas bag. Features the phrase "Well-behaved women rarely make history" and the WRJ logo.
$18 $15