Teaching kids about the importance of voting can help plant the seeds for a lifetime of voter engagement.  Here are some activities you can do together to make an impact while building confidence and skills for the future.  
Children's books build empathy and help kids learn. As you read together, discuss the story and ask your child questions about what you're reading. 
Here are some great books about voting:
I Voted by Mark Shulman and Serge Bloch 

Vote for Our Future by Margaret McNamara and Micah Player  

A Vote is a Powerful Thing by Catherine Stier and Courtney Dawson 
Possible discussion questions:  "Do you think voting is important?" "Do you think we can help other people learn about voting?" "Do you want to vote with me?" "What do you think we should do to help?" "Do you have any questions?" 
PJ Library also has a list of books to read with your budding activist you may want to check out.
Image
Gather Friends and Neighbors Together
Children of all ages can color this printable sign to hang up in a window of your home.
Host a playdate to decorate signs together and talk about why voting is important to you.

*Special opportunities for Chicago-area families will be announced before municipal elections in February
Image
Get Out the Vote (GOTV) Together
Why do we need to "Get Out The Vote"?!  
The answer is simple. Many eligible, registered voters don't actually vote! "Getting out the vote" increases your impact on elections by encouraging others to vote too.  
There are many ways you and your children can get involved and help get out the vote on or before election day. Whether you prefer making phone calls to encourage people to vote, sending text messages, going door-to-door to remind people to vote, or sending postcards, letters, and emails to share the importance of voting, there's something for everyone.  
Ready to help? You can join an organization or campaign on your own or you can join our effort. 
Image
Further Increase Your Impact
Use Social Media to Raise Awareness
Post a selfie of you decorating signs or mailing postcards together and tag with #growagoodcitizen
Image
Connect with Organizations Doing Voter Engagement
The Reform Jewish Movement's Every Voice, Every Vote campaign is a nonpartisan effort, grounded in our Jewish values and commitment to racial justice, to strengthen our democracy by encouraging and protecting voter participation.
Image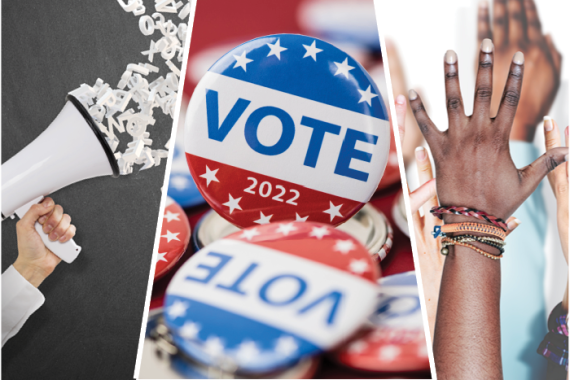 Learn More About Judaism's Commitment to Advocating for Justice
Image