Image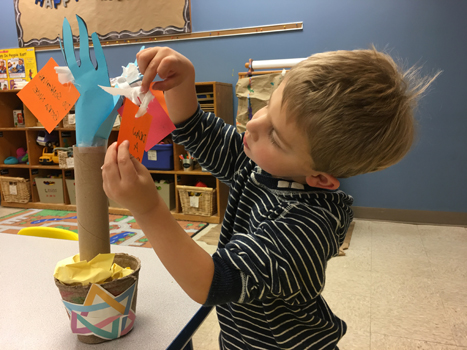 Hanukkah recounts the story of a great miracle and a great triumph, offering parents a wonderful opportunity to teach children to celebrate the miracles in their own lives as well as to be the light in someone else's darkness.
Creating a Hanukkah Gift Tree lets kids learn firsthand about the joy of giving, participate in giving from their hearts, and spread the light of Hanukkah to others.
Materials Needed
Old can, jar, or planter pot
Empty paper towel roll
Paint, markers, stickers
Yarn or ribbon
Hole puncher
Five (5) sheets of paper
Scotch tape
Directions
Decorate the pot or can and the empty paper towel roll with markers, stickers, and/or paper.
Crumple a piece of paper and put it inside the pot or can to hold the empty paper towel roll upright. Put the paper towel roll in and put additional crumpled paper around it to hold it in place securely.
Trace your child's hands (with the thumbs overlapping) on a piece of paper. This formation will give you eight tall branches and one short branch.
Cut out the hands as one piece. Roll up the handprint and place it in the top of the paper towel roll so the finger branches are sticking out. Tape the handprint to the paper towel roll so it is secure.
Cut eight squares of paper. On each one, write a different type of gift that illustrates a Jewish value (see Ideas for Giving below). Remember, the most meaningful gifts we can give others often are things that have little or no cost.
Punch a hole in the corner of each square of paper, put a ribbon through the hole, and hang it from a branch of the giving tree. You can add as many different gifts as you'd like to the tree, but it should include at least eight.
Each night, after lighting the Hanukkiah, let your kids pick a gift off the tree to give to someone in your family or community. 
Ideas for Giving
Donate items to food pantry.
Call someone who is sick.
Make a card for a new friend or neighbor.
Draw a picture for someone you love.
Help clean up the house.
Listen to your parent(s).
Donate books or toys that you are too big for to a school or hospital.
Plant a tree or flowers.
Write a thank you note.
Do something nice for a friend, parent, or neighbor -- just because.
---
Jennie Rubin is the director of early childhood education at Temple B'nai Or in Morristown, NJ, and president of Early Childhood Educators of Reform Judaism (ECE-RJ).