Image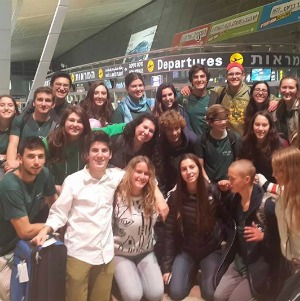 They come home glowing, having spent weeks trekking across hills, deserts, and farmland, spending the night under the stars, and tracing their Jewish heritage – all while making new friends and forging a relationship with Israel.
Listen to their stories
As your teen returns from his or her summer trip abroad, expect to hear tellings and retellings of all the fantastic adventures they experienced during this multidimensional Jewish journey. Now that they're home, eaten the food they've missed, slept in their own beds, and (hopefully) cleaned out their suitcases from all of that Holy Land sand, it's time to unpack the trip itself.
After a few days, it's time to sit down with your teens – these tired, tanned, and transformed Israelites – and listen to them tell you "their" Torah. One of the most important parts of Jewish education is that we are a people who tell our story day after day and year after year. This is perhaps best represented by the holiday of Simchat Torah, when we finish the year-long cycle of Torah reading… by starting the whole process all over again!
Indeed, the Jewish people are a people who like telling stories, and when we do, we come up with new questions, new insights, and new angles. Jewish tradition teaches us that it is not always obvious what the stories mean; rather, it is our obligation to find meaning in the story. Your child has had an extraordinary opportunity to experience Jewish history, spirituality, and the fascinating reality of the State of Israel, both inside and outside. And so, just as the journey itself was a meaningful experience, it is equally important to guide these young people in constructing a meaningful narrative from thieir experience.
Ask questions
Here are five questions to help you begin to engage your teen in conversation about their trip in order to help them reflect, on a deeper level, about the ways that visiting Israel has helped shape their Jewish identity.
What was the most memorable part of the trip for you? Why?




What was the most challenging part of the trip? Why?




How do you think you have changed after taking this trip?




How will your connection to Israel be demonstrated now that you are back home? How do you think this trip impacts your relationship with your Jewish life at home [including, if applicable, camp, NFTY, and our synagogue]?




What do you think you might do differently in your life as a result of having gone on this trip?
If you're an alum of a NFTY in Israel or URJ Kesher Taglit-Birthright Israel trip, tell us in the comments: What questions would you add to this list?