Image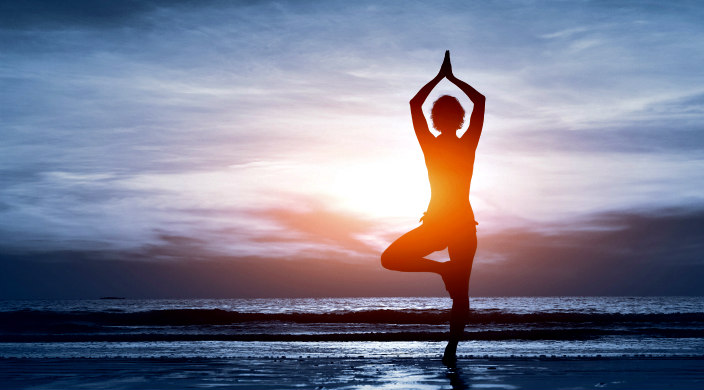 "Let your mind go. Breathe deeply."
The first time the yoga teacher said it, I'm pretty sure I rolled my eyes. The second time, too, and probably the third and fourth times. But somewhere along the way, the dimmed lights, burning candles, and the sounds of everyone else's ujayyi breath lulled me into acquiescence.
I'd never been much of a yogi. Give me a good spin class or dance class, or sign me up for a 5K any day. If I'm going to exercise, I want to be panting and sweating. But stretching myself, finding balance, and taking a moment of stillness? That sounds like hard work.
Still, I tried it out, and several days a week, I found myself closing my eyes, breathing deeply, and finally giving in. "Take a breath. Let it travel through your body. And just when you think your lungs are full, sip a little more air. And then a little more. Hold the breath, and in this space: Set an intention for your practice."
Yeah, right. Can't we just start dancing?!
Somewhere along the way, though, my experience in those opening moments shifted. I stopped rolling my eyes and started closing them. I stopped smirking and started breathing. And I began to set an intention – sometimes an inward reflection. At first, my intentions were solely fitness-based: Lose weight. Get in shape. Tone my arms.
As those physical changes started to happen, my intentions grew more expansive, if still totally embodied: Love my shape. Celebrate my body's abilities.
Then my intentions grew wider, more integral to the life I was living. Sometimes a specific goal or just a one-word plan: Hope. Contentment. Focus.
I often hear my yoga teacher's words when I embark on a new project or endeavor. As we get ready to usher in the month of Elul, the preparatory month for the High Holidays, I keep thinking to myself: What is my intention? Where do I want to go, and more importantly, whom do I want to be in the year ahead? How do I begin the work of getting from point A (where and who I am now) to point B…or C…or D…?
Our tradition has many suggestions and expectations for the month of ElulElulאֱלוּלThe Hebrew month preceding Rosh HaShanah during which one engages in self-reflection and evaluation in preparation for the High Holidays. Traditionally, the shofar is blown each day during the month. . We're expected to hear the sound of the shofar each and every morning and to recite the words of Psalm 27 daily. All of this leads up to Selichot, and ultimately to the work of Rosh HaShanah and Yom Kippur themselves: the work of t'shuvahT'shuvahתְּשׁוּבָה"Return;" The concept of repentance and new beginnings, which is a continuous theme throughout the High Holidays. .
All of these rituals, I think, are made to break us out of patterns – to shake us up and give us a different perspective, to allow us to imagine a year ahead that is, in real ways, different from the year that was.
There is a discussion in the Talmud, where one of the rabbis raises the question of someone who has already fulfilled his obligation in prayer, presumably at home. What happens, they ask, if she then walks into a synagogue and finds the community at the point of the service where they are beginning the prayers she's already said? Does she join in or just sit there? If the question seems odd, the answer, I think, opens for us a world of possibility, particularly as Elul begins: She can join with the community, they say, as long as she can find something new to add to her prayers.
As the month of Elul begins, perhaps that answer can inspire us, too. We can join in, we can prepare, as long as we can find something new – something to learn, something to pray, something to become.
When I was accepted into rabbinical school, a friend sent me a card quoting the poet Marge Piercy. It still sits above my desk, a reminder of the possibilities, potentials, and pitfalls of a spiritual life. From her poem, "The Art of Blessing the Day," it reads:
Attention is love, what we must give
children, mothers, fathers, pets,
our friends, the news, the woes of others.
What we want to change we curse and then
pick up a tool. Bless whatever you can
with eyes and hands and tongue. If you
can't bless it, get ready to make it new.
As Elul begins, we are asked to take spiritual stock, to reflect on the year that was, and to consider who we have been and what we have done. This "inventory" should inform who we want to become and the steps we'll take to get there.
So I invite you to sit. Close your eyes. Breathe deeply. Breathe in a little more. Set an intention for your practice. And then, get ready to make it new.