Image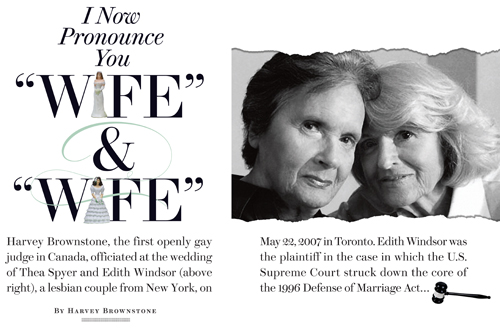 Harvey Brownstone, the first openly gay judge in Canada, officiated at the wedding of Thea Spyer and Edith Windsor, a lesbian couple from New York, on May 22, 2007 in Toronto. Edith Windsor was the plaintiff in the case in which the U.S. Supreme Court struck down the core of the 1996 Defense of Marriage Act which had restricted federal marriage benefits to opposite-sex married couples, as a violation of the Constitution's guarantee of equal protection. In March the Union for Reform Judaism, Central Conference of American Rabbis, and Women of Reform Judaism filed amicus briefs to the Supreme Court in support of marriage equality, and the court ruled in Windsor's favor on June 26, 2013. RJ magazine asked Judge Brownstone to tell the story of how his life growing up as a Reform Jew and gay activist led to his playing a role in this historic civil rights decision.
I came from a Jewish community devoted to inclusiveness, helping one another, and fighting injustice—or, at least that's what I thought growing up in Hamilton, Ontario.
Our Jewish community was filled with Eastern European immigrants and Holocaust survivors, and my father, a social worker who directed the Jewish Community Center, would bring affluent community members together to assist the newcomers with housing, furniture, clothing, and jobs.
I felt at home at our congregation, Temple Anshe Sholom. Our family went to services every Friday night, I studied and eventually taught in the Sunday school—and because my father was easily the most beloved member of the Jewish community, we were invited to and attended almost every Saturday morning bar/bat mitzvah and wedding.
Our rabbi was a true intellectual. No topic was too secular for Rabbi Bernard Baskin to tackle in a sermon: politics, social mores, international relations, interfaith relations, economics, entertainment, even environmental issues. He tied the teachings of Reform Judaism into the real world and urged us to be ambassadors for Judaism by speaking out against injustice in any form and against any person.
At my bar mitzvah, Rabbi Baskin took me aside and recommended that I strongly consider utilizing my developing academic and social skills in a career devoted to the pursuit of justice. The legal profession, he said, had a strong tradition of counting Jewish lawyers among its most distinguished, accomplished members; and many Jewish lawyers, trained in the laws of the Talmud, had gone on to become judges. I had no idea what lawyers actually did, as we had no lawyers in my family. But Rabbi Baskin's words echoed in my head throughout my undergraduate years and led me to pursue a legal career as soon as I was eligible to apply to law school.
---
Meanwhile, like every gay person I know, I came to realize that I was "different" during my adolescent years. Those were very difficult times for young gay people of my generation, as there were no "out" role models in society: no entertainers (not even the flamboyant Liberace was out of the closet), no politicians, no one. I thought that I was the only gay person around. I was also very mindful of the admonishments in Leviticus, knowing that in Jewish tradition, it was very important to "go forth and multiply." So I kept my feelings to myself, did my best to suppress my sexual orientation, and clung to a belief that in time I'd "grow out" of my homosexual attractions and become interested in the opposite sex just like everyone else.
This began to change at age 19 when I went away to Queens University in Kingson, Ontario and felt free to explore my social surroundings. It was 1976. There was a fledgling "homophile organization" at the university which met every Saturday night for coffee. Meekly I showed up one day, and there met some like-minded people who were also struggling to accept themselves and integrate their sexual orientation into their identities and what they hoped to achieve in their lives.
I decided to tell my parents that I was gay. We had always been close—I was an only child—and I anticipated that my father's social work background, coupled with my parents' strong Jewish values of "supporting your children no matter what," would govern their reaction.
I could not have been more wrong. My parents exploded. They felt shame ("What did we do to cause this?") and embarrassment ("What will people say when they find out?"). One of the most painful things my mother said to me was, "I survived the Holocaust for this?"
It was immensely painful to know that I had caused my parents such anguish and turmoil simply by revealing the truth about myself. To me, being gay was no different than being right-handed or having brown eyes. I believed—and still do—that we're born this way. But to my parents, being gay was a choice, a "lifestyle." I had been taught that what Jewish parents want most of all is for their children to be happy. But I quickly realized that my parents' definition of "happy" was what counted, not mine.
And so, when I came out of the closet, my parents went into the closet. They were traumatized. They told no one about me. If someone asked whether I had a girlfriend, they changed the subject.
The hardest part was living with their extreme choice to shut me out of their lives. Believing they were applying "tough love," my parents told me that when I "came to my senses," they would be happy to have me resume my place in the family—but until then, I was "on my own."
For the first time in my life, I was truly alone—without financial, emotional, or family support. How bitterly ironic—I had always believed that being Jewish meant being part of a close-knit family and community.
What was I to do?
Having grown up in an environment where any Jew who needed help got it from our Jewish Community Center, I naturally turned to the Kingston Jewish community for financial and emotional support.
Everyone I reached out to was supportive. Leading members of the Jewish community—professors, business people, synagogue stalwarts—got me part-time jobs, invited me for Shabbat dinners, helped me secure scholarships and student loans. Friends I made at the "homophile organization"—several of whom were Jewish and had also been rejected by their families—were a source of comfort and companionship. Somehow I made it through my undergraduate years and then through law school. I was quite the overachiever—determined to be a stellar student in order to make my parents proud of me—at which point, I hoped, they would stop being ashamed of me. Rejection from your parents can be a great motivator, although I don't recommend it.
I invited my parents to my law school graduation, and they proudly attended. That was the beginning of a rapprochement that, over the next five years, would result in a full reconciliation.
---
Because the Jewish community had always been my first source of solace, guidance, and support, when I moved to Toronto after graduation, I looked for lesbian and gay Jewish people like me. I discovered a group called Chutzpah—about 50 Jewish men and women who'd also been rejected by their families for having come out. Some of their parents had gone so far as to sit shiva for them. Group members felt like outcasts and struggled with depression. For most of us it took many years—in some cases decades—of therapy to overcome our shame and self-loathing. Some of my peers at Chutzpah did not have the emotional resilience to deal with this and committed suicide. Even today there is a higher suicide rate among young gays and lesbians than among any other discernible group.
In the early '80s the Jewish community didn't get that we were all Jews. If the Holocaust had taught us one thing, it was that to the Nazis it didn't matter if you were gay or straight, Reform or Orthodox—you would share the same fate. But in my experience, this startling reality was overlooked when it came to accepting Jews who were different than the norm.
Eventually I became Chutzpah's president. And in 1985, I persuaded the board to engage as gays and lesbians with the mainstream Toronto Jewish community.
It was a terrible time for us. The AIDS epidemic was in full swing, and we struggled for official Jewish acknowledgement and support. A tipping point for me was the difficulty we had in getting a rabbi to conduct a funeral for a young Jewish man whose family had disowned him. When I called the Toronto JCC to ask, the social worker said, "That's a shanda [disgrace]. There are no Jewish homosexuals! Impossible!" Finally we found a Reform rabbi, Arthur Bielfield of Temple Emanu-El in Toronto, who not only conducted that funeral, but officiated at funerals for every Jewish gay person we knew who had been disenfranchised by their families and communities.
Once Chutzpah's membership swelled to 150 young Jewish men and women—all of whom were aching for a connection to the mainstream Jewish community—we made the bold decision to confront Canada's flagship Reform synagogue, Holy Blossom Temple. Our request for a meeting with their rabbis was granted. Four of us sat down with Rabbis Dow Marmur and John Moscowitz in Rabbi Marmur's study. It was intimidating beyond belief. And yet, by then I was an accomplished lawyer. I felt up to the challenge of convincing these community leaders that it was time they opened their doors to us.
"Listen," we said, "we are your children, but we are invisible, left out, not welcome. We want to reconnect with our Jewish roots, but nobody wants to hear about us." Explaining that "many families attending your synagogue are in great pain, struggling with the homosexuality of a loved one," we asked them to provide counseling, spiritual guidance, and support. We also called on them to encourage their Board of Directors to permit Jewish gay and lesbian couples to join the synagogue as a "family membership"—something absolutely unheard of at that time.
Rabbi Marmur was straightforward with us. "I don't think this is a big issue in our community," he said. "I don't think there are a lot of gay Jews. But, if you like, we'll do a panel on the subject, 'Coming Out If You're Gay and Jewish,' and announce it in the temple bulletin."
Our event was scheduled for a Tuesday night in the middle of winter. Twenty chairs were set up in a small social hall. People started to show up…and then more people, and more people, and more people. Rabbis Marmur and Moscowitz looked stunned beyond belief. The crowd got so large—250 in all—the panel had to be moved to a larger hall—and still there weren't enough chairs to accommodate everyone. Familiar faces from the congregation appeared. I could hear Rabbi Marmur muttering, "What's he doing here? I can't believe that Mr. and Mrs. So-and-so would be interested in such a topic! Who in their family is gay?"
This seminal event at Holy Blossom was a life-altering day in the history of the Toronto Jewish community. Person after person got up and spoke about how painful it was to hide the fact that there was a gay person in the family—them or someone else—and how much it meant to them to finally be able to reveal the secret. And every person talked about how the synagogue and Jewish community had let them down, because they did not feel welcome to raise this issue with anyone.
Consequently the temple formed a support group for families of Jewish lesbians and gays, which still exists under the auspices of Jewish Family and Child Services. Chutzpah disbanded in 1995, after the Reform Movement declared its full support of same-sex relationships.
---
I decided to pursue Family Law. I wanted to integrate Judaism's family values and commitment to fighting oppression in all its manifestations.
Still driven by the need to gain parental approval, I launched myself into a meteoric career. I never lost a trial as a litigator. In 1989 I joined the Ontario government as a junior lawyer; three years later I had become director of Ontario's child support enforcement agency. Then, despite the fact that I was a well-known member of Toronto's gay community, I dared to seek an appointment to the judiciary. And in 1995, at the age of 38, I was appointed to the Bench, becoming Canada's first openly gay judge. Right before my swearing-in ceremony, my mother said to me, "Well, anyone can be a grandparent, but not everyone can say that their son is a judge!" By this time my parents had become advocates for gay and lesbian equality. Still, this was truly the first moment I knew I'd made them really proud of me. It was a cathartic and redemptive moment that still brings tears to my eyes.
---
I'd reached the pinnacle of the legal profession. And yet, I was driven to achieve something even more meaningful.
2009 saw the publication of my book, Tug of War: A Judge's Verdict on Separation, Custody and the Bitter Realities of Family Court. Detailing how harmful litigation in Family Court is for children, I urged parents in conflict to seek out counseling and alternative ways of resolving disputes, focusing on their children's needs for peace, stability, and the love of two parents instead of their own desires for vengeance. The book became a national bestseller, and in 2010 a producer invited me to host an online public education talk show discussing the justice system and family relationships, which then got picked up by two Canadian TV networks. Now in its second season, "Family Matters" is one of Canada's most popular TV talk shows.
---
My involvement with gay issues on the national level started rather quietly. When same-sex marriage became legal in Canada in June 2003, a number of prominent LGBT community leaders asked me if I would officiate at these weddings. Tens of thousands of same-sex couples at home and abroad wanted to get married, and there were few options for them. Other than the Metropolitan Community Church and the Unitarian Church, virtually no religious institutions in Canada were then willing to preside at same-sex marriages.
Although judges are entitled to conduct weddings, and I had done so, this is really not part of our job; we spend our days presiding in court. Still, I felt it was incumbent on me as a gay judge to serve my community. Besides, I told myself, it would be wonderful to juxtapose my courtroom world, where I only saw marriages that ended badly, with marrying happy, loving couples who wanted to be a part of society's most important institution: marriage.
Soon, a website was created to inform same-sex couples of the procedures to follow in order to come to Toronto and get married. I naively agreed to be the "go to" person if they requested an officiant. "Sure," I said, "give them my court email address so they can make an appointment."
Within two weeks I received 8,000 emails from all over the world! The influx of requests was so great, it crashed the court's server!
Over the course of the next seven years, I would conduct many hundreds of weddings in Toronto, contributing to our city's becoming Canada's number one vacation destination for American gay and lesbian couples.
---
One of these couples, Edith (Edie) Windsor and Thea Spyer, were truly exceptional. When I married them on May 22, 2007, they had been together for 40+ years and Thea was in the final stages of Multiple Sclerosis. A paraplegic, she required a great deal of personal care, which she received lovingly from Edie in their New York home. Her doctor had told her she was dying, and it was Thea's last wish to go to Toronto and get married in the little time she had left. Nothing would stand in the way of honoring Thea's final wish. Taking a trip like this required quite an entourage of medical staff, caregivers, and friends, all of whom devotedly rose to the occasion.
For most people, marriage is a beginning; for Edie and Thea it was a culmination—a celebration and affirmation of their deep love, commitment, and devotion. Thea could not put the ring on Edie's finger or sign the marriage documents alone; someone held her hands and steered her movements. The wedding was profound in a way I have not experienced before or since.
Thea died two years later, before the release of Edie & Thea: A Very Long Engagement. In this documentary about their lives, Thea relayed how she and her family were among the very few Jews able to escape Nazi-occupied Holland, because they had the means to buy their way out. Her family's ordeal traumatized her. Knowing what it is like to be feared and hated as a Jew, she vowed to never again allow herself to be discriminated against. When she came out as a lesbian and got involved with Edie in the 1960s, the two embraced the fledgling gay liberation movement.
Today, at age 83—drawing strength from the memory of Thea's love and her own indomitable spirit—Edie Windsor is the Rosa Parks of the gay movement, a symbol of perhaps the last great civil rights struggle in America. She challenged the federal inheritance tax laws which required her to pay $363,053 in inheritance tax after Thea's death. Had Edie been married to "Theo" instead of Thea, she would not have been subjected to this tax. She asked the U.S. Supreme Court to strike down the discriminatory Defence of Marriage Act so that all federal laws that currently apply to opposite-sex couples will be upheld for same-sex married couples in those states which allow same-sex marriage—and she prevailed!
We navigated this terrain very differently in Canada. Rather than first go for marriage, which is such a lightning rod emotionally and religiously, we gay activists decided to leave marriage to the end and win rights incrementally—if you were denied survivor benefits when your partner died, we brought a lawsuit; if you couldn't get on your partner's dental or health plan at work, we brought a lawsuit, etc.; if you were fired because you were gay, a lawsuit. We kept winning. And after we got as many rights as we could, we went to the courts and said, "Listen, you've given us everything else. Why can't you treat us equally for marriage?" Finally the courts ruled: yes, love is love, it's unconstitutional to deny this group of people the right to get married to whomever they want. And by the way, they've already got all these other rights anyway; what difference does it make?
That said, I firmly believe that ultimately same-sex marriage will be legally sanctioned in America nationwide. No civil rights movement in the U.S.—whatever the minority—has ever failed.
---
Sometimes it's hard to believe how much progress I've witnessed in gay rights in my 56 years. Even when I became a judge in the '90s, I never imagined that same-sex marriage would be a reality; now we have had it in Canada for 10 years, and now in America the legal marriages of same-sex couples must be given equal status under federal law.
Nonetheless in the USA opponents of same-sex marriage continue to insist it is a threat to traditional heterosexual marriage. I respond: "Tell me what possible damage you think gay people could do that straights haven't already done to the institution of marriage. It wasn't gay people who created a 50% divorce rate. You turn on the media and you're looking at movie stars who shrug marriage on and off as if it were a pair of underwear. Some celebrities have gotten married for all of 10 minutes, and some, such as Elizabeth Taylor and Zsa Zsa Gabor, were married multiple times—it wasn't gay people doing that."
I do not believe that gays and lesbians are going to be any better or any worse at marriage than straight people, because the success of a marriage isn't about the sexual orientation or gender of the parties, but about all the things that go into making a loving relationship. Since Canada legalized gay marriage, the divorce rate among gays and lesbians is exactly the same as among heterosexual couples. Being equal means having the right to make the same mistakes as everybody else.
Put simply—and no one should understand this better than we Jews—civil rights are not just about the law, and they're not just about rights; they're about human dignity. We were all made in God's image. When we discriminate against and hurt each other, we hurt God. And that is why—whether we're gay, straight, or plaid—this issue needs to matter to us all.
Justice Harvey Brownstone is a judge of the Ontario Court of Justice, the author of Tug of War: A Judge's Verdict on Seperation, Custody and the Bitter Realities of Family Court, and host of the Canadian television talk show "Family Matters."