Image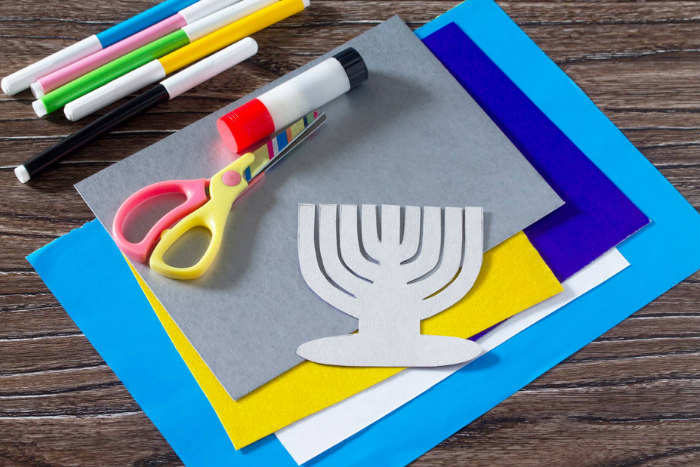 Looking for something fun to do with your young children this Hanukkah? Teach them the story of the holiday with Shalom Sesame, then try the following activities and crafts. 
Clay Dough Menorah
Give each child a big ball of clay dough and them how to flatten the ball. Give children a Hanukkah candle and let them make eight or nine holes in the clay. When it dries, they will have their very own hanukkiyahhanukkiyahחֲנֻכִּיָּהNine-branched candelabra used during Hanukkah – eight branches for each night of the holiday, plus another branch (often taller, central, or more prominently displayed) for the shamash (helper) candle, which is used to light the others. . 
Discovery Bottles
Fill a wide mouth clear plastic bottle with rice. Insert a few small dreidels, candles, Hanukkah coins, etc., in the bottle. Once filled, simply fill the bottle cap with hot glue and attach it. Let set until dry and you have a great sensory activity. As you roll the bottle, different objects will come to the surface to be discovered.
Cookie Cutter Stamping
Have the children print using Hanukkah cookie cutters (the plastic ones work the best) and tempera paint in a shallow container. This is an idea that can be used throughout the year, using different shaped cutters.
Candle Matching Game
Using a box of colored Hanukkah candles or a set of candles made from cardboard with two of each color, or a set of different colored dreidels, play a matching game by picking up one color of candle or dreidel and singing the following song to the tune of "Are You Sleeping?"
I have a candle, I have a candle.
It is red, it is red.
Help me find another one, help me find another one.
Here it is, here it is.
And finally, here is an activity little ones never get tired of doing: Let them practice putting real candles into an unbreakable menorah all by themselves!
Looking for even more Hanukkah crafts and activities for kids? Check out the following: