Image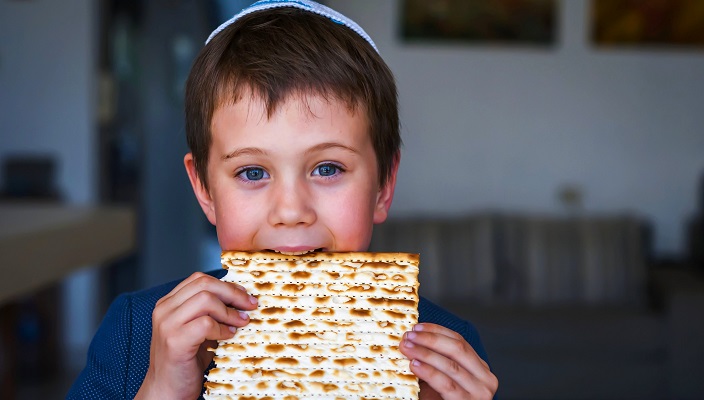 That Passover typically coincides with my sons' school break is not a coincidence; the break also encompasses Easter, and, of course, teachers and families want the time off for observances – and this year, of course, most of us are out of school and home from work for the long haul, which will no doubt change much about our holiday observance. 
Without structure, the struggle can feel a bit like crossing the desert – particularly for parents with young children, as we try to keep everyone occupied. During this busy time, I know that if I don't have a few tricks up my sleeve, my boys will be glued to a screen 24/7.
If you're in the same position, here are a few tips for keeping kids occupied – and helpful.
1. Help them understand the holiday (and use the iPad).
This is a "twofer" in our home: Kids get the screentime they love, but they get a Jewish education in the process - and have fun doing it. There are several pluralistic, educational videos about the holiday that everyone can enjoy, including my favorites, the Shaboom! and Shalom Sesame series, both available online. Pro tip: Use the discussion guides to make the lessons in the videos go even further.
2. Put them to work doing some cleaning.
This isn't a trick – and if done right, it can even be a Jewish lesson. Hand children a broom or vacuum and teach them about the Passover tradition of searching for chameitz (leavened bread products) before the holiday begins.
3. Involve kids in seder food preparation.
This seems obvious, but depending upon your kids' personalities, their attention spans may not last through the first step of a recipe – so keep it simple! If you have a big bowl or food processor, use one of many charoset recipes for an easy, dump-it-all-in recipe that even small kids can manage.
Macaroons couldn't be easier, and kids can do this almost entirely on their own: Combine one package coconut flakes, 1 can condensed milk, 2 tsp vanilla extract, 1 tsp almond extract. Shape macaroons with a spoon or scooper, then bake in oven for 10-15 minutes. Up the ante by mixing in chocolate chips or drizzling melted chocolate over the top.
Speaking of chocolate, you can also put kids to work making chocolate-covered matzah. Melt any color chocolate, drizzle over the top of the matzah, add sprinkles of any shape or color… Need I say more? It's like an edible art project!
4. Let kids help with the seder table setup.
Kids of all ages can help by creating items to use at your seder:
Set them up to make matzah holders, matzah covers, placemats (draw scenes from the story or pick a plague), or even place cards for the seder table (write 'em on good, old-fashioned paper or get creative with matzah and icing).
Ask kids to draw a seder plate, create one out of modeling clay or Play-Doh, or even assemble the plate itself.
Ask the Lego fans in your home to create any or all the scenes from the Passover story and use them as centerpieces.
Using scraps from pre-seder cooking, let kids use the matzah as a canvas and create scenes from the story. Display them… then eat them!
5. Ask older kids to create a playlist for the evening
Spotify, Jewish Rock Radio, iTunes, and other popular services offer up Jewish music, Israeli artists and holiday tunes. Looking for tunes for the seder itself? Here's a pre-made list of songs for you to brush up on those tunes. (Psst: Forgot to ask your kids in time? We've got two Passover playlists you'll love.)
Naturally, Passover is a great time for lots of meaningful conversations about freedom, welcoming the stranger, oppression, and lots of other big topics. I know the time for these conversations will come sooner than I want them to – but while my boys are still young, I'll look forward to the messy macaroons and handmade placemats. Those are memories I'll always treasure.
Looking for more ways to involve kids in Passover? Check out Passover Seder for Young Children (2 to 3 Years) and Passover Seder for Young Children (4-5 Years) for more creative, age-appropriate ideas.