Image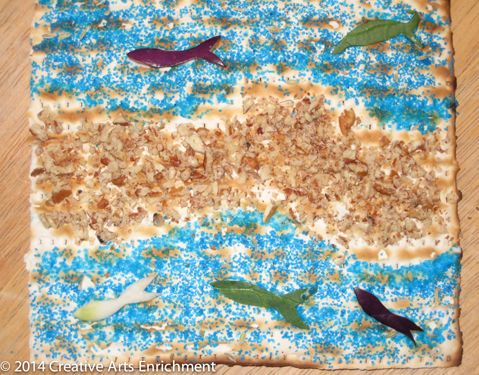 Here's an idea to help you extend your creativity into your family's Passover seder. Before running to the compost with your peelings, leaves, apple seeds, and root strands. save them for a fun and creative project. Set aside a handful of walnuts, a small dish of salt, a few cinnamon sticks - whatever ingredients you use to create the symbolic foods on your seder plate. These seder plate ingredients are perfect for creating visual stories. (I think it's a fun challenge to limit ingredients to those used specifically on the seder plate.) And if you are thoughtful about your ingredients, they could be completely edible!
Try creating the parting of the Red Sea with colored salt and crushed walnuts, a blazing sun and sea of reeds from a slice of citrus and parsley stems, a burning bush with apple and beet peelings and cinnamon sticks, frogs from parsley leaves, hail from diced horseradish root, lettuce leaf mountains, sunset skies made with a collage of peelings, a walnut shell for a cradle… The possibilities are only limited by your imagination. Have fun with all of your leftovers and see what you can create to extend the story of the Exodus using a matzah as your "canvas".
These seder plate stories make a beautiful centerpiece and create participatory opportunities before your family seder.