Image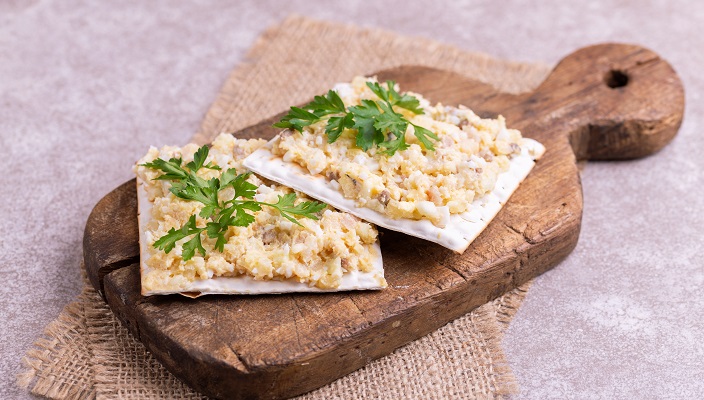 The Passover holiday and the seder meal don't have to include meat-based dishes like chicken soup and brisket. There are plenty of vegan and vegetarian options to choose from!
Whether you've been meat-free for years, are new to plant-based eating, or simply want a few new and refreshing dishes to enjoy this holiday, here's a roundup of some of our favorite tasty, meatless Passover recipes.  
1. Set your seder table.
First things first: The traditional seder plate includes a hard-boiled egg and a roasted shankbone, so you'll want to give it a vegan/vegetarian makeover with a couple of simple replacements.
2. Nosh on an app.
The Passover story and the seder is full of opportunities for dipping, especially fresh, springtime vegetables if you can get them.
Apple Horseradish will add a sweet kick to this Passover staple, and this Walnut Lentil Pâte is perfect served alongside veggies or on matzah. If lentils don't conform to your Passover minhag (custom), you can use roasted, unsweetened chestnuts instead.
3. Whip up a big batch of charoset.
This Passover favorite is the ideal vegan food! For centuries, Jews all over the world have been creating their own versions of the recipe, so there are plenty of options to choose from.
Don't be fooled by the name of this Texas-Style Charoset; it's a very traditional Ashkenazi recipe – and a darn good one! Nona's Sephardic Charoset, which has the consistency of peanut butter, is made with pitted dates and, ideally, with Blackberry Manishewitz.
For other options, check out these 22 nut-free charoset recipes, including everything from avocadoes to bananas to cayenne pepper (and feel free to add in nuts, if you want them). And for a scrumptious dessert, try Chocolate Charoset Truffles.
4. Choose your matzah ball soup.
Matzah ball soup is one of the most recognizable Passover ever, and this creamy, nutrient-rich seven-vegetable soup is a perfect base for a vegan/vegetarian version.
Traditional matzah balls use eggs as a binding agent; if you're looking for an egg-free version, try these vegan matzah balls. The secret ingredient holding them together is quinoa!
5. Make a meatless main dish.
Chef Mark Reinfeld's recipe for Matzah Encrusted Portobello Mushrooms, complete with roasted asparagus and parsley pesto, makes for a lovely main dish, as does his Tri-Colored Sweet Potato Kugel.
Looking for a kid-friendly vegetarian entrée? A Passover favorite I've served many times Spinach Matzah Pizza, which is flexible and can accommodate whatever veggies you want to add on top.
6. Indulge in dessert.
Still have room left for a sweet treat? Make some Peanut Butter Matzah Squares or those Chocolate Charoset Truffles – two easy, no-bake, chill-in-the-refrigerator options.
7. Enjoy breakfast the next day.
A classic Passover morning meal is matzah brei, or fried matzah, as it was known in my house growing up. Think French toast, but made with matzah, and topped with jam, cinnamon, or syrup.
For vegan versions, check out traditional-style vegan matzah brei with quinoa flakes instead of egg, and Sweet Matzah Brei with Cardamom Cashew Crème and Berries, made with ground flax or chia seeds.  
No time to make breakfast every day during the holiday? Vegan Passover Granola, made with matzah farfel, is an easy breakfast or snack throughout the week.
Once Passover has ended, come back to find Jewishly inspired vegan and vegetarian recipes for the rest of the year, too.