Image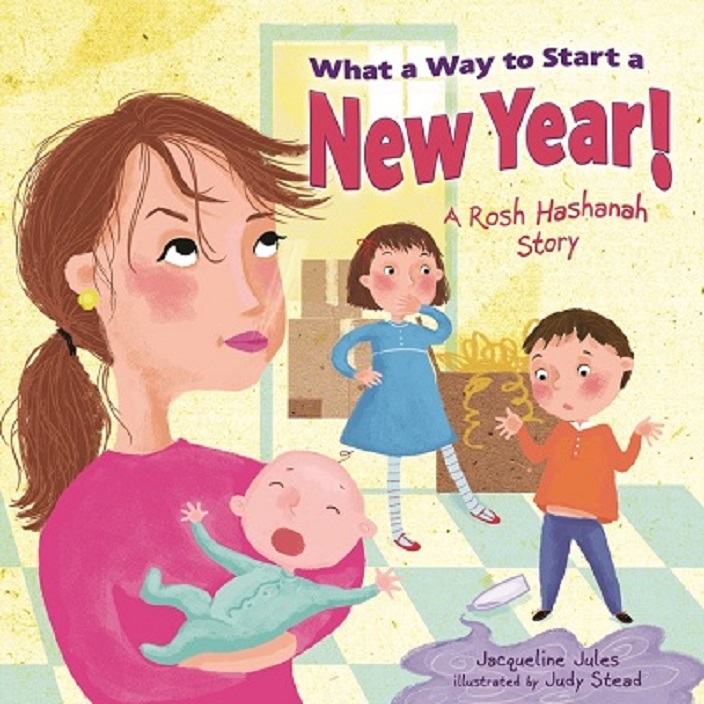 Title: What a Way to Start a New Year!
Author: Jacqueline Jules
Illustrator: Judy Stead
Publisher: Kar-Ben
Intended for Ages: 6-7 years
Jewish Customs: High Holidays, Rosh HaShanah, Hachnasat Orchim (the mitzvah of welcoming guests), Chesed (an act of kindness)
Additional Topics Mentioned: Interfaith Families, Joining a New Community
Synopsis
Dina and her family move to a new city right before Rosh HaShanah. The move brings about a set of problems — the family car breaks down, the new house is a mess and filled with unpacked boxes, and Dina's parents aren't able to prepare a festive holiday dinner. When the family goes to the local synagogue to celebrate Rosh HaShanah, Dina doesn't recognize anyone and feels left out. However, the family then receives help from an unexpected source!
Highlights
Children can learn about not "judging a book by its cover". The children in the book seem disappointed when their father accepts the invitation of a kind older couple to celebrate Rosh HaShanah at their house. They judge the pair by their white hair and assume that celebrating the holiday at their house will be boring. They are pleasantly surprised when the couple's grandchildren join and the celebration ends up being livelier than they thought it would be.
 
The book explores what it is like to join a new community. The family in the new story is moving to a new community and faces many challenges. It is a realistic portrayal of the experience, which isn't always easy- not for the parents, who are faced with many exhausting tasks, nor for the children, who need to get used to new places and faces. Reflecting about the difficulties of transitioning into a new environment and how important it is to be welcoming is a wonderful topic to explore, especially since the Jewish New Year comes at a time when there are bound to be new faces in your child's classroom.
Jewish Topics for Family Discussion
Customs, traditions and foods related to celebrating Rosh HaShanah. The children in the book speak about different terms related to the celebration of Rosh HaShanah. It might be a fun way to remind your kids about everything that is special about this holiday. Videos by Shalom Sesame offer a variety of additional ideas for you to discuss and celebrate Rosh HaShanah with your little ones.
 
Jewish identity in an interfaith family. This book shows that parents of different faith backgrounds can raise children who feel confident and comfortable about celebrating Jewish traditions and holidays. Whether your family has two Jewish parents or one Jewish parent, you can have a conversation with your children about religious identity. Learn more about talking to children about Jewish identity in an interfaith family.
 
The importance of the value of hachnasat orchim in Jewish tradition. In this story, the mitzvah of hospitality is explored when the family is invited to celebrate Rosh HaShanah by members of their new community. The Jewish tradition of welcoming guests is a great conversation topic, especially in anticipation of Sukkot. You can watch the Shalom Sesame videos about the mitzvah of welcoming guests and get more ideas for discussing this with your kids.
PJ Library® provides the gift of free Jewish books and music to families raising Jewish children between the ages of 6 months and 8 years. What a Way to Start a New Year has been one of the popular selections for the 6-7 year old children who subscribe to PJ Library®. Enroll your child to be a part of this exciting program.