Image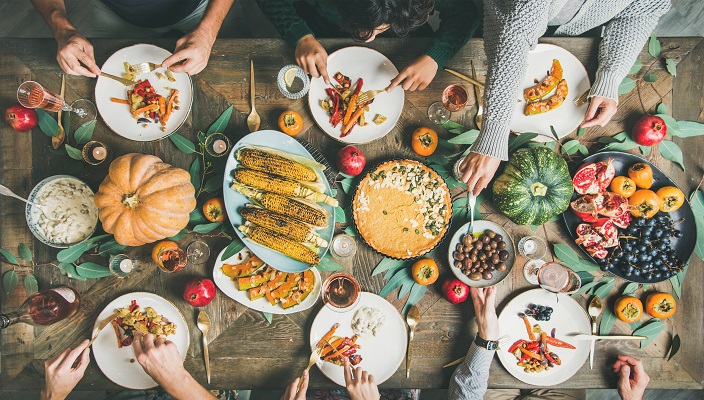 Shabbat dinner parties are a great way for friends and family to connect, have fun, and engage in rewarding conversation – and for American Jews, the Thanksgiving weekend – when far-flung loved ones return home together for the secular holiday – can provide a perfect opportunity to make it happen.
If you're planning a "Friendsgiving" Shabbat of your own, here are a few tips to get you started – from the candle-lighting to the turkey dinner and beyond.
1. Create a special seder.
We often associate the Jewish custom of hosting a seder with Passover and, in many Sephardic and Mizrachi communities, with Rosh HaShanah. Thanksgiving, however, can also be an opportunity to craft a festive, fun seder of your own. Consider the following:
Prefer to go with a pre-made seder? Here's a Thanksgiving seder you can download and print for your own use, created by Rabbi Phyllis Sommer of Am Shalom in Glencoe, IL.
2. Have fun designing and eating your meal.
Every holiday has a seudat mitzvah, a festive meal, and a Friendsgiving Shabbat is a great time to experiment with that new recipe you've been wanting to try, or to incorporate Jewishly inspired dishes that may be new to you and your friends.  
If you need an extra set of hands (or more), consider making it a potluck dinner (outlining ahead of time any dietary considerations) – or you and your guests can even work together to cook and create the holiday meal.
Try our "18 Recipes for a Tasty Thanksgiving… with a Jewish Twist!" which includes Jewish cooking expert Tina Wasserman's favorite turkey recipe and a host of Jewishly inspired autumnal accompaniments, from veggies to desserts. You can also search for Shabbat recipes or browse the many other recipes available on ReformJudaism.org.
3. Incorporate tikkun olam, repair of our world.
To be a Reform Jew is to hear the voice of the prophets in our head; to be engaged in the ongoing work of tikkun olam; to strive to improve the world in which we live; to be God's partners in standing up for the voiceless and fixing what is broken in our society. As such, advocacy is central to Reform Judaism.
Hosting a Friendsgiving Shabbat is a chance not only to connect with one another, to celebrate, and to enjoy a delicious world. It's also a time to remember that our work to repair the world is never complete – and to do our part to create a world of wholeness and justice.
Identify an issue of importance to you, either on your own or by looking at the Reform Jewish community's issues of focus via the Religious Action Center of Reform Judaism (RAC). Consider the following ways to incorporate that issue into your gathering:
You can also use this time to invite your guests to join you in some form of social action, whether it's bringing canned goods to be donated to a local food bank, registering people to vote, collect donations for a cause, etc. In preparation for the day now known as #GivingTuesday, start a discussion with your dinner guests about the issues nearest and dearest to your hearts – and what you're doing to make the world a better place.
However you choose to celebrate your Friendsgiving Shabbat, may you find joy in spending time with those you love and focusing on your gratitude for one another.
Feeling nervous about hosting? Deborah Fishman Shelby, founder of FED, shares "Tips for Hosting for the High Holidays" – many of which are applicable to hosting for other holidays, as well.