Image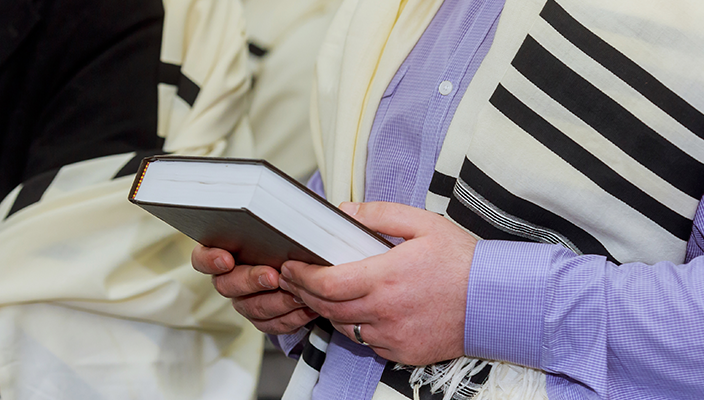 This will be my first year observing Shavuot as a Jew. While I learned about the holiday during my Intro to Judaism course, it admittedly didn't appeal much to me, possibly because it lacked the ceremonial "flair" that often accompanies chagim (holidays) such as Hanukkah, Passover, or Rosh HaShanah.
And yet, because of what Shavuot represents – the Jews receiving the Torah at Mount Sinai – it seems like it should be one of the most celebrated holidays. How can we reexamine this often-underlooked festival and apply it to our lives as Reform Jews?
For insight, I turned to Rabbi Matt Green of Congregation Beth Elohim (CBE) in Brooklyn, N.Y., to see if he could tell me a bit about what Shavuot means to him and how we, as Reform Jews, can apply it to our lives.
ReformJudaism.org: What did you learn about Shavuot growing up? Did it change at all as you got older?
Rabbi Matt Green: As a kid, I remember hearing about Shavuot mostly in passing, maybe through references in novels about Jews or by way of Jewish humor [i.e. the old Tom Lehrer satirical song lyrics, "I'm spending Hanukkah in Santa Monica / I spent Shavuos in East Saint Louis."].
It wasn't until college that I first heard about the custom to stay up all night studying Torah and even then, it was during the summer, when most students are away from campus anyway.
ReformJudaism.org: When did you first come to personally connect with the holiday and realize it could be something interesting and accessible to many Reform Jews?
Rabbi Matt Green: When I got to Brooklyn, I learned about the all-night tikkun (learning session) that the synagogue puts on each year; that was really my first glimpse of what the holiday could be. From 8 p.m. to 5 a.m., the synagogue hosts dozens of teachers – clergy, Jewish educators, and lay leaders – to teach different classes at various slots throughout the night, sometimes with seven or eight different options at any given time.
What's nice about this model is that it allows for Torah to be understood expansively, including classical text study alongside classes on Jewish food, music, and art. All of it at the same time.
ReformJudaism.org: It sounds like that's what Jews today are looking for: a dynamic way of engaging with our holidays to reflect the ever-evolving nature of Judaism.
Rabbi Matt Green: Many young American Jews are ambivalent about Jewish tradition and are specifically wary of Jewish communities and rituals that don't reflect our lives. Shavuot is about receiving the Torah all over again. It offers us a corrective, with the chance to inject our own stories, passions, memories and commitments into the Jewish conversation.
We suspend disbelief and imagine that we're there at Mount Sinai, receiving the Torah in our time, which gives us the chance to reconstruct the Torah each year to reflect our Jewish lives.
ReformJudaism.org: How does Shavuot connect with the concept of audacious hospitality?
Rabbi Matt Green: In her book, Standing Again at Sinai, the feminist theologian Judith Plaskow underscores the problem of that first moment of revelation in the Torah: It was exclusive to men. She argues that women's experiences, stories, and memories ought to be included in the broader Jewish communal experience if we are to engage with a truly integrated understanding of Jewish meaning.
We might expand that to include all marginalized groups within our community like LGBTQ+ Jews and Jews of Color, alongside Jews with diverse political beliefs, Jews who don't identify primarily with Jewish religion, and Jews who have been shamed for not knowing as much as other Jews.
If we are to receive a fully integrated Torah – an essential story in which all Jews can see themselves – then we need to incorporate a maximal number of people in the process.
ReformJudaism.org: In your eyes, how do we make that a reality?
Rabbi Matt Green: By taking Shavuot seriously. By creating learning environments that pair Talmud, MidrashMidrashמִדְרָשׁRabbinic interpretation of a passage from the Bible. Midrash falls into two categories: midrash halachah is concerned with religious practice and law, and midrash aggadah is concerned with interpreting biblical narratives and stories, , and TanachTanachתנ"ךAcronym for the Hebrew Bible, constructed from the first letters of its three sections: Torah, Neviim, and Ketuvim. alongside poetry, queer theory, justice-driven lessons, and explorations of the Jewish themes and theological underpinnings of the TV series Russian Doll.
Most important of all, we make these lessons accessible to everyone, irrespective of prior Jewish knowledge or experience, with the understanding that the Jewish people can only receive Torah if all the Jewish people are present.