You are here
How Much Do You Know About Tu BiShvat?
Jewish Holidays navigation feature buckets
Learn the blessings and more about this beautiful ritual that ends Shabbat, separating it from the rest of the week.
Hundreds of Reform Jewish congregations offer live streaming Shabbat service and other opportunities for connecting Jewishly.
Jewish Life navigation feature buckets
If you're looking for an escape from everything going on in the world right now (and have the time and good health to do so), try experimenting with and embracing your Judaism from home. 
A guide for talking to your children about religious identity. 
Practice navigation feature buckets
We've gotten through it before, and we will now, too. Here's how.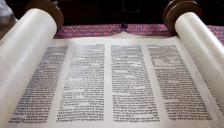 And if you do obey these rules and observe them carefully, the Eternal your God will maintain faithfully for you the covenant made on oath with your fathers. - Deuteronomy 7:12
Learning navigation feature buckets
Want to explore Reform Judaism but have no in-person opportunities to study? This class is for you!
Social Justice navigation feature buckets
Antiracism must be as integral to and synonymous with our Jewish communities as reciting the Sh'ma.
There's a deep relationship between Judaism and social action.
Israel navigation feature buckets
Reform Zionism is a continuation of the early Zionist dream to foster a living, breathing national culture that represents the highest ideals of Jewish peoplehood. 
What does it mean to stand up for your people unequivocally if they physically harm you because they disagree with you so vehemently?
Search URJ.org and the other Reform websites:
WRJ Shop MRC
WRJ Shop MRC
The artwork on this note card was created by 5768 WRJ Art Calendar artist Césan d'Ornellas Levine.
$7.50/pack