Image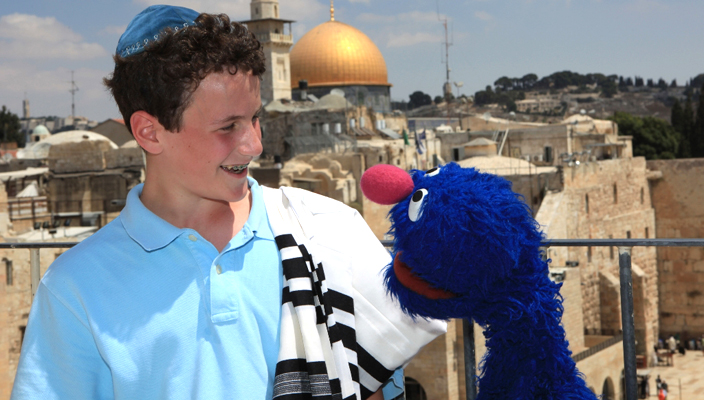 So much of the story of Judaism takes place in the land of Israel, but the country doesn't just belong in a history book. Today, Israel is a living, breathing country that is as dynamic as the people who live there. With a rich culture, diverse communities, and strong ties to Jewish traditions and holidays, Israel is one little country with a big personality.
Together with your children, watch the Shalom Sesame videos below to learn about Israel's past and present. Then try some of the discussion ideas and activities below recommended by Reform Jewish educators to further extend the lessons learned in the videos. If you wish, share your experiences and ideas in the comments sections below!
Discuss
Way, way back. Talk to your children about what they see in the video. Here are some questions to spark conversation: What does the word "archaeology" mean? Have you ever seen anything that is really, really old? What did it look like? What would you like to know about people who lived a long time ago in Israel?
Picturing Israel. When looking at a map of the world, you might have to squint to see Israel. The whole country is similar in size to New Jersey. But the land itself is made up of a large variety of climates and landscapes. From skiing in the northern mountains to scuba diving in the Red Sea, a trip around Israel offers plenty of exhilarating sights. Take out a globe or map, or search for Israel online to see just how small it is—then find where your home is located as a point of reference.
Activity
Explore your home. Ask kids to explore the history of your home, a family member's home, or even the history of your community! Do some digging and work with them to develop a set of questions to think like an archaeologist. How old is your home? How do you know? Who has lived there?
Take your family on a virtual trip to Israel. Whether it's exploring the past on an archaeological dig or "visiting" Israel's modern city Tel Aviv, there are lots of fun ways to acquaint your children with Israel without ever having to get on a plane. And don't forget to tell your kids to send postcards home from their trip!
Take a tour of Israel without leaving home. The characters living on Rechov Sumsum represent the different types of people who live in Israel. These characters provide a great way to learn more about the different groups of people who call Israel home. The lyrics for the opening song of Shalom Sesame invite viewers on a journey to Israel: "We'll go to a place that we can explore with all our friends and family."
Read with Your Child
These books from PJ Library® will inspire your child's interest in Israel:
Ella's Trip to Israel - A little girl named Ella travels through Israel with her parents, enjoying many sights. With her is her best friend, her stuffed monkey, Koofi, whose misadventures are never a problem.
Jodie's First Dig - Jodie dreams of one day becoming a famous archaeologist. When her father takes her on a dig in Modi'in, home of the Maccabees, she is able to participate in a unique way.
Snow in Jerusalem - Two boys living in Jerusalem — one Muslim, the other Jewish — are surprised to discover they've been looking after the same stray cat.
PJ Library® is a national program that sends a monthly gift of free Jewish children's books and music to families raising Jewish children ages 6 months through 8 years old.
Watch
Things Happened Here Before
Grab a shovel, roll up your sleeves, and join Shalom Sesame on an archaeological dig in Israel! Learn about the Canaanites, King David, and what it was like to live in Israel 3,000 years ago.
Grover Visits Jerusalem
Grover's friend Talia takes him around the city of Jerusalem, sometimes called the "City of Gold." Grover and Talia see the Knesset (Israeli parliament), the shuk (market), and the Kotel (Western Wall), among other sites.
For more Shalom Sesame videos, activities, and other materials, visit our friends at ShalomSesame.com