Image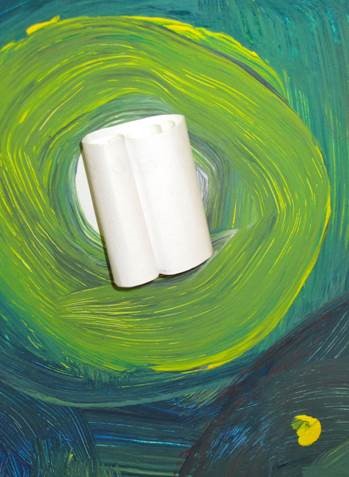 As part of your journey in preparing for the High Holidays, also known as the Days of Awe, try this activity that will engage you in finding new ways to make discoveries, and extend understanding beyond verbal and written modalities into the language of texture, rhythm, color, movement and sound.
This activity is engaging individually or as part of a small or large group activity, using color to discover and create meaningful connections.
Materials:
Water color paper 11 x 14 (or bigger—the bigger the better!)
Water color paints (full prepared palette or just solo colors of red, yellow, blue)
White resist (wax, white oil pencil or even a white crayon)
Dabber
Water jug for rinsing (glass is preferable for the meditative sound of brush on jar and in water)
An inspiring phrase, quote, or piece of text
Directions:
Begin by writing your inspiring phrase, quote or text in the center of the paper. Fill the surrounding areas with your personal goals with the white resist. Don't worry about where the writing is or if it overlaps. Just fill the page with your goals.
After you've filled the page, begin painting. You'll be filling the full page with color. Begin with a single color, then add in additional colors for new color connections to emerge. You'll be filling the full page with color. The wax will lift through the paint revealing your goals.
Once the sentiments are revealed, engage in a discussion with your partners using your paintings as a guide.
Repurpose this painting as a journal cover or portfolio for your visual journaling
If you enjoyed this activity, be sure to check out more activities to prepare for the Days of Awe:
The above activities are selections from my upcoming book Life Through a Creative Lens being published by Creative Arts Enrichment in 2017. 
© 2016 Jacqueline Serebrani-Kesner