Image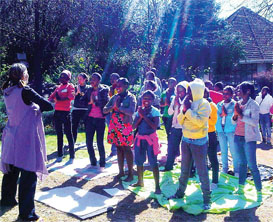 Rabbi Robert Jacobs serves as rabbi of Bet David Congregation in Johannesburg, South Africa.
What do tourists find most interesting about your country and city?
Most tourists come for the wealth of animal life in national parks and private animal preservation "game farms" dotted across South Africa. It is a land of great variation of terrain, climate, flora, and fauna; the Western Cape is one of the world's most diverse plant habitats.
Johannesburg offers many museums and monuments documenting our national story from the Boer Wars (1890–1910), through Mahatma Ghandi's development of passive resistance, into the Apartheid period and the current democratic society. For example, the Cradle of Humankind exhibits some of the oldest and most extraordinary fossils of human ancestors to be excavated in the Sterkfontein and surrounding caves, one hour north of Johannesburg—and the excavation process is ongoing. The occasional, seasonal tours of the Sterkfontein Caves are fascinating. The Apartheid Museum offers the most complete history of Apartheid. At Constitution Hill, which encompasses Old Fort, Constitutional Court, Women's Jail, and Awaiting Trial Block Prison, highlights not to be missed are staircases from that dreaded prison and a fine collection of South African art and beaded work in the lobby. For a great day trip, visit a sanctuary to see elephants, cheetahs, or other rare or endangered species.
What Jewish sites are most worth visiting?
Temple Israel in Hillbrow (1936), designed by the studio of the Jewish architect Hermann Kallenbach, is one of many splendid art Deco structures found throughout the older areas of Johannesburg. Kallenbach's home on the Linksfield Ridge also served as Ghandi's home during an early stay in Johannesburg.
There are three Progressive congregations in the city—Bet David, Beit Emanuel, and Temple Israel. Ours, Bet David, offers a garden setting and a warm English-speaking congregation graced by a splendid choir. In addition, if your travels take you to the administrative capital of Pretoria (Tswhane), you can visit Bet Menorah; and Progressive synagogues are also to be found in Cape Town, Green Point, Wynberg, West Coast/Milnerton, Durban, East London, and Port Elisabeth.
What are the culinary delights?
You name it; you can find it on the menu! As South Africans especially enjoy meat dishes, exceptional and reasonable steak houses exist in many locales. Also prominent are spicier curries and a variety of pan-African dishes. Several certified kosher restaurants offer varied menus. Boboties (curried meat casseroles) as well as typical East European dairy dishes are frequently found along with butternut soup and beautifully presented salads. Produce is varied, local, and splendid!
What are your top travel tips?
Dress is almost universally informal. Don't be put off by the too frequent reports of violence, yet be cautious about walking in isolated areas. Hotels and tours provide excellent guidance about avoiding problems, safe storage of valuables (don't leave valuables unattended or wear flashy, expensive jewelry), and general conduct issues that might differ in South Africa. Service in hotels and restaurants is inconsistent, but well given when requested politely; and questioning receives a better response than demanding or criticism. Tipping for service often starts at 10% of a bill.
South Africa is a right-hand drive country, and not for the timid; although most roads are excellent, I would not necessarily say the same of the drivers! Public transit in town is not very usable, although the Gautrain (high speed train) to and from the airport is brilliant. Contacting the Progressive Jewish community in advance offers the opportunity to experience Jewish life in a personal way.
What is the history of Johannesburg's Jewish community?
Jewish life is a more than a century old. The office of Chief Rabbi has existed for some 75 years. Most Jews trace their origins to Lithuania: The discovery of gold here in the 19th century convinced many of their ancestors to escape Lithuania's poverty, wars, and changing regimes—such as in the aftermath of Tsar Alexander II's assassination in 1881—by immigrating to South Africa in hopes of a better life. Early arrivals established shops or became 'Smous (peddlers) until settling down in towns and villages throughout the country.
Now 80 years old, Progressive Judaism has a credible record here. It reached a seeming high point about mid-way along that timeline; the period since the violent Soweto student uprising in 1976 has seen a decline in both the overall number of Jews (from an estimated 120,000 to 70,000 today) and Progressive Jews (from an estimated 11,000 to 6,000 today). The vast majority of Jews here affiliate with Orthodoxy, and there's been an increase in both right-wing, Orthodox groups and in disaffiliated Jews.
What is worship like at Bet David?
Our worship is formal and traditional; however, dress is informal, as is the congregation's attitude to such decorum issues as on-time arrival and staying in place during the duration of the service. All South African Union for Progressive Judaism congregations use Mishkan T'filah World Union Edition. The local musical tradition is choral, with professional quartets at Beit Emanuel and Bet David for formal services. A Bet David hallmark is our mixed voice choir singing a cappella, which is controversial since the local Orthodox community has imposed a ban on women singing in public (which we are fighting). At Yom Hashoah and Yom HaAtzma'ut programs for the entire Jewish community, women are no longer allowed to raise their voices in song. But at Bet David, our tradition of mixed choir, featuring a splendid soprano as lead singer, continues.
Bet David is known for its special blessings, including parents' blessing for children prior to Kiddush, communal prayers concluding with a prayer for pets, and end-of-calendar month birthday blessings. Here our blessed bread is known as kitke, apparently a Polish term referring to ornate plaster work, which is also braided and looks like a challah.
Are services in English?
South Africa is a multi-lingual country, with 11 official languages—Afrikaans, English, Ndebele, Northern Sotho, Sotho, Swazi, Tswana, Tsonga, Venda, Xhosa, and Zulu. Zulu is the most common home language and English the language of commerce. Since the majority of congregants speak English (a minority are first-language speakers of Afrikaans, a local version of Flemish-Dutch), services mix Hebrew and English, with sermons in English.
What are your congregants' religious backgrounds?
We serve three distinctive groups: Jews whose parents or grandparents were among the early proponents of Progressive Judaism, Jews raised in Orthodoxy, and those who have chosen Judaism—many of whom are well integrated into the congregational leadership. South Africa's transformation from a rigidly racially divided society is truly lived out through our congregational life. Especially since 1994—South Africa's first democratic election, which brought Nelson Mandela into the presidency—the number of Jews-by-choice from multiple ethnicities—among them Afrikaaners, Indians, and descendants of black Yemenite Jews—has expanded, enriching the community. As another example, South Africa has offered marriage under Civil Union since late 2006, and the South African Union for Progressive Judaism has accepted same-sex marriage under a chuppah since May 2007; we may be the only mainstream religious group in South Africa to do so. While the first aufruf for two grooms created a stir, the congregation has not looked back.
Do you have unique celebrations?
Our Shavuot morning cheesecake contest—many of the cheesecakes flavoured with passion fruit or other tropical fruits—attracts lots of tasters. We also have special community days, such as Mandela Day—near the first president's birthday—when we welcome 100+ orphans from Alexander for fun and food.
As our community does not have access to the mikveh at Orthodox synagogues, new Jews-by-choice are immersed in a suitable, private swimming pool.
How has South African history influenced Jewish life here?
Much of the early history of Progressive Judaism is linked with the years of Apartheid. Jews were over-represented in the anti-Apartheid struggle, but also had members of the National Party that perpetuated Apartheid.
For Bet David, a diverse suburban community, the crisis year was 1987, when Alexander Township—just kilometers away—faced school closings as members of the black community engaged in struggle against the Apartheid regime. A few Sisterhood women started an emergency 12th-grade school, offering preparation for the country's "matric" exams (a prerequisite before students can pursue higher education). Twenty-six years later, Mitzvah School, on the Bet David campus, has produced hundreds of graduates, some of whom have become communtiy leaders—churchmen, physicians, bank managers, etc.—in the renewed South Africa. Nowadays Bet David's Kehillah (formerly Sisterhood) also supplies foodstuffs for a primary school, an after-school haven, an orphanage, and a shelter for street orphans. Fulfilling the needs of the impoverished is a major component of our work.
In today's diverse South Africa, where about 250 separate religious groups are recognized, religion is primarily a private matter. The Orthodox-dominated Jewish community attempts to fence off Jews from Progressive Judaism in a way that at times borders upon hostility. Meanwhile, the non-Jewish community sees all of the Jewish community as one, and appreciates the Jews' strong contributions to South African politics, arts, business, and academia. For Jews, being publicly proud of one's Jewishness remains a respected tradition.