Image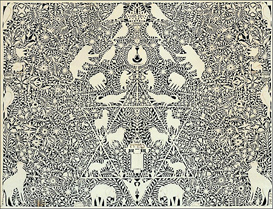 Dear Jonathan,
Using a sharp penknife, folded paper, coins for circles, and free-hand cutting, my paternal great-grandfather Israel Tzvi Mannesovits made this papercut in 1928. He worked as a dry goods retailer; papercutting was a part-time activity.
A number of religious symbols appear in this papercut. The four Hebrew letters inscribed over the ark spell out mizrach, meaning "east"-a reference to the Jewish custom to pray eastward toward Jerusalem. A seven-branch menorah represents the seven days of the week. The leopards, eagles, deer, and lions are likely allusions to Rabbi Yehudah ben Tema's saying, "Be as strong as a leopard, as quick as an eagle, as fast as a deer, and as brave as a lion to do the will of your Parent in Heaven" (Pirke Avot 5:20). The crown, I suspect, is a metaphor for God.
What might this papercut be worth?
Bill
Synagogue congregant, Florida


Dear Bill,
In all my 30 years in Judaica, I have never seen such an important and beautiful papercut. The folklorish animals and the whimsical designs are phenomenal. To quote my folk hero Rabbi Shlomo Carlebach, this piece is the "highest of the high" and "the deepest of the deep."
And rarely have I encountered a paper work in such good condition! Hardier Judaica materials, such as silver, brass, and wood, can survive a great many years, but with delicate paper, breakage, fading, and other damages are the norm.
Its value: $15,000 - 25,000 at auction. Mordechai Reicher (1865 - 1921), who, much like your grandfather, had a keen hand with a knife, created a somewhat comparable piece that is now in New York's Jewish Museum.
Jonathan Greenstein, founder
J. Greenstein & Co., Inc.
Inquiries: Jonathan@JGreenstein.com