Image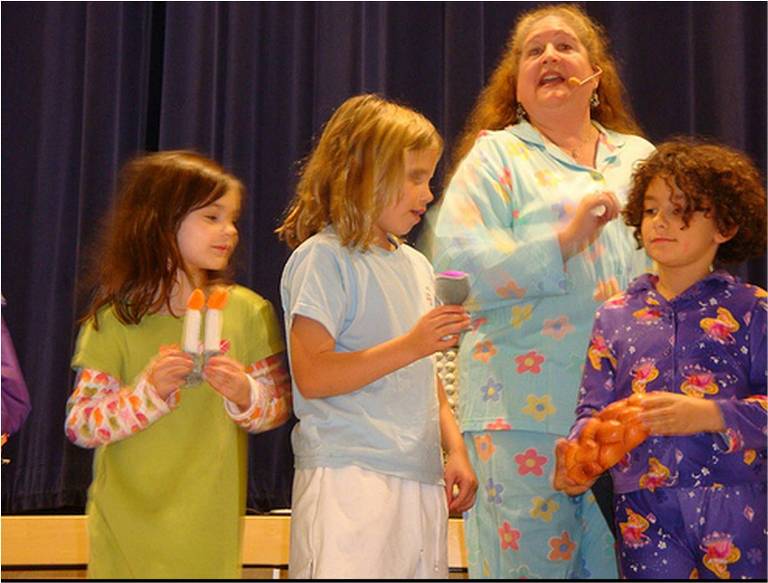 Judy Caplan Ginsburgh is a professional singer with a degree in Vocal Performance from the Indiana University School of Music. She is a nationally recognized and multi-award winning performer, recording artist and educator. Judy sings as a cantorial soloist and travels throughout North America presenting concerts, residencies, educational keynotes and workshops. Judy works actively in both Jewish and non-Jewish settings and she has developed a number of interactive, educational performances and arts-in-education residencies for school-age children.
Judy's national honors include a Seal of Approval from the National Parenting Center; Two iParenting Media Awards; a Parents' Choice Seal of Approval; Two Parents' Choice Silver Honors; Two Children's Music Web Awards; a Mazel Tov Award for Best Jewish Children's Recording; and a Special Music Award from Religious Heritage of America. Judy was doubly honored when she was named one of the Top Ten Jewish Children's Performers and one of the Top Ten Jewish Female Vocalists in the world by Tara Publications and Moment Magazine! In 2011, Judy was named a Jubilation Fellow by the Tides Foundation for her outstanding work sharing the joy of music with children. In 2010, she received an Arts Awareness & Education Award from her local arts community, in 1999, she was named the Louisiana Professional Artist of the Year and in 2003 she was named one of the most "Dynamic Women Under 50" living in Central Louisiana. In 2006, Judy was one of ten artists to receive an Artist Entreprenuer Grant from the State of Louisiana.
Judy has produced excellent quality, educational recordings for families since 1981. Her award-winning, best-selling recordings for Jewish families feature familiar songs which have been sung for years in Jewish schools and homes. Her interactive and educational recordings of music for general audiences have received the highest praises from teachers and parents around the globe.