Purim costumes are a time-honored tradition dating back to the 16th century, thought to have been started by the Jewish community in Venice and heavily influenced by the Catholic practice of Carnivale. From there, the Purim practice spread throughout Europe, to the Middle East, and eventually worldwide.
At Purim time, we learn that God's name is never mentioned in the M'gillah (Book of Esther). Though God is hidden from us in this story, the miraculous nature of Purim is clear. To remind us of this, we dress up and hide our true nature – but we also dress up because it's fun, and merriment is a key facet of Purim celebrations, too.
Here is a list of Jewishly themed Purim costumes that are fun for the whole family. Get creative with them!
1. The Purim Cast
Dressing up as the heroes (or villains!) of the Purim story is an oldie, but a goodie – and because the M'gillah features such a large cast of characters, there are lots of options for large group costumes.
Most of us don't know much about what people wore in ancient Persia, but here's the deal: The ancient Persians were glam.
The Purim story takes place during the Achaemenid empire (550-330 BCE), where long embellished tunics or robes were the norm – knee-length or longer for the men, and ankle-length, flowy dresses with wide sleeves for women. Go for hems and collars with beautiful metallics and embroidery, and cinch the whole look with a fancy belt or sash. If you're going as royalty, top it off with a crown; commoners should go for fun, floppy hats.
If you're going as Mordechai and Esther, get as flashy as you want; don't shy away from bright colors and golds! On Purim, we read, "...Mordecai received a high rank from the King. In recognition of his new status, Mordecai wore a royal blue cloak." Grab a blue sheet to transform into Mordechai! – or cast yourself as the villainous Haman, in dark colors, instead.
You can also raid your local fabric store for fabric, trims, and embellishments to make your own (this pattern works for all genders; just change how long it is depending on your personal preference), or hit up local thrift stores to see what you find. (Pro-tip: Curtain trimmings make for great embellishments.)
Here are some examples of typical Achaemenid clothes: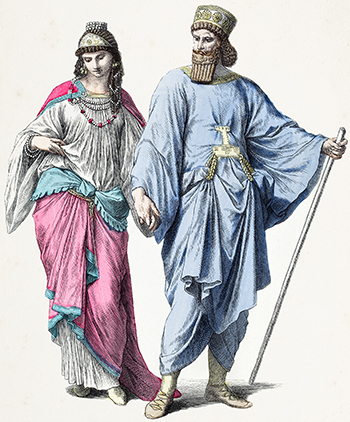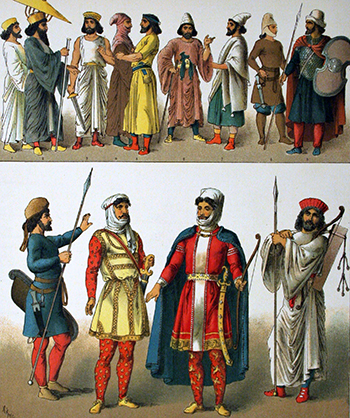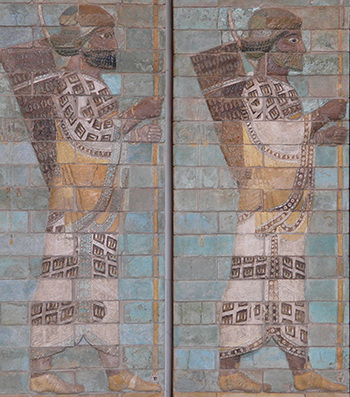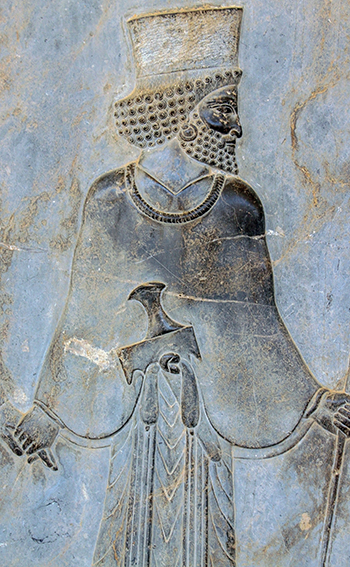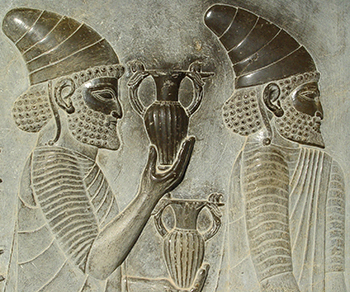 If you don't love the Achaemenid look, check out later Persian fashions. The early Safavid era (1500-1598), in particular, featured beautiful clothes with lots of colors – and a lot of layers, making it a great costume idea if you're located in colder climes during Purim.
To get the look, layer a long-sleeve tunic or dress as the undergarment (in Persian/Farsi, called pirihan) and a caftan on top (qaba). Caftans can be knee-length or longer, for all genders, and may be embellished with trims. Safavid women wore pretty hats or crowns with long veils and even feathers. Don't forget to wear a fancy long sash (or two!) as a belt!
Below are pictures called "Persian miniatures," which show fancy Safavid Persian garments worn by men and women, as well as a Safavid caftan from a museum. Use them for inspiration!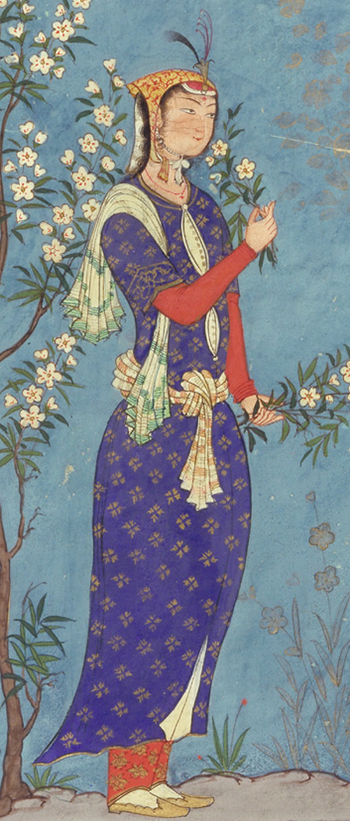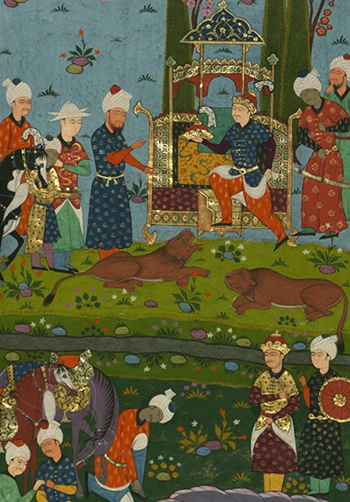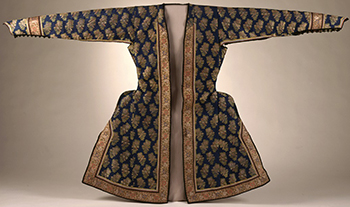 2. The Seven Species
The Torah lists The Seven Species, fruits and produce important to the Land of Israel.  They are wheat, barley, grapevines, figs, and pomegranates, olives (or olive oil), and dates (specifically date honey). If you're dressing up in a group that numbers exactly seven, this is ideal – but smaller groups can pair up the grains or fruit. The joke will still work, especially at synagogue!
The easiest way to dress as the Seven Species is to draw pictures of the produce on two pieces of poster board, poke holes in them to thread some straps between them so you can wear them in a sandwich board style – simple, easy, and fun.
A silly, more labor-intensive way to dress as grapes is to blow up green or purple balloons and attach them to your body to create a "bunch." Don't forget to wear a green hat to create the grapevine on top! (This costume may hamper your movement, so it's better for older kids or adults, rather than toddlers.)
For a modern twist, dress up as a bottle of olive oil or even a Pom bottle of pomegranate juice, and instead of dressing up as a date, go as a bee or honey bear. 
3. The Seven Days of Creation
This idea is more absract but still distinctly Jewish. For a couple's costume, consider Heaven and Earth, light and dark, or day and night. Such costumes may be elaborate – think sequins, formalwear, and shiny hats – or much more casual, like wearing T-shirts with the sun and moon on them.
In larger groups, individuals can dress as individual days of creation. One person can be the seas, the planets, the animals – and one lucky person can be the holy day of Shabbat. Not sure how to dress up as Shabbat? Consider a candlestick headdress and a flowy, white gown resembling a challah cover. Don't forget to carry a prayer book or Torah!
4. The Jewish Holidays
A family or group of three can be the Shalosh Regalim, the triad of holidays of Passover, Shavuot, and Sukkot; for example, one person might dress up as the seder plate, another as a cheesecake, and the third as a lulav. Larger groups can add more holidays, such as Rosh HaShanah (dress up as an apple with honey, and carry a shofar), Tu BiShvat (dress up like a tree), and so on.
5. Jewish Superheroes
It's easy to find costumes for movie and comic book heroes, but did you know that some of our favorite silver screen heroes are also Jewish? The iconic Superman, X-Men's Kitty Pryde and Magneto, and the Thing from the Fantastic Four all have Jewish backstories. Be your own superhero squad!
Alternatively, you can give the superhero treatment to everyday Jewish items. What would a superhero rabbi look like? Would the tallit (prayer shawl) be a cape? Would the shofar bring down a clap of thunder against the bad guys? Thinking of ways to put a superhero twist on our Jewish traditions is a fun way to get your family involved, and kids' imaginations can run wild. You can even make your own homemade comic strip to go with it – and you'll all look super, of course.
What are your costume ideas? Share them with us on Facebook, Twitter, or Instagram.
B. Lana Guggenheim is the communications associate for the Union for Reform Judaism. She graduated with a BA from Hunter College and an M.Sc. from the London School of Economics and Political Science. She has worked as a journalist, editor, and analyst covering international affairs, Jewish life, and Israel affairs for Jewcy, Tablet, the Forward, South EU Summit, and more.